Album Reviews
The Princess Foretold By Her Henchmen, Even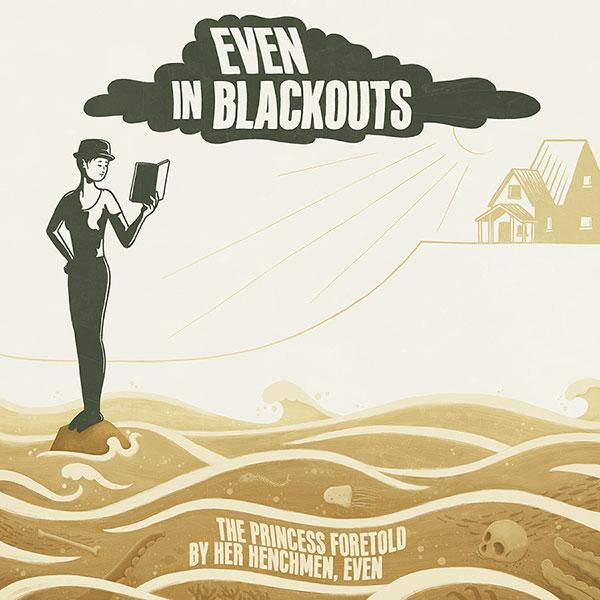 on
Saturday, August 18, 2018 - 08:18
- by Tom Dumarey
After Screeching Weasel called it a day, John 'Jughead' Pierson started Even In Blackouts back in 2002. They played pop-punk tunes but contrary to his previous band, Even In Blackouts was an all-acoustic affair. Hence the name… they could play even in blackouts. They released a very enjoyable debut with 'Myths & Imaginary Magicians' and then went on to record three more albums before calling it quits in 2009.
The band's favorite songs are new getting a new lease on life thanks to Stardumb Records, who released a compilation album called 'The Princess Foretold By Her Henchmen, Even'. Normally I'm not the biggest fan of punkrockers gone acoustic, because more often than not it just doesn't sound as good (yeah Face To Face, I'm looking at you!). But there's no faulting cuts like 'Missing Manifesto', 'If Leaving Were To Be So Easy' and 'In A Letter Never Sent'. All of which capture all of the energy of punk in deliciously catchy songs that are lifted to an even higher level thanks to the powerful vocals of Lizzie Eldredge.  
Somewhere down the line, they let go of their acoustic inclinations and went all out ('I Took A Weight Off', 'He's Alone Again Lost In His Room') or swing meets country ('Skeleton Dance') and… well, hokey ('How Do You Kill A Ghost'). All of which leads to a slightly uneven compilation. It's still worth your time though. Especially if you manage to snag up a copy of the limited clear as glass vinyl!
Track listing:
Missing Manifesto
If Leaving Were To Be So Easy
Summer Comes
In A Letter Never Sent (featuring Dan Vapid)
We're So Tough
The Writer
Heaven
Darkest Days
Skeleton Dance
Gone
I Took A Weight Off
Romantically Inclined
He's Alone Again Lost In His Room
How Do You Kill A Ghost
Motives Misunderstood in the Key of C
Catacombs