Album Reviews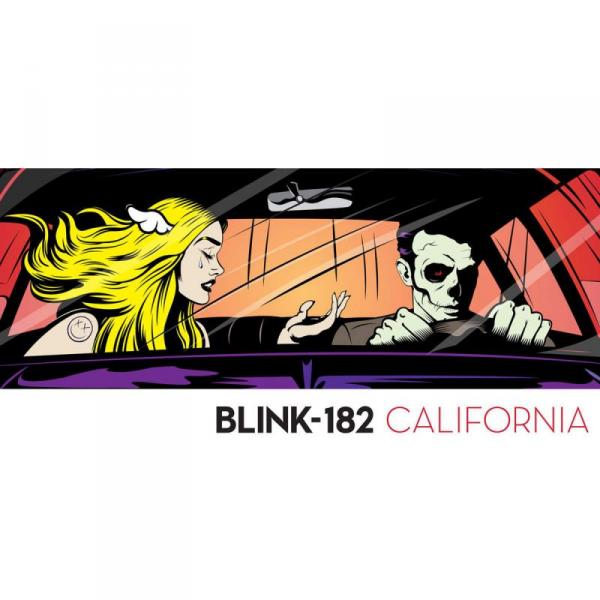 on
Friday, July 1, 2016 - 12:32
We all know the story, right? Just a couple of years ago the Mark, Tom and Travis show became the Mark and Travis show after they had a very public falling out with Tom DeLonge, who didn't seem very interested anymore in making the band his top priority. Logically, because it's hard to focus on pop-punk songs when you have to scour the universe for UFO's. This left the other two thirds of Blink with a vacant position that was ultimately filled by Alkaline Trio's Matt Skiba. They started playing shows together and deciding it felt right, they headed for the studio to record what would become the band's seventh album, "California".
Is it as good as "Dude Ranch" or "Enema Of The State"? Nope. Is it better than 2011's "Neighborhoods"? Hell yeah. Then again, that wasn't really hard now was it? "California" reaches back to older Blink songs and producer John Feldmann (Good Charlotte, All Time Low,…) made everything sound all bright and shiny. One could make a case for saying they reached back a bit too often, simply rehashing some of their older songs ("She's Out Of Her Mind" is basically "The Rock Show" with different lyrics), but it's not like their fans are going to care. They're just happy they don't have to sit through another completely inconsistent and disjointed album.
As for Matt Skiba, he's doing a solid job here. Rather than simply trying to sound like DeLonge, he does his own thing. Sure, at times this ends up sounding exactly like what you would expect 'Blink-182 with that guy from Alk 3' to sound like. But it works. Meanwhile Mark Hoppus seems to have woken up from the coma he has been in for years. Travis Barker on the other hand still sounds as frenetic as ever behind his kit. Maybe even more frenetic this time around, like he's trying extra hard to make up for the lack of new riffs on "California".
At 16 songs, the album does feel a bit bloated and would have been better off without joke tracks like "Built This Pool" and "Brohemian Rhapsody". They could have also done without the rather unnecessary "No Future", the obligatory halfway point ballad that is "Home Is Such A Lonely Place" and "Los Angeles", which sounds like an Unwritten Law leftover. Honestly… after having listened to "California" a bunch of times, I'm still not entirely sure we actually needed another Blink-182 album in my life 13 years after their last decent effort. All their old fans have grown up since and I'm not sure the band has what it takes to stand out between all the other pop-punk acts that have come up while camp Blink-182 was in turmoil.
The most positive thing I can say about "California" is that the album shows the band at their catchiest and most energetic in years on songs like "Bored To Death", "Kings Of The Weekend" and "Rabbit Hole". That alone can already be called something of a surprise.