Features
Under the influence with Grim Deeds (Laptop Punk Records)
on
Thursday, April 14, 2022 - 16:46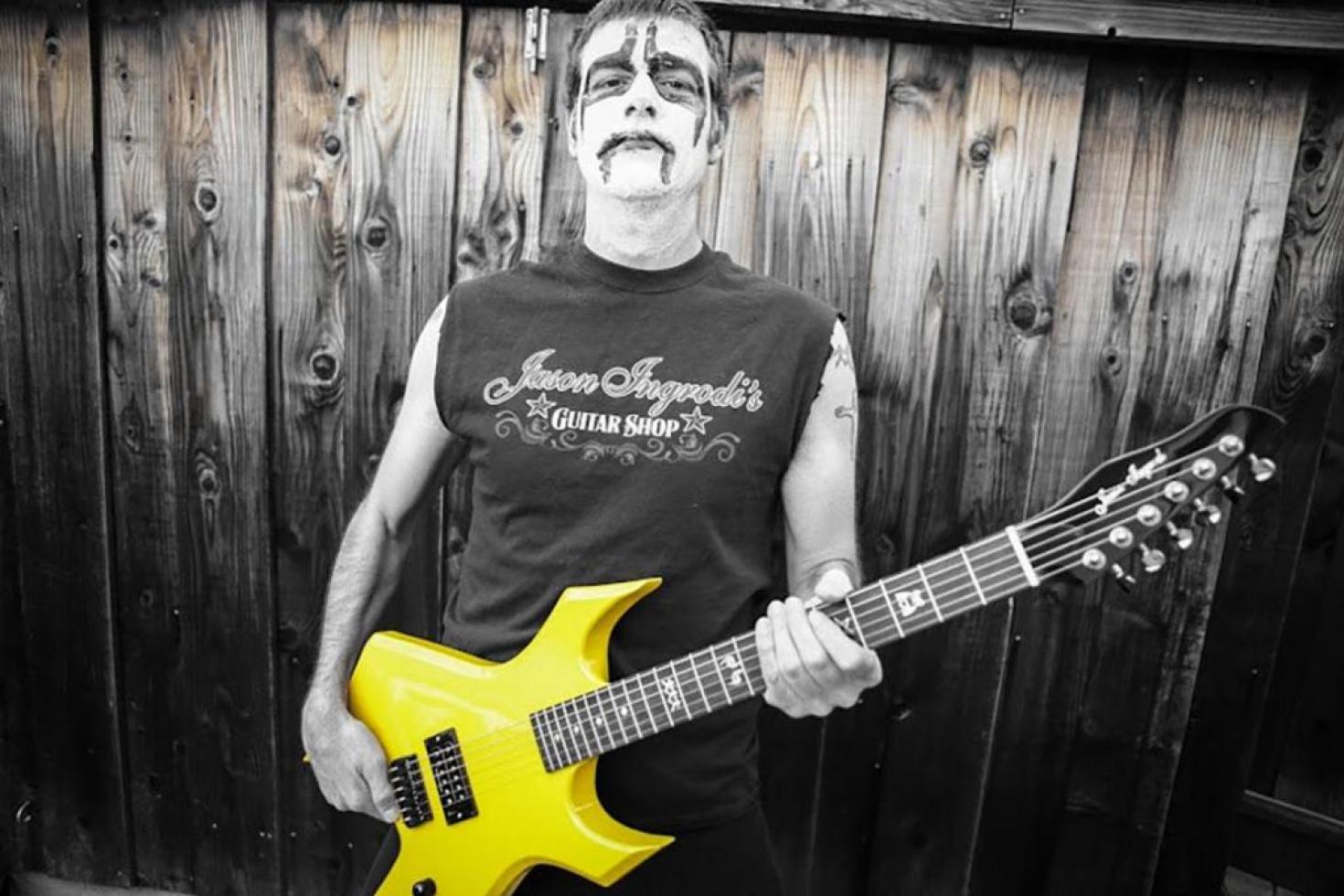 We caught up with Grim Deeds - or Dustin Umberger as his parents call him - to take a deep dive in his influences. For those not familiar, Grim Deeds is not only the driving force behind Laptop Punk Records, he is also the avatar of human suffering in 1-2-3-4 pop punk (and occasionally metal) form. His deep catalog of songs reflects a mind tormented by reality and in search of meaning through songwriting and community. The DIY spirit is alive and well throughout the 20 (home) studio albums so far, and peers have referred to Deeds as the "hardest working man in punk rock".
Laptop Punk Records was formed by Grim Deeds in 2020 as an outlet for friends and underground punk artists to release singles and albums digitally, and to release a compilation series in the spirit of Lookout! and Fat Wreck Chords. Laptop Punk emphasizes DIY and encourages home recording projects, and also celebrates side-projects and one-offs from both obscure and well-known artists. Lisa Marr of Cub, Kim Warnick of The Fastbacks, and John Jughead Pierson of Screeching Weasel are among the artists who've contributed songs, as well as many obscure and new artists with exciting ideas and talent to offer. Laptop Punk's mission is to promote inspired songwriting from across the globe, and there are already great releases from international (Japanese, Indonesian, Ukrainian, Russian) artists in the catalog. With new releases launching every month, the pace is set to continue strong into 2022 and a new compilation cd is on the way. Laptop Punk Records Compilation Volume 1 is now available and features 29 hits from a wide variety of artists.
Disclaimer: I didn't intend for it to be a list of 2010's releases, but it ended up being just that. I hope you'll find as much joy in this list of bands that I consider to be part of that decade's "new wave of traditional pop punk". 
The Blendours - Washington Called (2013)
Trevor Treiber is a songwriting genius, and this release showcases his skills in a most down-to-earth manner. The organic production and female vocals (from the early line-up) really seal the deal. 
Onion Flavored Rings - Funny 7" (2010)
Steve "el Demasiado" approaches pop punk from a street musician's perspective, and the results are uniquely satisfying. Lyrically these are some of the most intelligent, introspective songs I've heard in pop punk universe. They're also very catchy and concise, but not in the typical 1-4-5 manner. 
Andy Social and the Antidotes - S/T (2014)
Originally conceived as a side project by Sheckie's songwriter and frontman Andy Social, this band achieved in many ways what I would consider to be an ideal traditional pop punk sound. It's catchy, it's simple, and it's pedestrian - but always relatable and well executed. 
The Putz - Hole In One (2010)
The debut release by this Indiana-based band isn't their most polished, but it delivers the goods in a most satisfying manner. Billy Putz's natural songwriting gift is on full display, and the vibes are energetic and fresh even though the formulas are familiar. This one's a modern day classic.
Young Rochelles - Cannibal Island 7" (2013)
Ricky Rochelle and company formed the Young Rochelles in the early 2010's to mark a new chapter after the New Rochelles ran its course. The new approach was catchier, spunkier, and shined even brighter. The band has gone on to evolve and mature in more interesting ways, but I always return to this classic debut.
Saturday Night Karaoke - Professional Goofballs (2018)
Indonesia's pop punk scene is a force to be reckoned with, and SNK has been leading the charge for quite some time. Excellent songwriting and musicianship with satisfying production make Professional Goofballs a winner, much like their entire catalog. You can't go wrong with SNK, or "Trop Punk" for that matter.
Neon Bone - That Dog Won't Hunt (2018)
Germany's Lars Hanneman is an industrious and talented songwriter who has accomplished more than the average band in a short amount of time, and mostly on his own. That Dog Won't Hunt sees Neon Bone evolving beyond the one-man band and into classic pop punk territory. There's also a timeless flavor to these tunes that will appeal to any fan of rock.
Parasite Diet - S/T (2010)
Kentucky's Parasite Diet infused their pop punk with a delicious dose of heartland charm to complement their infectious hooks. Unassuming, unpretentious, yet powerful songwriting is at work here. Cory is a favorite songwriter, and this early release showcases his raw talent.
Vista Blue - Tricks and Treats (2019)
Mike Patton of The Loblaws has been cranking out catchy songs as Vista Blue for years now, and has amassed an impressive catalog of releases, including many with specific themes. Tricks and Treats combines catchy pop punk with everyone's favorite holiday - Halloween. It's a treat!
The Jasons - Blood in the Streets (2019)
Watching The Jasons evolve their concept and refine their songwriting has been a rewarding experience as a fan and friend of the band. Blood in the Streets is the high water mark so far, but their progression indicates that each subsequent release will continue to deliver an increase in catchiness and brutality. 
Runner ups:
Hayley and the Crushers - Cool/Lame (2018)
Hayley and her fellow Crushers have been on a tear throughout the late 2010's and into the current decade, with new singles and EPs stacking up on a regular basis as they've evolved their sound and expanded their audience well beyond the pop punk bubble. Timeless, catchy, fun rock music with attitude and flair. Their Eccentric Pop! Records debut is among their strongest works to date, and is a great entry point for new fans.
Japan scene
Since I can't list them all, I have to give a shout out to the entire Japanese pop punk scene for creating some of the catchiest and best songs in the genre over the past decade. Bands like The Hum Hums, HTHWYS, Nerdy Jugheads, Felix! the Band, The Piggies, and other great offerings from flagship label Waterslide Records deserve special mention. Stupid Plots is also a personal favorite for fans of raw melodic punk. Arigatou!