Features
The Pretty Flowers about their new album 'A Company Sleeve'
on
Tuesday, August 22, 2023 - 13:59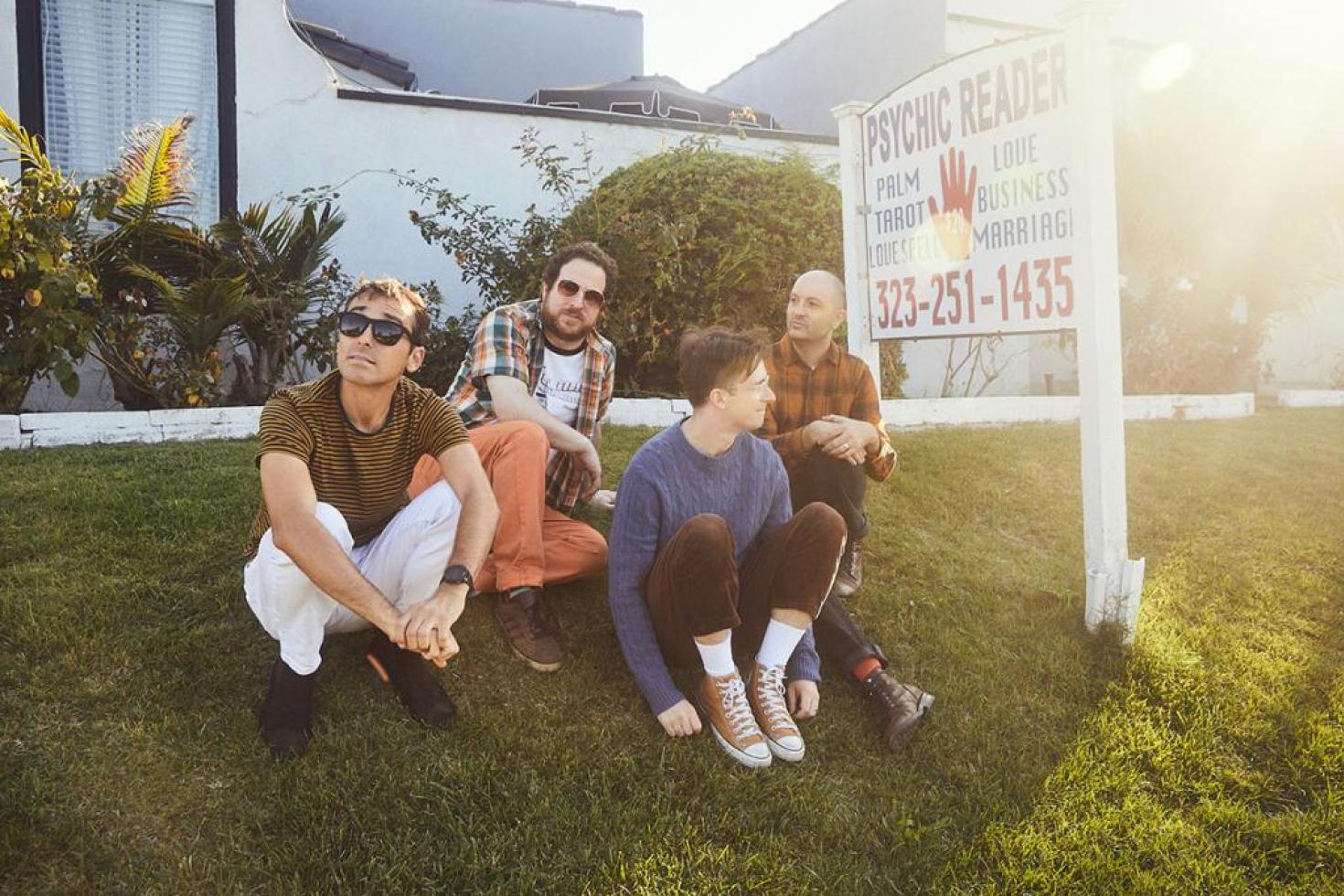 I fell head over heels for The Pretty Flowers the second I heard the opening track of their debut album 'Why Trains Crash,' which came out in 2018 on Dirt Cult Records. I was hungry for more, but the Los Angeles-based indie rock band has kept me waiting for quite some time. Luckily, the wait is finally over now that the band's sophomore album 'A Company Sleeve' is out on their new home, Double Helix Records. Produced by the band's own Jake Gideon, 'A Company Sleeve' calls upon '90s and early '00s pop-punk and indie-rock and captures a bit of youthful carefree nostalgia. With their musical nucleus firmly rooted in the early influential days of indie and college rock, the band's sound harkens back to that of Guided By Voices, Echo & the Bunnymen, The Teardrop Explodes, Superchunk, and Teenage Fanclub. In other words, gutar greatness.
We recently caught up with the foursome - guitarists/vocalists Noah Green and Jake Gideon, bassist/vocalist Sam Tiger and drummer Sean Johnson - to talk about the new album, their new label, movie soundtracks and more.
'A Company Sleeve' is out now on Double Helix Records. You can order your copy here.
PRT: You released your last album, the excellent 'Why Trains Crash', back in 2018. Since then, you have been playing shows in LA , toured the West Coast a couple of times and released a string of singles. So it's not like you've been quiet, but how come it took until now to release another full-length?
Sean: The biggest excuse is COVID, really. For me, it was a bummer at first to hold out, but now that we're here I'm glad we took our time because we ended up being more thoughtful with every piece of the pie. Mixing, art, single roll out, music videos etc were all put together during that time which I think has made for a better album and experience for the listeners. The other big delay was slow LP production, which is par for the course for an indie band these days.
Noah: We also didn't have anyone pushing us to finish the record to get it out. We had the luxury of taking our time to get it to be the thing we wanted it to be without any real outside pressures.
PRT: Musically, you are influenced by a lot of different bands, which pretty much all have in common that they  are from the 80s and 90s. What is it about the early days of indie and college rock that appeal to you so much?
Sean: I always say we make refined guitar rock as guys who grew up on punk. It's an amalgamation of college rock, classic rock and punk, really. Our influences are guitar based but I wouldn't want to limit it to just college era rock.
Noah: The early 80s was just an exciting time for indie music, reacting to and rejecting the bloated 70s arena rock shit, maybe knocking the rock pedestal over and shifting things to be about songs again. The mid-90s was a really musically formative time for me as a kid, when it felt like these relatively underground bands like Dinosaur Jr. or Fountains of Wayne were as well-known and important to everyone else as they were to me. It seemed to me that having a video played on 120 Minutes on Sunday night at like 1AM was the biggest thing that a band could do. I think I still kind of look at things in the same way now with our band, just being happy with a much smaller version of success, without any expectations.


PRT: Your new album is out now on Double Helix Records. How did that come about?
Sean: As much as we love our last label, Dirt Cult Records, we decided we wanted to try something new. Double Helix was on our radar from the get go, but prior to that we shopped around without much success and realized it'd be better for us to work with an independent with a smaller roster and have more focus than on a bigger label with a lot more acts. We can take up all the attention! (joking! )
Noah: I knew Jeff way back in the mid-2000s. He was already the manager of the band Henry Clay People when I joined them on bass for a while. At that time he had recording sessions lined up for the band at Jackpot! in Portland and Hotel 2 Tango in Montreal. Those wound up being two great experiences of my life that Jeff is responsible for. When he restarted the Double Helix label with his wife Em, about a year before A Company Sleeve came out, I knew I could vouch for them and they'd do what they could for our album.
PRT: You produced the new album yourselves. Why did you decide to do it yourselves versus having an outside perspective?
Jake: I was a fan of The Pretty Flowers before I was a member. I had just moved into a new house and was dialing in my home studio, so I asked Noah if they wanted to come in and be my guinea pigs. I immediately had a very natural connection with Noah's songs. They felt familiar and comfortable to me right away and I had a clear idea of how I thought they should sound and be arranged. And, thankfully, Noah trusted me enough to guide and shape the recordings that would become our first LP, Why Trains Crash.
So, in reality, I was in The Pretty Flowers before I realized I was in The Pretty Flowers. I wrote and played a bunch of parts on that album, so I started playing shows with them to fill out the sound, and that organically led to my role as the in-house band member/engineer/producer. This band is refreshingly functional in that we all play to our strengths so none of us has to carry all the weight. Those are my strengths. I'm complete shit at networking, marketing, promotion, booking, scheduling, social media, graphic design and about a thousand other things bands have to do themselves these days, but you plop an indie rock song in my lap and I know exactly what to do.
PRT: Was that a comfortable way of working? I'm no musician myself, but I'd be afraid there's a risk of overthinking things if you are also in the producer seat?
Jake: As far as the risk of overthinking goes, I don't really think about that. See what I did there? I trust my instincts in this band. Like I said, I've just gotten Noah's songs right from the start. That doesn't mean I'm not going to do a lot of exploring and experimentation in order to happen upon unexpected, exciting ideas, but I don't think I ever feel like I'm just shooting in the dark. There are sounds and choices on A Company Sleeve I never could have imagined before going through the process of making the album, but that's the fun part. That's the spark of discovery that keeps you coming back for more; that freedom to open yourself up to boundless creativity that somehow leads you from point A to point Z even if the route looks like a child's drawing of a ball of yarn. If there isn't some part of you asking "how the hell did I do that?" when you listen to your finished work, then you probably didn't push yourself far enough.
PRT: You wrote the album while going through a difficult time at work, with an absolute nightmare of a boss. Did you make sure to send him/her a copy of the album?
Noah: Ha, no. The less contact the better. I'm holding out for karma to do its job.
PRT: You said that the album is about pushing back against meaningless authority and finding a version of hope or comfort in art and music. How cathartic is it for you to put it all out there in the form of a song?
Noah: For a lot of these songs that theme didn't immediately reveal itself. It was when we had all the songs together that I was able to see what was going on, mostly because I knew what to look for. It definitely felt good to have songs that meant something to me be out of my head and completed. It always feels good to create something new and have it exist in the world.
PRT: Is it your dream to make The Pretty Flowers a full-time thing or do you look at it more like a way to spend time with your friends and work through things through music?
Sean: I can only speak for myself, but I do think we're generally on the same page in that we've all been in bands for a long time collectively and we understand the limitations of being in a band now based on where we are in life at this moment. If it was full time, there'd be more pressure applied, so having it be "on the side"  allows us to be more thoughtful and make the best music we can when we can.
Noah: I definitely feel grateful to have the outlet of the band in my life. It's really, really difficult to make music a full-time thing, especially if that means making music in a band, and even more so if that means making indie/punk music. In your 20s it's a lot easier to go all-in on your band and figure out a way to make things work by any means necessary. Outside of that window of time a full-time band starts to feel like an impossibility. I don't think being a full-time touring band has ever been an aspiration for me anyway. Being away from my wife and cats for months at a time is not something I ever wanted to do. For me the band is really about creating new music that we're excited about and getting it out there for people to hear.
Sam: It would be such a blessing to be able to make music full time, but I've been around long enough now to know that's not a situation you can choose, it seems only the luckiest among us get that. If that happened I would be happy as a clam. But until then I'm just happy making music with my friends. Playing music definitely helps me work through other aspects of my life, and without a doubt I'm in my happy place with a bass in my hands.
PRT: Your songs have been featured in a number of TV shows (Shameless, Nancy Drew,…). What is one movie that you would have loved to have one of your songs included in?
Noah: It would have been cool to have one of our songs on the Valley Girl soundtrack with Sparks, The Plimsouls, Eddy Grant and Psych Furs.
Sean: I think our music fits on The Bear. There's a lot of Replacements and Wilco on that show, so I can see us slipping in there.
Sam: I would have loved to see something like "Bucket Beach" in Marcel The Shell! Or anything in Everything Everywhere All At Once. Of course a Wes Anderson movie would be a dream!
PRT: And going back to the 80s and 90s, which movie has the best soundtrack ever?
Noah: Repo Man (80's)
Sean: Angus (90s')
PRT: You recently toured with Berlin-based band The Roxies, which I had never heard of but seriously liked when I checked them out. Any other well-kept secrets I should know about?
All:  To name a few: Sweet Nobody, Near Beer, Gentlemen Rogues, The World Record, Down Time, Tambourines and Had Had.
PRT: What's up next for The Pretty Flowers now that the album is out?
Noah: Play more shows, write more songs.
Sean: Make album 3, baby!