Features
Mobina Galore's guide to Winnipeg
on
Monday, February 6, 2017 - 10:52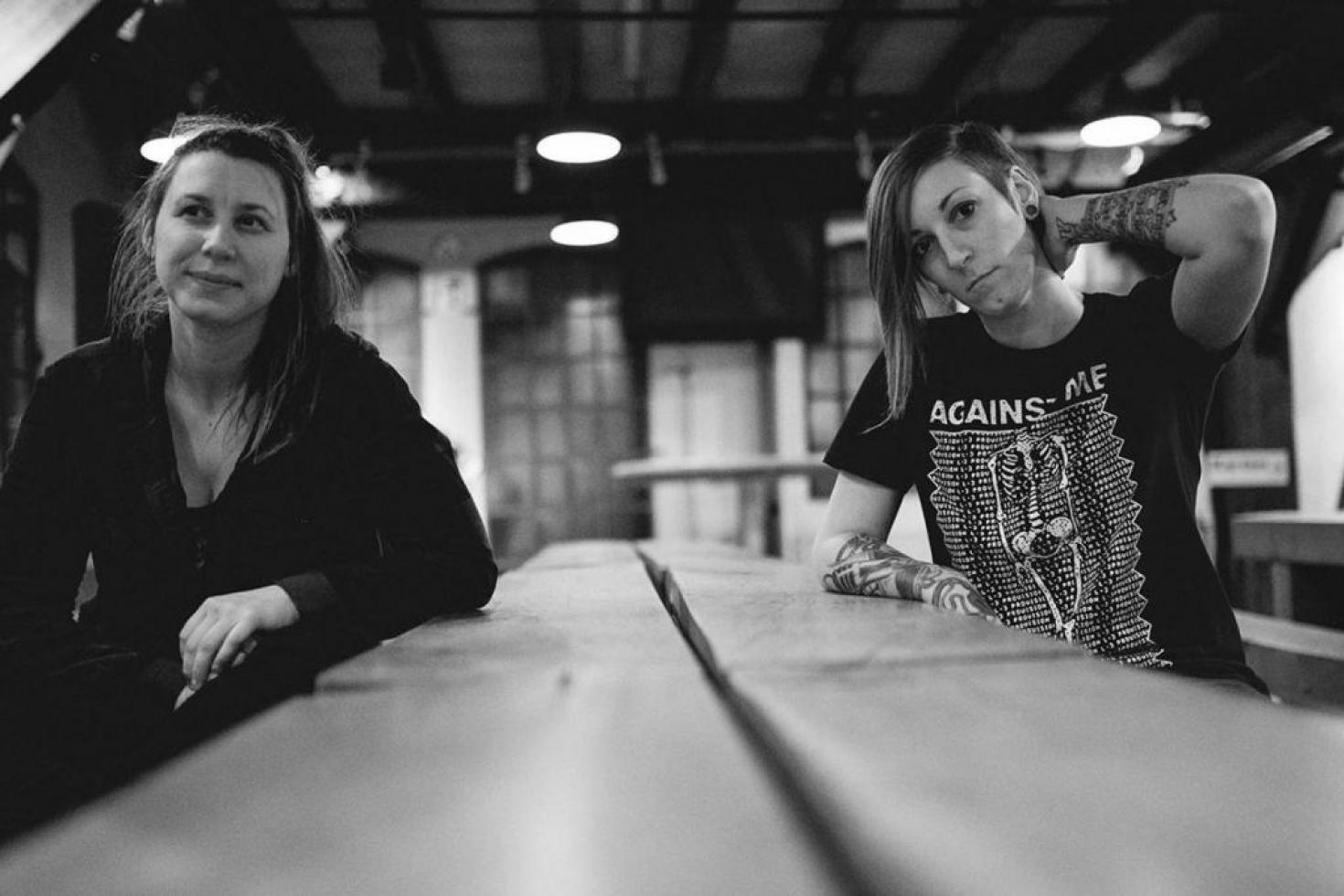 Mobina Galore, the Winnipeg powerhouse duo consisting of vocalist/guitarist Jenna Priestner and drummer/backing vocalist Marcia Hanson, recently announced their new album, "Feeling Disconnected". Following the release on Feb 24 via New Damage Records, they will be hitting the road with Against Me! (click here for the tour dates). We caught up with Jenna to ask her some questions about her hometown, which she won't be seeing a lot of the next couple of weeks.
PRT: What made you fall in love with the city?
Jenna: The cultural diversity, the music scene and the people. The combination of those three things allows for so much creative freedom and community support. You can be and do anything you want in terms of art here - there's not one Winnipeg "sound" much like there is in many other cities. There's nothing holding you back here and there will generally be a market for you, how small it may be.
PRT: If you had to come up with a marketing slogan for the city, what would it be?
Jenna: The iconic Winnipeg city sign, you know - the ones you see when you drive into the city - used to be visually and graphically pretty simple yet bad ass with the slogan "One Great City!" underneath it. Nothing fancy, just interesting. As many cities do, they try to rebrand and put up new more modern city signs so what happened with Winnipeg's was a change to a skyline photo based sign with "Heart of the Continent" on it. Yeah we may be the literal middle of the continent, but "One Great City!" was so much better!! Bring back the old slogan, cause it's become such a legend in this city. I actually made band stickers with that sign as a design element (you can see it attached).
PRT: Best place to play?
Jenna: That's tough, but The Park Theatre has always been a great place to play. Great room, great sound and Erick the owner is constantly upgrading the venue for not only the comfort of the patrons, but the bands as well and from my experience that's not all that common.
PRT: Best place to go for a late night drink after the show?
Jenna: Probably our place ;) Always seems to happen.
PRT: Best place to go for a late night snack after the drink after the show?
Jenna: It's gotta be ordering a ridiculous amount of 222. That's Pizza Hotline and it's easy to remember the number cause it's 222-2222.
PRT: Best touristy thing to do in the city?
Jenna: If it's the winter time then it's for sure going skating on the river! Weather dependent there's a trail groomed for several KMs linking many parts of the city, you can kind of duck in anywhere - It's pretty spectacular. If it's the summer time, usually The Forks is where people go, but if you get off the beaten track a bit then you and grab a tall can from the LC and find a little spot down by the river and chill in the blazing sun for a bit.
PRT: Best hidden spot in the city?
Jenna: Probably that river spot I was talking about. Or the ball diamond under the St. James Bridge - that's a pretty fun place to hang in the summer time. If we're talking food then you HAVE to go to Pho Hoang on Sargent and get the Veggie Pho - it's unreal!!
PRT: One thing you would like to see changed in the city?
Jenna: I'd like to change the reputation that Winnipeg gets, but that being said, it isn't really something that Winnipeg itself can do. I admit some of the stereotypes may be true, such as our high crime rate and notoriously cold winters, but every city has their issues most people just choose to ignore that rep and experience it themselves before they judge. Also, the city gets the WORST potholes because of our 60 degree temperature changes throughout the year and it seems impossible for the city to keep up with it, so if you visit this city by car … be careful!! And watch out for cyclists because the city is slow to give them their own lanes!
PRT: What's your best memory about the city?
Jenna: Playing shows at The Cavern when we first moved to the city. It's a great 100 cap venue below a local watering hole called The Toad in the Hole. We played The Cavern a lot when we first moved to the city and it's where we met a lot of our favourite local bands and started to build our own local fanbase. It's been years since we've played there, but it still is a really fun place to go see live local and touring bands.
PRT: Where in the city did you get your heart broken?
Jenna: Let's not go there.
PRT: Is there a historical fact about your city that makes you chuckle?
Jenna: Winnie the Pooh is named after Winnipeg so that's pretty cute, right?
PRT: Favorite song about your city you'd like to share, either yours or someone else's?
Jenna: That's a no brainer - The Weatherthans - One Great City!. Everywhere in the world we go as Winnipegers people will sing "I hate Winnipeg" to us and we'll laugh and sing along. I don't think any song can compare, but if I had to choose it would be our local hardcore punk-rockers Union Stockyards with their track "Sunday Matinee", which is about The Albert which is a historic punk venue in the city that is now closed down. Actually a lot of Union Stockyard songs are about Winnipeg, like their track "Garbage Hill".