Features
Billy Liar's guide to Edinburgh
on
Saturday, September 7, 2019 - 12:45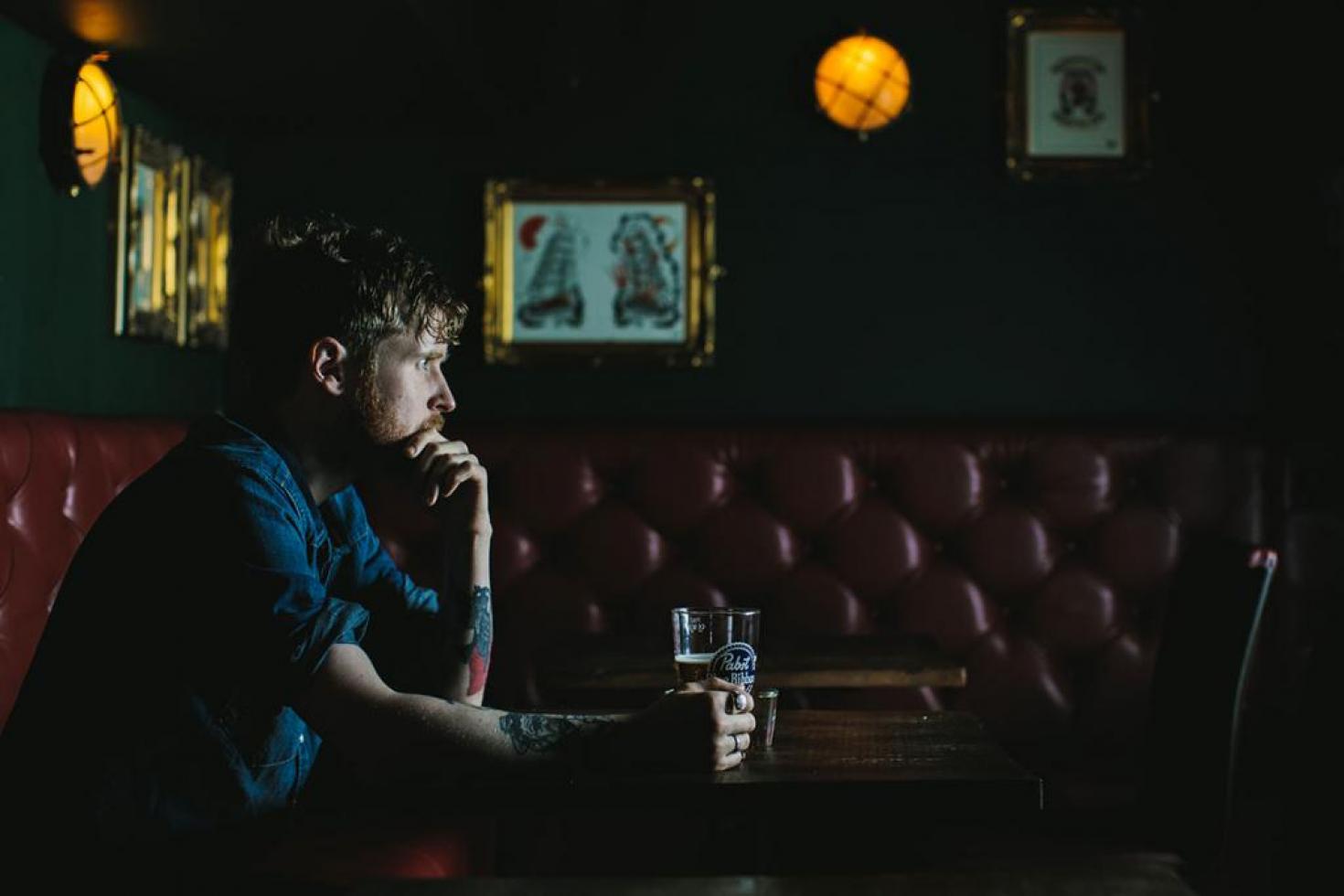 - by Tom Dumarey
I don't think cities have official punk troubadours, but I feel like they should. And in Edinburgh's case that title should be bestowed upon Billy Liar.
He has been writing acoustic songs about life in the Scottish city on a regular basis since 2006 and recently released his first full-band album through Red Scare called 'Some Legacy'. Assisted by Joe McMahon, Tim Van Doorn and Sham 69's Robin Guy, Billy turned in an album that is nothing short of excellent. If you want to know more, you can check out our review here.
We caught up with Billy to talk about his hometown as he is gearing up for another round of shows (find all the tour dates below). (photo credit: Grant Anderson)
PRT: What made you first fall in love with the city?
Billy: I grew up in Edinburgh and have always loved the architecture and history of the city, the green spaces and the unexploded volcanos that you can climb (including one with a CASTLE on top of it.  A fucking castle!).  I love the winding cobbled streets and the wee nooks and crannies off the beaten track, where you can easily lose yourself if you're not from the city. 
PRT: If you had to come up with a marketing slogan for the city, what would it be?
Billy: I mean, I'm no slogan-writer.  The modern historic city.  Am I hired?
PRT: Best place to play?
Billy: Without a doubt, Bannermans is the one for me.  It's a sleazy rocknroll punk rock dive bar under a bridge on the Cowgate of Edinburgh, just down from the Royal Mile.  During the day, it's a mixture of hard-drinking rock n roll regulars and some confused or excited tourists, and at night, it comes alive when the bands hit the stage in the backroom.  It has one of the best sounds and stages in the city, and they really know how to treat bands.  The booker is a busy touring musician himself, playing in Warrior Soul and Love/Hate, and the most frequent sound engineer plays in The Exploited, so you're in safe hands.  They get it.
PRT: Best place to go for a late night drink after the show?
Billy: It has to be The Banshee Labyrinth.  Just up the road from Bannermans on Niddry Street, nestled between the Royal Mile and the Cowgate, you can find 'Scotland's most haunted pub.'  This spooooooky bar is open from the early evening until 3am 7 days a week, and has three bars inside it, a live music venue, a pool room and lovely little 60 seater cinema!  You can watch bands, dance to DJs, or take part in the open mic (with full band backline and instruments provided) or karaoke party—depending on what night of the week it is, or grab a drink and sit in the free cinema watching a range of B movies and classics until 3am.  During the Edinburgh Festival in August, the Banshee is THE place for free shows, with 3 of the rooms turning into free comedy/theatre venues from midday until 5am (!!) every single day for a month.  Highly recommended.  Make sure you try the Black Death shooter.   
PRT: Best place to go for a late night snack after the drink after the show?
Billy: Depends how late you are.  I would suggest The Clamshell on the Royal Mile if you'd like something hot with chips.  It's definitely the best central fish and chip shop, or Che does really good falafel wraps.
PRT: Best touristy thing to do in the city?
Billy: The Vaults tours are pretty sweet.  They'll take you into the catacombs of the city, which is actually what the Banshee Labyrinth is built into, and tell you some local spooky historic stories!  I'd also recommend going up Calton Hill, it's a much easier climb than Arthur's Seat and has an incredible view of the city on a clear day or night.  The Camera Obscura is also pretty awesome.  Oh, and check out the independent record shops: Assai, Elvis Shakespeare, Voxbox, Vinyl Villains, Avalanche.  And Forest - Edinburgh's volunteer-run community art space/vegan and vegetarian café.  This place means a lot to me.
PRT: Best hidden spot in the city?
Billy: There's a little street in Edinburgh called The Vennel that I used to sneak off to when I worked at a bar nearby and was supposed to be handing flyers out for.  I'd sit on a step there as the day turned into night and write a lot of songs, including the song "All I've Got".  But that's our little secret - please don't tell anyone.
PRT: One thing you would like to see changed in the city?
Billy: The amount of tartan tourist shops that have monopolised the Royal Mile and Princes Street over the last few years is embarrassing.  This shouldn't be allowed to happen.  Most of them are owned by the same people, and they're just tacky bullshit.  I get the need or desire for one or even two, but they are EVERYWHERE.
(photo credit: Kevin Thomson)
PRT: What's your best memory about the city?
Billy: Too many!  It's where I played all my first gigs so those are some of my fondest memories.  Playing my first gig (at high school!) in my first band.  Playing my first gig at Bannermans when I was probably too young to be in the building (woops, sorry).  Seeing The Damned and Wreckless Eric when I was 16, and thinking I'd seen it all.  And then watching Oi Polloi play the first floor show I'd ever been to.  WHAT?  They're playing on the floor?!  And they exploded.  And we became friends that night, and I played many of my first shows with them—life changing stuff!  Seeing Tom Waits play at the Playhouse Theatre.  And TV Smith for the first time, and then playing countless shows with him.  Seeing Frightened Rabbit for the first, and last time.  
PRT: Where in the city did you get your heart broken?
Billy: Oh, a couple of places.  I lived there until I was 18, and spent a bunch of time living there in my early 20s, so that's quite a lot of room for things to go South.  Where's the minor piano part?
PRT: Is there a historical fact about your city that makes you chuckle?
Billy: Edinburgh has a lot of dark history which is funny in a macabre sort of way.  I don't know if I find it funny.  More weird and interesting?  The plague hit the city hard and a lot of people living in what is now referred to as the Old Town died, while the rich folks moved across the river (which is now Princes Street Gardens) to escape it, and formed the New Town.  Hence the divide and difference in architecture styles.  Walls were built around the city, and pits were dug as mass graves for the plague victims.  These days, people play golf on top of some of these mounds without necessarily realising it.  You can find them at Bruntsfield Links.  That's pretty fucked.  But you've gotta laugh a little I guess?   
PRT: Favorite song about your city you'd like to share, either yours or someone else's?
Billy: 'Braidburn Valley' by Honeyblood, 'Edinburgh Castle' by Mike Scott (apart from the ending where he's stoked to be back in Glasgow!) and 'Come Back To Edinburgh,' which is an old song I wrote and definitely my most obviously about the city!
Upcoming tour dates:
9/28 - Gottingen, DE @ T-Keller
9/29 - Berlin, DE @ Ramones Museum
9/30 - Hamburg, DE @ Hafenklang
10/2 - Saarbrucken, DE @ Tante Anna
10/3 - Glasgow, UK @ The Hug & Pint
10/4 - Edinburgh, UK @ Bannermans
11/2 - Gainesville, FL @ The Fest (High Dive)
11/3 - Gainesville, FL @ The Fest (Big Lou's)
11/16 - Boston, MA @ Winter Hill Brewing Company
12/14 - Hastings, UK @ Crowley's Bar