Features
on
Sunday, February 12, 2012 - 00:00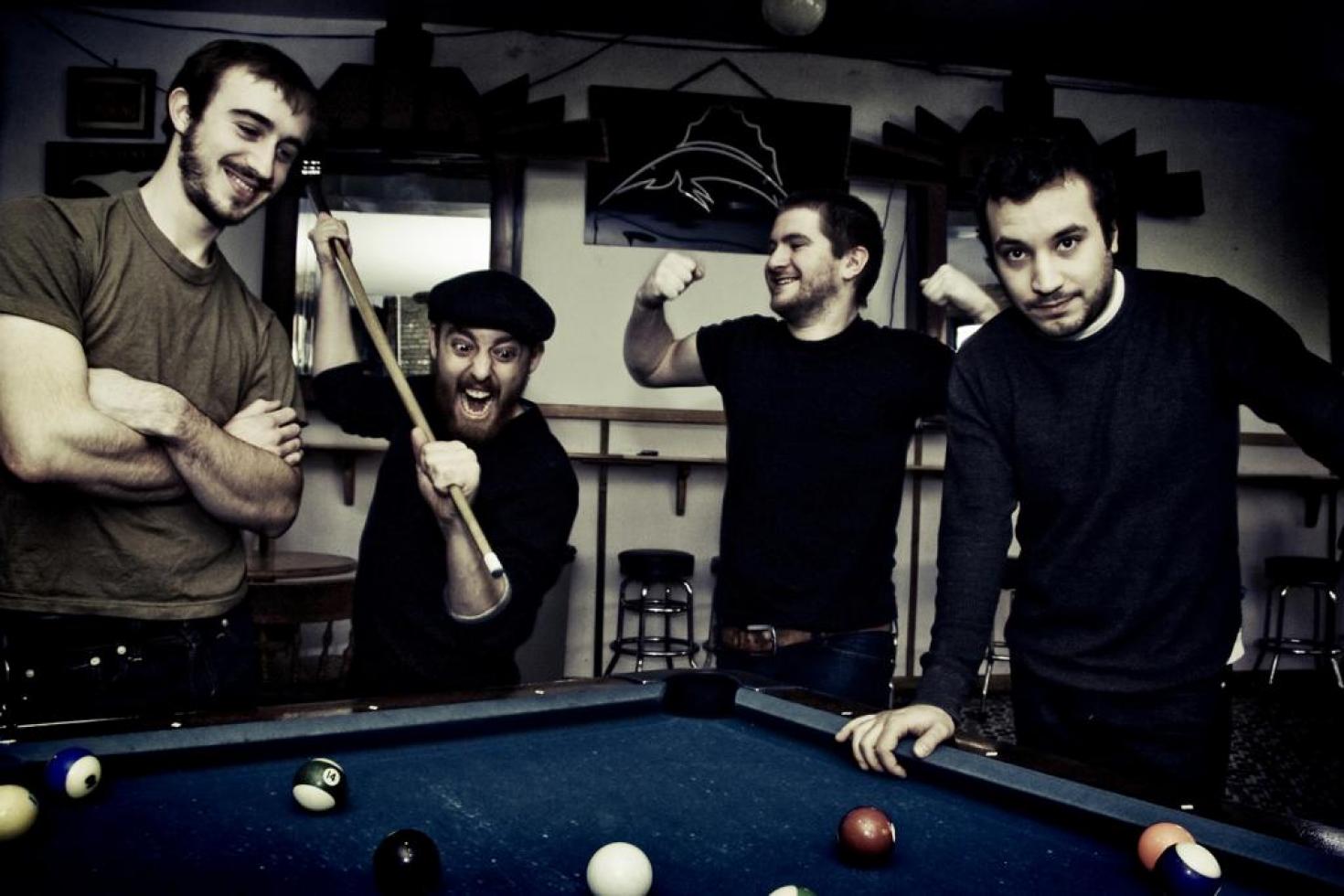 The Menzingers have worked themselves up to a punkrock powerhouse and I doubt that'll be stopping soon now that they've signed with Epitaph and just released a new album called "On The Impossible Past". Make sure to check them out at this year's Groezrock fest and read on to see what vocalist/guitarist Greg Barnett had to tell us.
PRT: First things first… one thing I've always wondered about ever since I first heard you guys… what the hell is a Menzinger?
Greg: The world may never know.
PRT: Things are going pretty good for you guys… you've toured with the likes of Against Me and The Gaslight Anthem, you signed a deal with Epitaph, you have a new full-length coming up. What does it feel like to see all your hard work paying off?
Greg: It's amazing to say the least! I honestly never thought I'd be fortunate enough to be in a band that people care about. The biggest appeal to me is being able to travel around the world and make new friends. It's the most rewarding "career" path anyone could ever ask for. Im the luckiest kid in the world.
PRT: You're on tour now with Rise Against and A Day To Remember. How's that working out for you guys?
Greg: It's incredible! I never thought it in a million years that my band would ever play places this big. I mean our dressing rooms are professional sports teams locker rooms! It really is the most surreal experience I've ever had in my life.
PRT: Your new album is called "On The Impossible Past". I'm guessing it's a reference to how you can't change things that have already happened. Am I close or completely missing the point?
Greg: It means whatever you want it to mean. It's a quote from Vladimir Nabokovs "Lolita" and the record title is shortened from the quote: "I was weeping again, drunk on the impossible past". Nabokov is my favorite writer and I always loved the complex layers of his prose. I think it would be silly and dishonest to offer a clear cut explanation here. This record is essentially an accidental concept record that runs along the theme of "On The Impossible Past". Hopefully listeners take what they want from the concept, lyrics, artwork, and title and make it their own.
PRT: While the album still contains all of the elements I've come to love about The Menzingers, it's a big step forward for you guys with some of your most mature material to date with songs like "Gates" and the title track. Is that something you talked about when you started work on the new album or is it just the way the songs turned out?
Greg: Yeah, absolutely. We obviously didn't want to write the same record again and wanted to create some type of lose fitting story. I think the major difference between our previous records and this one is that "On The Impossible Past" was written with the idea that it should be listened to in full. I think the digital age has really fucked with the way albums are digested. Its a bummer.
PRT: You once again worked with Matt Allison. What is it that makes working with him so easy for you guys?
Greg: It all comes down to trust. We're very fortunate to say that Matt has become a very close friend of ours and we respect him and his work immensely. I can't even begin to say enough wonderful things about the guy! He knows how to get the best stuff out of us for sure.
PRT: "On The Impossible Past" will be your first release on Epitaph. What does being signed to a label like that change for you guys exactly?
Greg: Mainly it gives us more resources to grow as a band. We're still the same drunks essentially.
PRT: Epitaph has released its share of albums that have helped shape the punkrock scene… do you still remember the first Epitaph release you went nuts over?
Greg: Rancid's "...and Out Come the Wolves" and Bad Religion's "No Control" blew my fucking mind when I first heard them. I'll always remember skating around Lake Ariel, PA and feeling like everyone was ok in the world.
PRT: While you've already achieved quite a lot, what is the one thing you'd still love to accomplish with The Menzingers?
Greg: "I'd love to be that lucky one on chill avenue, one to keep your heart warm when ice has turned it blue".
PRT: In the movie "Almost Famous" there's this one scene where the band is in a plane and they think they're gonna crash and so they come out with all these big confessions. If you were in that situation, what would you confess?
Greg: Haha I have no idea what I would confess... I still love 311? In reality I'd just run to the booze cart and get loaded before my impending doom.
PRT: Why did The Menzingers cross the road?
Greg: To get burritos and liquor.
PRT: In April you will be playing at the Groezrock festival in Belgium… have you already heard about that festival and are you excited about it?
Greg: Yeah! Groezrock is a festival I've always dreamed of playing and the lineup is completely insane this year. A bunch of our European friends are coming as well so it's gonna be pretty incredible. I mean the fucking Refused are playing!
PRT: You have ten seconds to write your final words for our readers. Go!
Greg: Zoltan!