Features
on
Thursday, June 8, 2017 - 14:57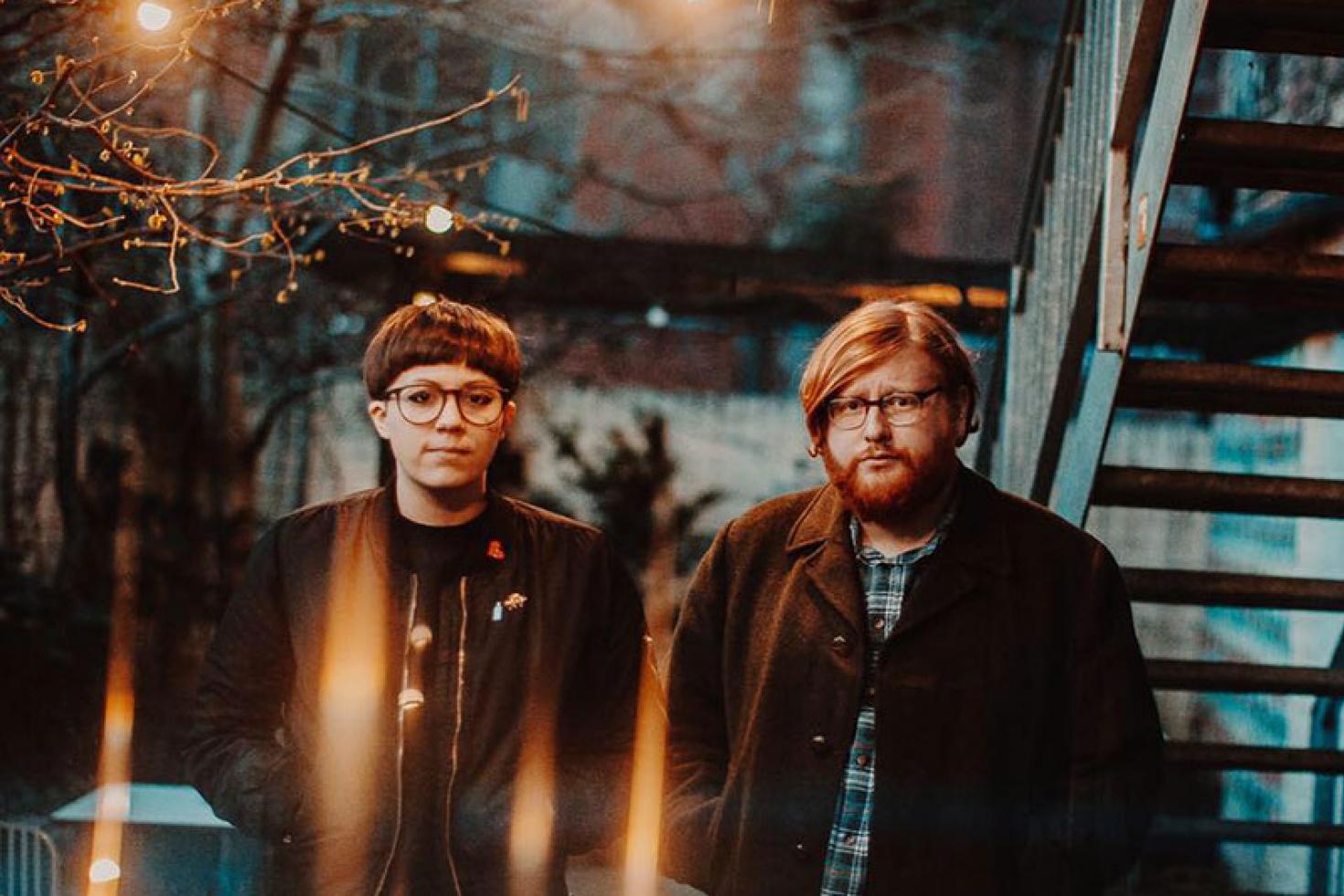 When we first heard "SAD" by UK duo Kamikaze Girls, we were immediately won over. Influenced by the likes of Pretty Girls Make Graves, The Cure, Pixies, REM, and 90s shoegaze bands, they managed to come up with a sound wholly their own. The only problem I had with "SAD" was that there weren't enough songs. They solved that problem now though by releasing their first full-lungth. "Seafoam" will be out thomorrow via Big Scary Monsters (UK/EU) and Wiretap Records (US). We caught up with vocalist and guitarist Lucinda Livingstone and drummer Conor Dawson to talk about the new album.  (photo credit: Katie McMillan)
PRT: Can you sum up Kamikaze Girls' history in the form of a tweet?
2 years old. Angsty fuzzy riot grrrl. Released SAD. Toured a lot. We have a new album called Seafoam. We like The Cure.
PRT: I read that you considered SAD a test to see what you could achieve as a two-piece. Did you put that even more to the test on Seafoam? And while making the album, did you keep in mind that you would have to be able to recreate these songs live?
Conor: I don't think we ever saw it as a test to see what we could achieve. When our guitarist left it wasn't even really an option to get anyone else we just decided to carry on as a two piece. We'd been playing music together for so long that it wouldn't have felt right getting anyone else involved at that stage. 
Lucinda: It's always been at the back of our mind that we have to play these as a two-piece so we try and keep the recording set up as raw as the live one. There's a couple of guitar parts I can't physically play at the same time but besides that everything's the same pretty much. I have a lot of guitar pedals and our set is just a tap dancing frenzy for me!
PRT: You have used and continue to use Kamikaze Girls as a means to challenge attitudes and taboos surrounding mental health… does it ever feel weird to be onstage and sing about those kind of delicate subjects to a bunch of strangers?
Lucinda: When you put it like that, definitely ha. But that's what music is I guess. Putting things out there for strangers to listen to. It's definitely easier to play in front of a group of strangers then it is a group of friends. 
PRT: For the new album, you signed with Big Scary Monsters whereas the EP came out on a Belgian label. Did you feel it was necessary for you to have a stronger support system in the UK?
Lucinda: We enjoyed working with Bearded Punk for SAD, they're a great bunch but yeah it's super nice to have a label based in the UK now. We have a nice little team for this release and everyone's great, we're really grateful to everyone in the KG family. 
Conor: I can't speak highly enough of the guys that run Bearded Punk over in Belgium. They are some super passionate people and are doing some amazing things, and are definitely friends for life now. I think as soon as we found out that BSM were interested in working with us, we were all in, like they have been one of our favourite labels for a long time and work with some great bands. We couldn't turn down the opportunity to work with them, and when we were able to still work with Wiretap in the States too that was just the icing on top of the cake, Rob who runs Wiretap has been so unbelievable with our band since SAD came out, it's a real honour to work with him. 
PRT: Speaking of the UK, it seems like in just a couple of years' time there has been a nearly endless list of new and exciting punk bands sprouting up. Do you have an explanation for what is going on? Where do all of these bands come from and why now?
Conor: The UK has always been great for punk bands, in the past bands like Reuben and Hundred Reasons were the reason I got into punk really. I think it probably runs in cycles too, there's usually a really good period in which bands break through, and then a lull, I guess we're in one of the good cycles at the moment and that is fantastic. Also the political state of the country and world definitely helps too, you can 100% expect to hear some very pissed off tracks about Brexit, Donald Drumpt, the current election and just "millennials" in general, in the very near future. 
Lucinda: In terms of all these new bands popping up I think it's partly because our DIY / Punk scene (especially in the UK) has become so inclusive and a great support system. If you want to start a band, why not start it already. There's so many amazing bands now you're spoilt for choice in our scene. Our June tour is looking amazing as all the local support acts are incredible, we can't wait to play with them all. 
PRT: If there is one thing you would like to achieve with Kamikaze Girls, what would it be? 
Lucinda: We don't have any expectations from KG really. We'd love to do more festivals and tours and visit more countries as every band does, so if we can keep going with that and people don't get bored of us then we're happy. 
Conor: yeah what Lucinda said, apart from I want to be the first band to play on the moon.
PRT: What's up next for you once the album is out?
Conor: I'm going to have a cigarette then have a big sleep...
Lucinda: We have a co-headline tour with Nervus at the end of June, and then we have a bunch of festivals over the summer. In October we're heading back to America for some shows and then I guess we'll see what next year brings.
Conor: Oh yeah, then all the cool tours!