Features
on
Tuesday, September 1, 2009 - 00:00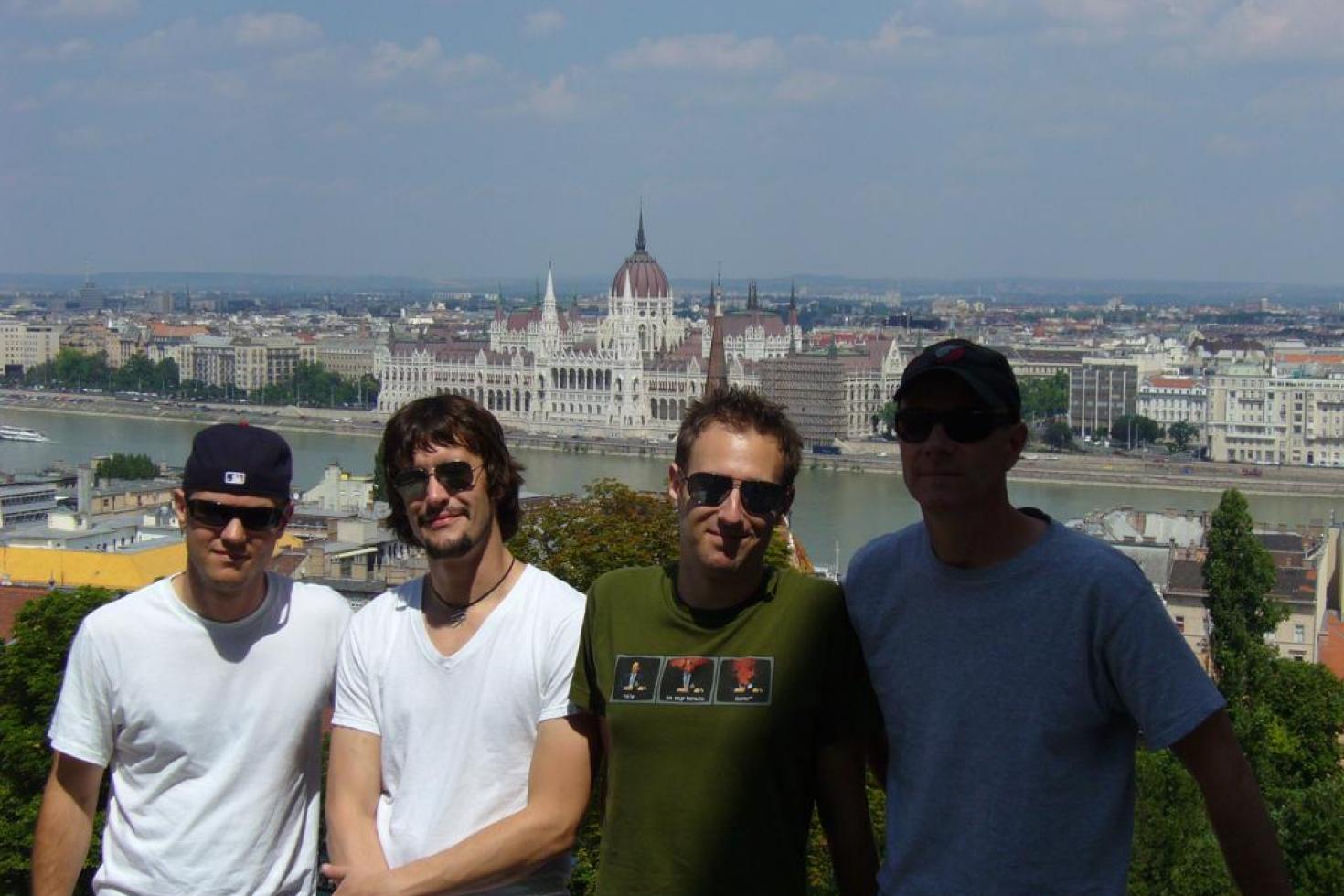 After having met Page Hamilton a couple of years ago and having decided that he's one of the nicest guys I've met in all the years of doing this site, I thought it would be a great idea to tag along for a couple of days when I found out Helmet was coming back to Europe. So I sent an email to Page, he said yes and then I started thinking whether or not it would really be the smartest thing to go on tour which I've never done before with a bunch of guys I've never met before to go to places I've never been before. A phone call to my mom and one to my pastor confirmed that it would indeed be a very bad idea because according to them sex, drugs and rock 'n roll are not a good combo. So I sent Page another email saying 'sweet!' and arrived all packed up at the Graspop festival site three months later.
DAY 1 : Graspop, Dessel, Belgium
When I arrived at the festival, tour manager/live sound engineer Brian was already waiting for me with my passes. We then headed for the bus where I dropped off my stuff after which we went to get breakfast. I got to meet everyone in the band except for Page who was out and about. Everyone being guitarist Dan (the man with the smelliest cap this side of the Southern hemisphere), bassist Jon (the quiet one… until you get to know him) and drummer Kyle (unfortunately stuck behind the drum kit onstage seeing as he has the coolest walks of 'em all).
Brian is quite the character as well. After he fell through a chair in Vienna, his apology consisted of the words 'sorry, I'm just your typical fat American'. And while he is a big guy, he has an even bigger heart. Rounding out the crew is guitar tech Brandon who found out around 3AM that he in fact wasn't the only black person at the festival. And then of course there's Page (the man who needs no introduction).
I ran into some friends, hung out and met the people from Rock Tribune who wanted Helmet to do a signing session. I helped set things up only to see things get fucked up because it wasn't announced anywhere. The rest of the day I didn't see anything special with Kiss as the absolute low. Luckily Helmet played an amazing show and saved the day. The new line-up sounds amazing and with hits like "Unsung", "Wilma's Rainbow" and "Meantime" you just can't go wrong. I've hardly ever heard a band play as tight and with so much groove as these guys.
After that it's drinking time and the guys decide Pulp Fiction-style that it's nasty that Belgians drown our fries in mayonnaise. I have no idea what time it is but we were asked to leave and head for the bus. It's my first night ever on tour and what do we kick things off? Watch "This Is Spinal Tap" of course! I think they just wanted to let me know that just like Fufkis, I deserve to be kicked in the ass after fucking up that signing session. It's the first night on a bus for Dan as well but I doubt he noticed seeing as he passed out in the lounge area.
Rules for living on a bus: you clean up behind you, you always lock the door, liquids only in the toilet and you sleep with your feet towards the driver so you don't snap your neck when something happens.
DAY 2: a tiny town somewhere in Bavaria
Sleeping on a bus... not that obvious! That's something I learned that first night after waking up every five minutes after hitting another bump on the road. After what seemed like forever we finally arrived at our hotel in the middle of nowhere in Bavaria. I had just enough time to take a refreshing shower before getting a few hours of sleep.
After I woke up in the afternoon, I joined the band for a beer after which we went for a walk, had dinner and spent the night watching soccer in a gas station that also served as the town's only bar. Sounds exciting huh? Well, I had a great time. And it's true what they say about Bavaria. They have huge beers, huge pieces of meat and waitresses with huge… umm eyes.
DAY 3 : Zagreb
After another long ride we arrive at the university campus in Zagreb and meet the promoters, Yvan and Mario. They take excellent care of us and I find out that the food on tour is even better than what I get at home. Another thing I find out is that the girls/guys ratio in Zagreb is 2 to 1. And all of the girls are lookers!
Helmet plays another tight show and it's fun to see them communicate onstage. Page's banter in between songs is among the best I've heard as well. After tearing through the setlist, they simply keep on going seeing as it's Helmet's first time ever in Zagreb. Later that night Jon tells me he was about to pass out. The least you can say about these guys is that they go all out. Half a year later I saw them play a 2,5 hour show somewhere in Germany. Amazing!
After the show we head for a bar and on the way over our tour bus is transformed into a sightseeing bus as a girl who's driving with us to the bar shows us some of the city's highlights. Later that night she'll be showing Dan another highlight. Well, half a highlight actually.
At 3AM we have to leave but we simply move the party to the bus and keep on drinking. When I wake up, we're in Budapest. I finally figured out the secret to sleeping on a bus… you simply have to drink until you pass out.
DAY 4 : Budapest
Seeing as we were having problems locating the hotel, we drove straight to the venue only to find out that it's on a boat on the Donau… nice! It comes with a private bar for the band and good food in a restaurant above the venue. Just when I was getting used to good food, they take it to the next level. Now I was thinking about a lot of things going on this tour but cold strawberry soup wasn't one of them.
We walked around a little in Budapest but there is hardly any time for sightseeing. I used to think that bands could go out and see the sights but you quickly realize that even though doesn't last that long, there are always things to do and that in between those things there's a lot of waiting.
After the show we head out for a weird bar except for Dan, Brian and Brandon. The bar's an open air affair and it looks like an arcade with a whole bunch of drunk teenagers hanging around. Kyle, Jon and myself are equally wasted. As soon as they start cranking out a Nickelback song, we decide it's time to go to bed. Wise decision because even though it's only four days, it's already weighing on me.
DAY 5 : Vienna
After a full six hours of sleep, I wake up in Vienna. Seeing as it's my last day on tour I have to go and check in to my hotel. The rest of the band head for their hotel and we all go our separate ways with Page being excited about being back in the city of Mozart. We all meet up again at the venue which is the weirdest one so far. It's a bigass complex with four different stages and it used to be a slaughterhouse. In other words, the perfect setting for them to play "See You Dead".
I get to see Helmet play yet another great show (no off days for these guys), meet their webmaster Glynn who's tagging along from there on (sorry if my bunk bed smelled bad!) and somehow end up back in my hotel after a gay black opera singer helps me find a cab. And you know what? After five days on the road, that seems like a perfectly normal thing.
CONCLUSION:
I learned that being on tour is a very tiring affair and even though it offers a lot of fun times, there's also a lot of waiting and hard work involved. I also learned that if these guys are ever playing a show near you, you should not hesitate to walk up to them after the show for a talk. And don't forget to ask Kyle about the tar/bathroom incident or Kyle about his Canadian border adventures. They're the nicest guys around and even if I would've had other options, I couldn't have asked for a more fun band to tag along with for a week.