Features
Turning 20: Jets To Brazil revisit 'Orange Rhyming Dictionary'
on
Thursday, February 8, 2018 - 16:02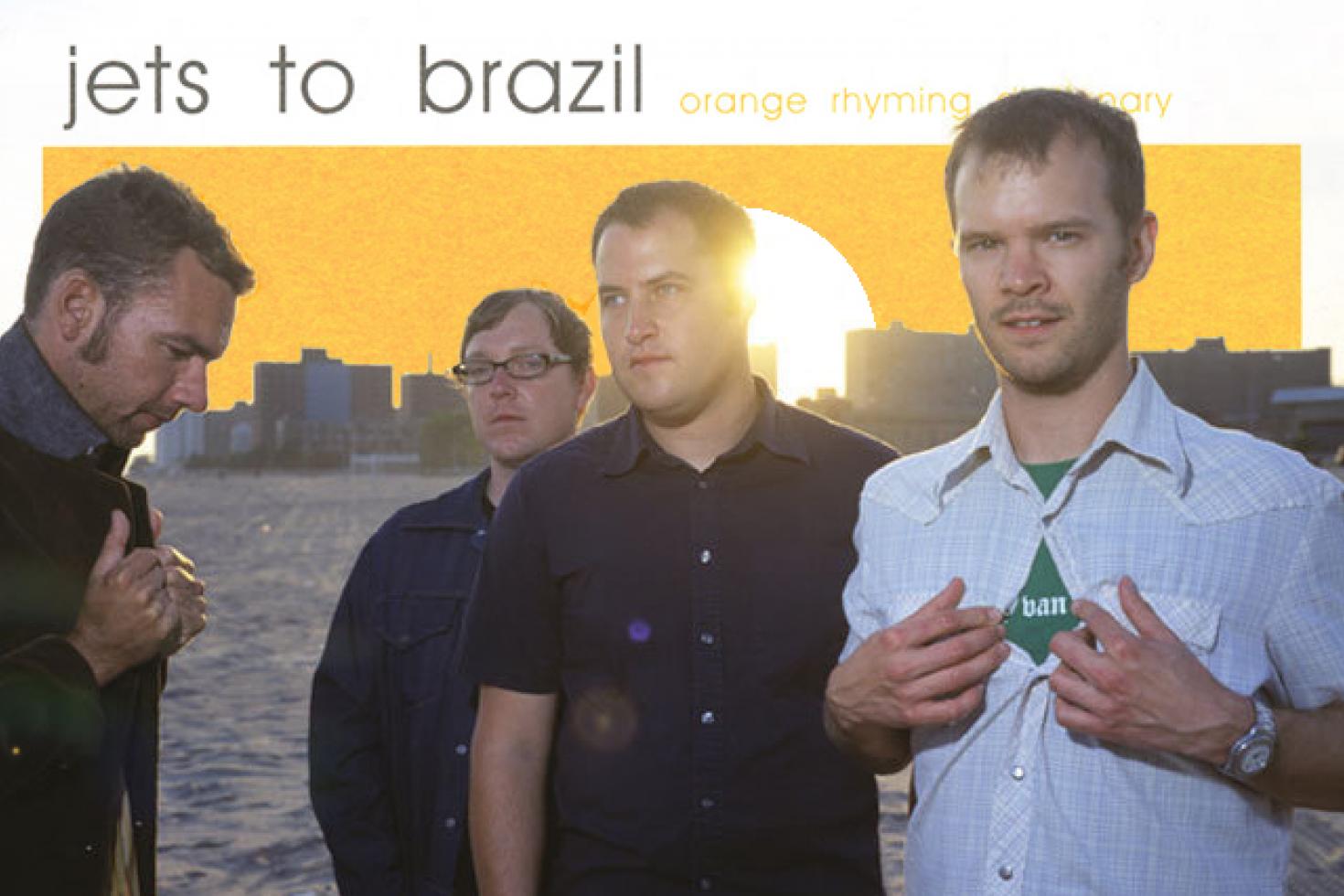 When Jets To Brazil released 'Orange Rhyming Dictionary' back in 1998, I think it is fair to say that it was different enough to catch people by surprise. After all, Jets To Brazil was Blake Schwarzenbach and Jeremy Chatelain's first new material after the demise of respectively Jawbreaker and Handsome. And rounded out by Texas Is The Reason's Chris Daly, this was quite the line-up. One that came with a lot of expecations.
But it is equally fair to say that the band more than delivered with these ten downright epic indierock songs that still have me coming back after twenty years. That's right, 2018 marks the album's twentieth anniversary. So what better way to celebrate the occasion than by revisiting 'Orange Rhyming Dictionary' with the help of Blake, Jeremy, Chris, guitarist Brian Maryansky (who joined the band after ORD was recorded), producer extraordinaire, J. Robbins and Jade Tree's Darren Walters.
PRT: 2018 marks the 20th anniversary of 'Orange Rhyming Dictionary'. What does the album mean to you personally?
Blake: It marks a real step into and outside myself as a writer and as a musician.  It was an utterly new and uncharted experiment for all involved: Jeremy, Chris, J Robbins and myself, holed up in an Extended Stay motel in Memphis, working at the amazing Easley McCain studio.  I remember that recording as a series of breakthroughs, personally, and by that I mean "firsts": playing clean guitar, walking the plank on some vocal tracks, and putting songs into motion that were unlike music any of us had created before.
Jeremy: Orange Rhyming Dictionary marked a musical shift and a really fruitful time in my life in New York. I stopped playing in "heavy" bands and began to play music that I was more drawn to and inspired by. As a group, we had no preconceived notion about what we were supposed to do and how we were supposed to sound, which felt really different from my previous bands. I was surrounded by new friends, and Blake was the most prolific, focused songwriter I had worked with up until then. It was really fun to arrange each new song he brought to practice. I have great memories around the making of that record and the tours that followed. There are a lot of great lyrical statements that were made on the record and a wide swath of emotion in the songwriting. It's a strong debut. So, the record is packed with meaning and sentiment for me.
Chris: Well, I definitely hold it in high regards from a personal artistic standpoint, and am humbled and astonished that people are still listening to it, discovering it, and talking about it 20 years on.
Brian: The record feels like a phantom limb. Even though I didn't play on it, I have played those songs innumerable times and they feel like part of me. We struggled and pushed to support the record when it may not quite have been what people wanted. I took it personally when people didn't like it and felt good when they did like it. I never felt like I wasn't part of the band so I treated that record like it was mine too.
PRT: Blake, Jeremy, you two started Jets To Brazil when you met in NYC, shortly after Jawbreaker and Handsome had broken up. Did you decide to start a new band together right then and there? And that the band's sound should be different from anything you had done in the past?
Jeremy: Blake and I casually met over lunch at the 7th Ave Taqueria in Brooklyn. Our girlfriends at the time were roommates. We chatted a little about music. I didn't know much about Jawbreaker and Blake didn't know much about Handsome. Looking back, that's probably why we both felt pretty safe getting together as strangers to play new songs with no set musical direction. I called Blake a few weeks after we met and asked about getting together to play a little. We both like the Smiths and we got along well; that was a great excuse to write some songs! I remember standing on the platform together, waiting for the train, having a discussion about what it was we both wanted to try and accomplish. It was really casual at first. We talked about playing shows and making a recording. This was after we had played together a few times and figured out that it may turn into a "thing".
Blake: The sound was quite an accurate representation of where we were all at in terms of our listening.  Jeremy and I had already been playing for a while before Chris came in, and we would just throw around ideas in a room.  Chris brought it all together, put it in time as it were.  It was certainly never intended as a rebuke to our former bands, but I'm sure we did want to distinguish ourselves and make it entirely our own.
PRT: Chris, is it true you came up with the name Jets To Brazil after having seen it on a poster in a movie?
Chris: This is true. We had show opportunities coming in, and were about to record a demo, so the time to bless the band with a name was rapidly approaching. At the time I went to see the movie "Breakfast At Tiffany's" with my then girlfriend/now wife Amanda, and saw the name jump out at me from a poster hanging on the wall in one late scene of the movie. I leaned in and whispered to her 'Jets To Brazil is gonna be our band name'. I suggested it at our next band rehearsal, to unanimously positive response, and that was that.
PRT: Blake, how difficult was it to start something new after Jawbreaker? Did you experience any pressure or expectations starting with Jets To Brazil or releasing 'Orange Rhyming Dictionary'?
Blake: It only became difficult in the early days of our playing out. There was interest from the outset, which can be daunting, and we took a fair amount of pushback from "purists."  But we also managed to find an audience, many of whom consisted of fans of our former work.   We definitely had to grind our teeth a few times in the early days and trust that our listeners were out there somewhere, or were just quietly rocking in the back of the room.
PRT: With all of you having been in other bands before that were different, was there ever a moment where you were worried about how people would react?
Jeremy: I don't remember putting much thought into how people outside of the band would react. We were stoked to be writing new songs together as a group of creative people and getting to know one another's musical styles. Blake and I were both contractually bound to major labels at that point and we had to get divorced from our previous bands. We made a demo with Alap Momin, and drew attention to ourselves pretty quickly. I knew we were on to something good and obviously I hoped that others would dig it too.
Chris: Never worried, but any musician who tells you they don't care what their friends think of their music, before anyone else, is a liar. I was definitely curious of what my friends would think of the music. At the very beginning, it reminded me of a rough edged Psychedelic Furs meets early Nirvana vibe or something like that, which was rad. I was confident that we were doing something much different from anyone of our peers at the time, though, and thought that was very cool.
PRT: Chris, You had been in 108 and Texas Is The Reason by the time you hopped on board. What made you say yes to Jets To Brazil?
Chris: Well, Texas had broken up, tumultuously, in March of 1997, right on the verge of signing a major label contract. It was a necessary move, in hindsight, but left me feeling dazed, and a little lost as far as what I was gonna do next, musically, and personally. I had received some offers to play in already established bands, shortly after, but nothing grabbed me. By summer of that year, I was starting to feel the jones to play again. I randomly ran into Jeremy while walking around the city one sweltering summer afternoon, and he mentioned that he was actually gonna try and get in touch with me that very week. He told me he was doing a project with Blake, and he was playing bass, which kinda blew my mind a little. I mean, I knew Jeremy from the Hardcore scene, and knew him as a singer predominantly, having sang in both Iceburn, and Handsome. He told me Blake lived near him in Brooklyn, and Jawbreaker was done, and they were putting some of his new songs together and needed a drummer. I really liked Jeremy, and I had liked "Dear You" by Jawbreaker, so I figured one if not both of those ingredients were enough to encourage me to at least go and jam with them. I was definitely stoked on the idea of taking a left turn, musically, as well, and it seemed a great opportunity to do just that.
PRT: Jeremy, what was it like for you, switching from singing in Handsome to playing bass in Jets To Brazil?
Jeremy: It was great. I'd been in a lot of bands and taken on different roles. I played guitar, bass, and sang in different bands up to that point. I was pretty comfortable making a change. Blake and I had a really casual conversation like, "What should I do? Play bass? Play guitar?" I landed on bass. It was a good choice. I love playing bass.
PRT: Blake, when it came to writing the lyrics, did you approach things differently than with Jawbreaker?
Blake: No -- I think I had evolved as a writer, but my process seems to always be the same.  There was some kind of live, ad-lib writing, at least in order to get the meter and flow down on certain songs -- that was really exciting to me.  Like, on the song "Chinatown," and on "I Typed for Miles," we came up with a central riff and kind of tranced that out in a loop until the vocals began to surface.  
PRT: Would you say 'Orange Rhyming Dictionary' was something of a turning point for you as a writer? Already more contemplative than what you had written in the past?
Blake: I was coping with the dissolution of my livelihood for the past decade -- you know, Jawbreaker was gone and I was living alone in Brooklyn, trying to regenerate.  I think those circumstances are very present on the record.  Jeremy and Chris also were coming from popular bands that had broken up.  So there was a kind of safe-haven, recuperation aspect to the proceedings.  I think that allowed a certain amount of vulnerability and tenderness to get into the room with us.  
PRT: What was the first song you wrote for the album and how did it come about?
Chris: Blake had been writing the basic guitar/lyrics for a bunch of the songs for a while, I guess. When he wrote, he seemed to be very prolific, and would do so in big bunches. The first song I remember playing with them was "Morning New Disease", and then we did "Chinatown" and "Lemon Yellow Black". I remember being excited that it sounded so different from anything I had ever done, and that was enough to keep me interested. It was also fun locking in as a rhythm section with Jeremy. He's an insanely talented person, and his bass playing was precise, and had a lot of muscle under it. That made it really fun to play drums along with. On top of that, I knew the songs were strong. It was exciting.
Jeremy: My memory around that is pretty foggy. We were working on "Morning New Disease", "Chinatown", "King Medicine", and "Resistance Is Futile" all around the same time. I remember auditioning drummers with a few of those songs. Blake and I would ride his motorcycle to the practice space in Williamsburg. He had chords, lyrics, and arrangements ready for a stack of songs. He was open to suggestions, so a bit of it was collaborative. We played together with a drum machine for a while before Chris joined us. It was really bare bones in the beginning.
Blake: I'm pretty sure "Morning New Disease" was the first song.  At least it seems like the ur-Jets track, usually our first song at shows, etc.  Very much a paranoid person in apartment song, like many Jets songs to follow.  I know I was listening to the Bee Gees' "1st" a lot, and trying to emulate some of that Orientalist psychedelia they did so well.  
PRT: Was 'Orange Rhyming Dictionary' in general an easy album to write?
Chris: From what I remember, we put most of the songs together within a few months, and just rehearsed as often as possible, locking everything in. We recorded our demo in early 1998, signed to Jade Tree before we played our first show, then headed to Europe in support of our friends The Promise Ring in the summer. After 6 weeks of playing the material live every night, we were ready to head in the studio upon our return.
Jeremy: That would be a question for Blake. I'm sure it was a lot of work putting chords, melodies, and lyrics together. Chris and I contributed to the arrangement of songs and wrote our respective parts. We rehearsed quite a bit. I remember making suggestions for intros, and endings, and breaks. It went fairly quickly as we had a lot of cool material to work with. I'm not sure if it's ever easy to write an album.
Blake: For me they're never easy.  I toil over lyrics and am a pretty ruthless editor.  It did come together pretty quickly thanks to a realistic budget and fixed timeline.  As always, J went above and beyond in the studio, probably putting in two weeks of work for the week that we were there.
PRT: A lot of the songs on the album reach the five-minute mark. Was it a conscious decision to make the songs more sprawling or was this just the way they happened to take shape?
Blake: They just played out that way.  I've never been good at heeding the 3-minute pop/radio mark.  I don't disagree with it -- I just can't abide by it.  I may indeed be guilty of too many verses.  But I'm also glad we let songs like "Chinatown" and "King Medicine" stretch out in the way they needed to.
Jeremy: In my recollection, it was just the way it took shape. I think we all had a lot to express! We wanted to play more music. At that point, a 5-minute song seemed normal and reasonable to me. Maybe we were being cocky thinking that we could hold our listeners' attention that long. It was a different time. As I've gotten older and more into songwriting myself I'm drawn to a shorter format. I think if you have a compelling lyricist working on songs with a narrative, a longer format makes sense.
PRT: How 'finished' was the album when you headed into the studio?
Blake: We were pretty well prepared, I'd say.  I do remember having an acoustic out in the van as we drove to Memphis and trying to come up with harmonies with Jeremy.  In any record I've ever made, you end up finding some of the best parts after the writing but before the recording.  In the studio, live, with a basic track to work off of.  
Chris: It was locked, loaded, road tested, and fully ready to lay down on tape. I don't ever recall being that prepared and confident to make a record in my entire life, to this day.
Jeremy: The album was written, arranged, and well-rehearsed. We'd been on a tour with the Promise Ring and played all of the songs many, many times. We had a few extra tracks that didn't make the cut.
PRT: What kind of influence did J. Robbins have on the album?
Chris: I think he had a huge influence. I know he was one of the few people Blake trusted, and looked up to for input. We were an isolated bunch. We didn't listen to too many people outside of our band. J was the exception. I loved having him with us, and none of those albums would have turned out the way they did without his talent and devotion to the music and vision we all shared.
Jeremy: He definitely made his mark. We all lived together during that week in Memphis. We charted the record out and discussed the parts in detail. J attended rehearsals and made suggestions. He played a few guitar parts and sang some harmony. There are a few very J Robbins vocal harmonies on the record. He has a sound that is all his own. In general, he made all of us feel comfortable during the process of tracking our first record. He does this thing where he puts his palm on his forehead and asks, "Are you married to that part?" He's great, very diplomatic about the process. He helped us feel good about the outcome.
J: I guess I still do that sort of thing. I definitely have used that phrase a lot. I'm not really such a ruthless editor though. Well ... actually, yes I am.
Blake: J essentially joined the band on each of the three recordings.  He listened very closely to the demos and songs and made suggestions along the way.  He and I also worked closely together on the vocal takes.  I would insist on comping vocals (where you select the best bits of three or four different takes and edit them together into one "greatest hits" take).  J often argued for the rawer, passion over perfection take.  I think we found a pretty happy balance in that process.
J: That makes me happy to hear. Maybe what I think is that the studio setting can make people uptight about what they're doing, and then suddenly you hear it in the music - they're not playing the song, they're not expressing anything, all you can hear is people thinking about "getting it right" i.e. not fucking up. So the best thing you can do (at least as a band in the studio with a limited budget - i.e. you're not trying to make Dark Side of the Moon) is try to actually forget you're in the studio, use the Force and throw yourself into the material. You can pretty much always find a way to fix your little fuck-ups, but a worried-sounding take just sucks. So hopefully that's what he means.
PRT: Chris, you already worked with J. Robbins on 'Do You Know Who You Are'. What was it like to work with him again?
Chris: I was always stoked and confident to have J behind the controls when recording. I have made more records with him than anyone. He's a calm, confident, smooth operator in the studio. He shared our warped sense of humor, and knew how to get the sounds we were going for. I really can't say enough good things about that guy. He's the salt of the earth, and I have deep love, respect, and affinity for him.
PRT: You recorded the album at Easley McCain Recording. Why did you decide to go all the way to Memphis to record?
J: Easley was really the band's choice, maybe in conjunction with the label ... but I loved working there. Everything about it. Memphis is a great town, the studio had such a great atmosphere, Stuart Sikes was the engineer again (he had also engineered the Promise Ring record I did there, Nothing Feels Good) and he was amazing, just a great person and a great engineer.
Jeremy: RIP Easley McCain! At the time, in the late '90s, a lot of bands were recording there: White Stripes, Wilco, Sonic Youth, Guided By Voices, Jeff Buckley. The Promise Ring had just finished "Nothing Feels Good" at Easley with J and we followed suit. I think we were also looking to get out of New York, and all the distractions that city offers, and concentrate on our music.
Blake: Jade Tree and J both had a relationship there because of the Promise Ring's "Nothing Feels Good" album.  We all liked the idea of going out of town to record, to fully immerse ourselves in the making of this thing.  It was really a perfect arrangement -- I can't imagine that record happening anywhere else.  The main room at Easley was so enchanting -- lots lamps, space, and a piano.  It just encouraged late-night experimentation as a space.
Chris: Well, one, because we could. Jade Tree asked us where we wanted to do the record, and the thought of getting out of the city was very appealing to all of us. They suggested Easley, as The Promise Ring had just done their last record there. We were really stoked on the idea. It was an amazing experience for sure to record in a studio with such a rich history.
PRT: J, the entire band has nothing but praise when it comes to recording with you. Were they an easy band to work with?
J: That's nice to know. They were a great band and they're all excellent people, really enjoyable to be around. The biggest dirty secret of recording/"producing" records is that if you are doing your job correctly, the record sounds like the band, and therefore if the band already sounds good, you mostly have to just get out of the way - and try to keep the recording process out of the way of their creativity and energy. They knew quite well what they were trying to do, so a lot of my job was kind of coaching and giving feedback about things like tempo, tuning, ways to achieve certain effects, vocal takes, etc. Like they were on the balance beam, and I was spotting them. In fact I was nervous because I was a huge fan and I felt a lot of internal pressure to make a record that represented them at their best.
PRT: Blake said that you essentially joined the band for each of the recordings. Can it be hard to be that heavily invested with a band for a short period of time and then see them go off and get to play the songs live and not be there?
J: No, not really. I mean, it's nice to hear that from Blake, and they were very open to my ideas when I'd pitch something to them, but in general they had things worked out pretty well before they got to the studio, and as I said, I considered myself to be a very lucky fan with a certain expertise or perspective that could lend something valuable (if largely ephemeral) to the recordings.
PRT: 'Orange Rhyming Dictionary' was released on Jade Tree, which was becoming quite the household name by that time. How did you end up with Jade Tree? And what was your relationship like with them?
Chris: I had suggested them as an option to give the demo to. I had history with them. They put out the TITR/Promise Ring split 7", and I knew Darren and Tim from back in the HC scene. Blake had met them previously, and liked them as people as well. The label had really grown into something strong at that point, and was just really coming into its identity as a strong Indie label with great resources. It was a great place for us. I think they loved Orange Rhyming, but weren't crazy about the follow up records upon first hearing them, but it didn't stop them from doing their best for our band, and said records. They were the perfect label for us.
Blake: Chris knew them from Texas is the Reason days, and I had met Tim when I was in Jawbreaker.  When all my clothes were stolen on a Jawbreaker tour, Tim had given me a bunch of hand-screened Jade Tree thrift shirts, so I was already pitching for the label inadvertently.  They made it really easy to get to work right away.  We didn't want to think too hard about a label -- we just wanted to record and play; and Jade Tree did a great job helping to make that happen.
Jeremy: I think Chris knew Tim and Darren from working with Texas Is The Reason and probably the hardcore scene. He may have given them our demo. I remember going out to dinner with them in the city. They were excited about making a record with us. We wanted to do the project on a smaller label as we'd come out of these blown-out major label deals. We wanted the business side to be easy and we wanted to get to work quickly. Jade Tree seemed cool and like-minded, and the music they released was hard to classify. I think now people would say it was a lot of "emo" music, but I'm not sure what that means anymore. We made a decision to release our records with them. We had a good relationship with them. Whenever we were passing through Delaware or Philly we would stay with them at the Jade Tree house. It was always fun. There was a lot of excitement in the air about the music they were releasing.
PRT: Darren, any good stories about them staying with you?
Darren: We often ate at the local diners in town and that caused a stir among the young punks sometimes.  There were always shenanigans going on; drunken comedy acts, Tony Hawk marathons, and late nights, but nothing that I recall as particularly insane as it was always a good time, especially if another band was staying there too.  Perhaps the most interesting story was when JTB played Delaware early on in their career.  Since they were still a young band it seemed like no big deal, but Blake's presence loomed large in Newark, Delaware, so it was a major event. After they played, we took them to a punk rock party and it was pretty funny.  They danced with around, got drunk and partied while kids circled Blake like vultures waiting to pepper him with Jawbreaker questions.  It was a typically college town, punk-rock party and it was the one and only time that a Jade Tree band and us ever went to one together, which made this a particularly humorous occasion.
PRT: 'Orange Rhyming Dictionary' was one of Jade Tree's biggest releases. Or even the biggest? Is it also a release that stands out for you personally?
Darren: It is, in fact, the biggest selling Jade Tree record of all time.  Because The Promise Ring's 'Nothing Feels Good' had done so well, I don't think Tim and I anticipated it to sell as well as it did.  I mean, we knew it would sell well as we put plenty of marketing into it, but it just sold incredible right out of the gate.  As a comparison, for "Nothing Feels Good", we had done a video and the band had  been touring relentlessly, whereas JTB had done much less touring but had an established pedigree.  However, Blake had no real idea how many records Jawbreaker had sold, so he couldn't help us gauge what his part would play in the equation as much as Chris and Jermey could.
On a personal level, the release stands out because the the timeframe in which that album was released was a fun time, both for Jade Tree and JTB.  As a label, we had yet another very successful record, but as a band,  JTB was unpretentious and  would play really anywhere, to anyone, and that was awesome.  I got to watch them grow and hear songs develop that would become ORD.  With other records, while I did often get to see that development process, with JTB they were shedding the skins of their previous lives and simply having a great time being JTB; playing random shows and being very punk in their approach to their growth. 
PRT: Brian, you didn't join the band until after 'Orange Rhyming Dictionary' was recorded. How did you get involved with Jets To Brazil?
Brian: Well, I knew Chris very well as we had played together in a band called Resurrection. And some of our older bands played together. I met Jeremy at some point when he was visiting NYC maybe '94. He hung out at my apt. On West 8th St. with some mutual friends. I met Blake in passing a few times once he moved to NYC. First time I ever really connected with him was at an Antarctica show at Coney Island High in St Marks Pl. I think he and Jeremy were there. The guys finished recording Orange and were doing some portraits for the record with my roommate, Chrissy Piper. We worked at a photo studio in the West Village, so naturally I assisted her on the shoot and because I knew the guys I suppose. Right around that time my band at the time, The Van Pelt was done. After that photo shoot I guess they were all thinking, what's Brian up to musically. I think Tim from Jade Tree called me and said they were wondering what I was up to and Daly called me as well. We set up a time to play together and I called Blake to discuss arrangements, like what guitar parts should I learn. We chatted about amps a bit. We rehearsed once or twice and they said, "can you go on tour in a month?"
PRT: Did you all sit down to re-arrange the songs?
Brian: Not really, between Blake and I we just had to figure out who would play what as the recording had multiple guitar tracks. Other than that, those songs remained pretty true to what was recorded.
PRT: How did the songs change in a live setting after you joined Jets To Brazil?
Brian: I like to think they evolved into being a bit more nuanced and more dynamic. There was some good chemistry developing the more we played live. It felt good.
PRT: The critical acclaim was there but I feel like Jets To Brazil never got as big as the band deserved to be. Do you think that had anything to do with the timing? That people in the late 90ies cared less about guitar bands? Or just that it wasn't Jawbreaker?
Blake: Like all things, I think it's just the usual slow burn.  Jawbreaker had the same problem -- if it is a problem.  People liked both bands a lot more after they were defunct.  In Jets I think we did suffer from being too indie for punks and too punk for indie people.  There was a pretty fierce division in those days.  But we also found a cool path through it all -- touring with promise Ring and Pedro the Lion -- bands that I think also suffered sometimes from a perceived lack of definition or "affiliation."  I think Jade Tree was pretty golden at that point, putting out really diverse kinds of music.
Brian: We were never after critical acclaim. We just wanted to challenge ourselves to make music that didn't necessarily sound like anything we'd done before. There were certainly haters, but we felt a lot of love out there on tour. We  never pushed for acceptance from the major labels or any of that. It's not not what we were about. We saw lots of bands that opened for us getting bigger and bigger for better or for worse. I respect all those bands for going for it!
Jeremy: I think we experienced a good deal of success on our own terms while we were a band. I remember feeling slighted once in a while by rabid Blake fans who seemed to treat the Jets as if we were standing in the way of a Jawbreaker reunion. It was hard not to feel like that as people would try to discuss all things Jawbreaker with us, even when we were on stage. As far as timing is concerned, music is in a constant state of change and rebirth all of the time. I never feel like guitars are "dead". Besides that, there will always be tons of great music that isn't guitar-based. There are a million kids right now in their rooms creating something that will disrupt everything musically anyway. Pop, rock, and hip-hop music moves in waves. I was really happy with the wave that we caught. We had a theory in the band that it would take the audience 4-5 years to catch up with what we were currently doing. By that time, we'd be on to something new.
Chris: I think it had everything to do with how we put ourselves out there as band. A lot of our peers ended up with more acclaim, and wider audiences, because they exposed themselves, and took chances that we intentionally chose not to, in order to maintain some sanity, and "Preserve the bubble" as I think it was said at the time. We didn't make videos, didn't accept opening opportunities for larger bands, we didn't play "the game" so to speak. I think that worked both to, and against us, in some ways, but it was what it was. Regardless, I take pride that we built this thing on our own, strictly through our music, and touring. I think we modeled ourselves after a band like Fugazi in that regard, and I have no problem with that.
PRT: What is the most random thing that happened while recording "Orange Rhyming Dictionary"?
Chris: I wouldn't call it random, but the night we arrived in Memphis, we grabbed some beers, and went and hung out down by the Mississippi River, just me, Jer, Blake, and J. I remember thinking it was a special time, and I was full of hope and positivity that my life was definitely taking me in a cool direction. I felt very lucky to be there with those people, at that moment.
J: I remember realizing at one point that the band was so tuned in to Blake's songwriting and singing that if he had a particularly wordy verse, and he needed a little more space to put the right feeling into the lyrics, the whole band would actually slow that verse down to give him room - that's the first time I had ever heard anyone do that. It freaked me out until I realized that's what was happening.
Jeremy: I got to profess my love of Government Issue to J Robbins by the pool one night. That was exciting.
Jets To Brazil the night they arrived in Memphis to record 'Orange Rhyming Dictionary'. Photo taken by J. Robbins.
PRT: Were there things you learned or found out in the writing and recording process you knew you wanted to do differently on the next album, Four Cornered Night?
Blake: Well, I wanted to play more keyboard/piano.  I only got a small taste of it on ORD.  I began writing songs on the piano and that featured a lot more prominently on "Four Cornered Night."  Also, Brian had joined us by then, so we had a whole other voice in the arrangements. 
Jeremy: Every time I've made a record I learn something new. It usually takes a while to realize exactly what the lessons are. I don't think we planned to make any monumental changes as we went into the next record. We naturally just dug further and further in to the songwriting process. We became better at recording together and playing our instruments. We became more of a band. And, we asked Brian to be our second guitarist. I think that made Blake comfortable spending more time at the piano. The first record was a crash course in Jets To Brazil. It felt slightly crazy and fast. By the second record we were feeling better in our own skin.
Chris: Not necessarily. Again, we played the material live for a good 6 months beforehand, so it was definitely ready to be committed to tape. I was even more stoked that time around when J suggested we do it at Inner Ear, in Arlington, Va. I would say more of my favorite records came out of that place than any other.
PRT: In hindsight, twenty years later, anything you would have done differently now with regard to 'Orange Rhyming Dictionary'?
Jeremy: That's a tough question. I don't dwell on any regret with past recordings as I know they are a snapshot of a moment in time. I know that our songs kept evolving and probably sounding better as we kept playing them. But, there's a fresher energy and naivety that make first albums sound more urgent and exciting. We made the album when we were younger and dumber. There's an aging process that occurs the longer you are a band together. Lightning can't strike twice, right? Maybe it does sometimes. The lightning is just different. All that said, I would use a different bass guitar now, but then it wouldn't sound like it does. Ha!
Chris: The only thing I wish is that Brian played second guitar on it. His contribution to those songs live was immeasurable. Otherwise, I am absolutely happy with everything we did with that record. And I feel it has stood the test of time as well. I mean, here we are still talking about it.
Blake: I might be a little less shy about it. 
PRT: When was the last time you listened to the album? And do you still feel the same way about it as when it came out?
Blake: It's been a while, but I don't listen to albums I've made much after finishing them.  I listen to them plenty in the writing, recording and touring process, so I rarely go back unless it's to re-learn a part or search for a specific sound.
Jeremy: I listened to the album a few weeks ago when I got a copy of the newest reissue. I thought it sounded great! I'm still discovering lyrics that I missed 20 years ago. I remember feeling like we had just emerged from a creative tunnel when the record was initially released. It's hard to have a real perspective after you finish a piece of art. There's no objectivity. You can't tell what a record sounds like anymore as you've heard it so many times. But, now it's been twenty years and I don't have any hang-ups about the way it sounds. I like it.
Brian: I listened a few months ago because Epitaph now owns the Jade Tree catalog and we had to approve the new pressings. I am a fan of the record. I always feel like I adopted it. I hear it as a classic record. I wish I played on it! Starry Configurations is the secret hit from that record, so good.
Chris: I listen to it every so often. I am often critical of records I've played on, upon completion, so I definitely enjoy it more now, with some distance in the rear view. As a Jersey boy, born and raised, it still gives me a thrill riding on the NJ Turnpike blasting "Morning New Disease". When the "In a stolen car…" line comes on I still get goosebumps, and it makes me remember the times that were good, in regards to the JTB.
J: I do love that record and I'm proud of having played a part in making it. It's been a while since I've heard it though - I think I'll put it on now actually. 
PRT: Epitaph reissued all three Jets To Brazil albums. How do you feel about that?
Blake: I think it's a fitting Epitaph to a brave group.
Chris: I'm quite happy with it. If they didn't, those records might be in purgatory at the moment. They are quite a noble establishment, based on my brief experience working with them, and I think they did a great job with the reissues.
Jeremy: It's exciting to be a part of the Epitaph family, even in a convoluted way. It's also kind of a bummer that Tim and Darren didn't take part in the reissues as they were our guys from the beginning. We had some interesting ideas when Jade Tree first approached reissues, but they never came to fruition after Epitaph started driving the car.
Darren: Well, having sold the catalog to Epitaph, they have the right to do with it what they please. However, Jade Tree had undertaken about two years time to remaster the records with Alan Douches and do some art restoration in addition to discussing ways in which the albums could be re-introduced into the marketplace, so given that there was work done, it would have been nice to see that work represented on the current reissues.  When it comes to reissues, I'm a huge fan of doing them in an expansive manner.  I don't think we did them the right way for The Promise Ring, and I was really hoping to do better with the JTB records.  In the end, they finally have seen the light of day, which is great for fans.
PRT: What does a typical day in your life look like nowadays?
Blake: Basically I wake up and say, "Oh shit -- this again?!"
Jeremy: I am the musical arts instructor at a non-profit in Salt Lake City called Spy Hop. I run a rock band program, production classes, and songwriting classes for teenagers. I also make lots of music at home under the name Timber Music Supply. I'm obsessed with the drums. And, I'm married with 2 young kids. I go to lots of karate tournaments, trampoline warehouses, and Pokemon leagues.
Chris: My life, while hectic at times, is in a real enjoyable, and manageable place. I am a partner in life, love and parenting my beautiful daughters Gita and Priya, with my wife Amanda. I am a successful hairdresser for a renowned salon in NYC for the last 10 years. I play drums in a Psychedelic Dub band called High Disciple, and we have our debut record coming out this Spring. Other than that, I am usually on the prowl for a good cup of coffee, a delicious plant-based meal, some meaningful conversation, and most likely, more often than not, listening to something by The Grateful Dead.
Brian: I live in Salem, MA with my amazing wife, Natalie. I sell camera equipment to people all over the US. I have the occasional photography show and have recently been playing some shows and writing new songs with The Van Pelt. 
PRT: I have to ask, is there any chance we might see Jets To Brazil getting back together to play shows in 2018 in honor of the 20th anniversary?
Jeremy: That's the $25 question right there.
Blake: No talk as of yet.  I think it would surprise people to learn just how technically challenging the final iteration of Jets to Brazil was.  Brian and I each had two amps with splitter boxes, we had a full keyboard station, and we had a friend doing samples and playing other parts on a laptop.  It was a serious operation.  That alone would be daunting.