Features
As Friends Rust: "We didn't want to be that band of old guys who come back after 20+ years"
on
Monday, July 17, 2023 - 18:02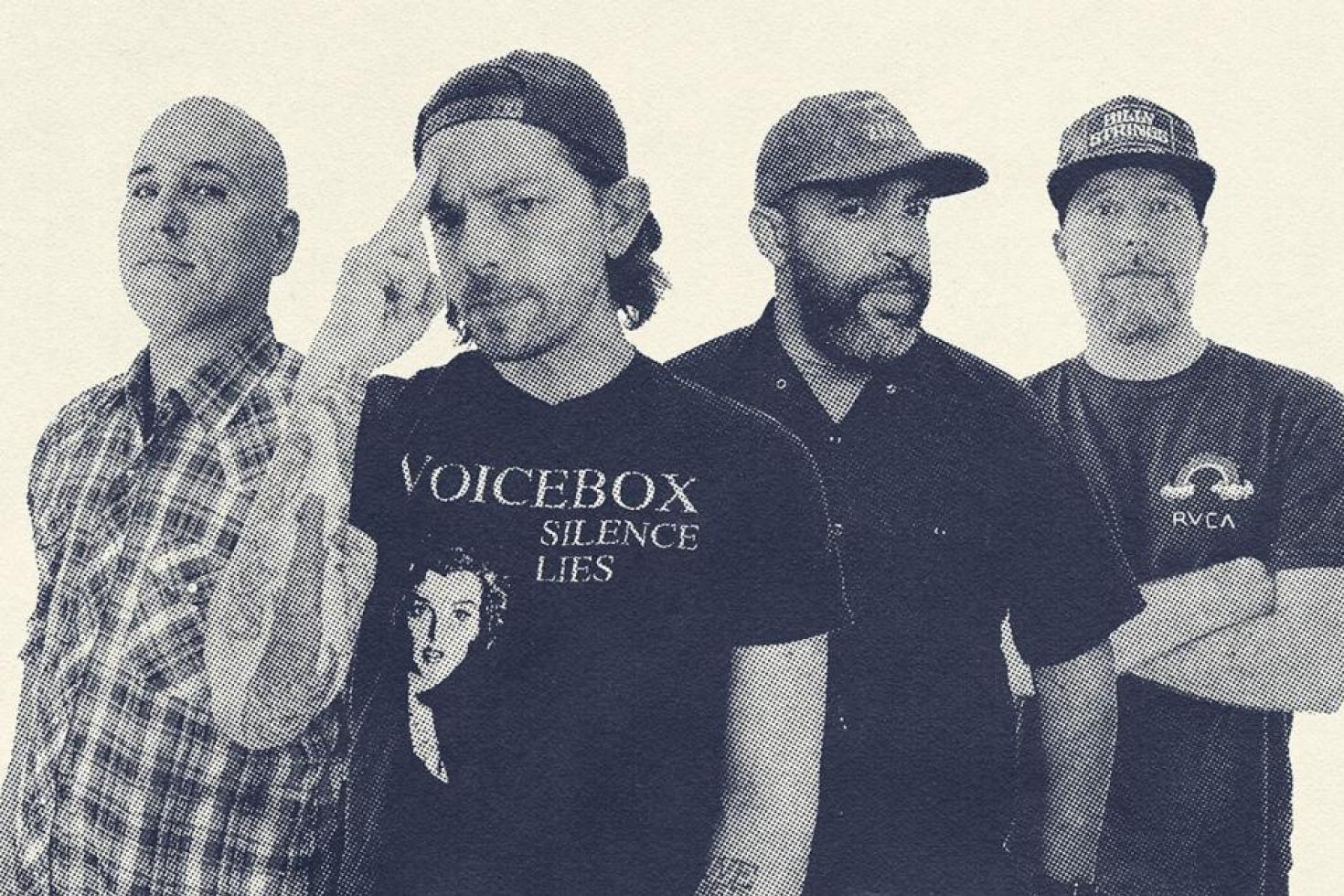 Melodic punk and hardcore powerhouse As Friends Rust recently announced their long-awaited new full-length, Any Joy, set for release August 18th on End Hits Records. Formed in Gainesville, Florida and now spread across the country, As Friends Rust wrote, recorded, and produced their first new album since 2001 mostly from the comfort of their own homes.
Not currently having a permanent bassist, the band - vocalist Damien Moyal, guitarist Joseph Simmons, guitarist James Glayat and drummer Timothy Kirkpatrick - called upon Against Me!'s Andrew Seward to play bass on most of the record
We caught up with vocalist Damien Moyal to talk about the band's excellent new album.
PRT: In 2020, you released the 'Up From The Muck' 7" seemingly out of nowhere after almost 20 years. How did those new songs come about?
Damien: After our reunion in 2008, we started talking about writing new music, and began kicking around demos as far back as 2010. This coincided with some big life changes, like starting families and new careers, so it was slow-going, especially for a band that's prone to being easily derailed and wasn't yet accustomed to writing remotely. But we kept playing shows here and there, and each time the desire to release new music grew. Finally, in 2019, we decided to stop lollygagging and just get it done. "Up from the Muck" was mostly borne of a song that had been at the top of the demo pile for a few years, and "Last of the Famous International Scumbags" was written just before recording.
PRT: Was it already the plan back then to release a new full-length as well and did the pandemic get in the way?
Damien: A full-length was the dream, but one that kept evading us. I don't think we needed any help from the pandemic. We're pretty good at getting in our own way.
PRT: Was there one particular reason that made you want to get back in the saddle with As Friends Rust? Or more of a gradual process?
Damien: I can only speak for myself here, but As Friends Rust has always been "the" band for me. I have no regrets about anything I've done musically, but AFR is where I feel the most "me." The singalongs, the cleaner delivery, more relatable lyrics, and the relationship with the crowd… that's what I think I've been chasing since I was a kid discovering Dag nasty and Minor Threat. Honesty vs brutality.
PRT: And when you started writing new material, was the creative spark there right away or did it take some getting used to?
Damien: The spark was there, but finding the process took a while. We were spread across the country and not everyone in the band was familiar or comfortable with home recording yet, so landing on a good workflow or cadence to demoing remotely took a minute. But the desire was there. There was a creative void in all of us that I think needed, specifically, to be filled by As Friends Rust, we just needed to figure out how to execute.
PRT: You are spread out across the country and wrote and recorded most of the album from the comfort of your own homes. Was that a comfortable way of working?
Damien: Very much so. Because you're not trying to squeeze it all into however many days booked in a studio, you're afforded the ability to explore different arrangements, do numerous takes even weeks or months after initially tracking, etc. If I wanted to change a line or if Joe wanted to change a guitar lead, we could at will.
PRT: How does that way of working hold up against being in the studio together with a limited timeframe to get the record done?
Damien: In some ways I think we were more of a team and more invested in the songs by taking that more open-ended, no-real-deadline approach. We'd live with the songs we were recording for months, not just a weekend in the studio, so – strangely – I think we formed stronger attachments to the songs and the process.
PRT: You have Against Me!'s Andrew Seward helping out on bass on the album. How did that come about?
Damien: Kaleb and AFR parted ways in 2019, and he was getting pretty busy with his solo work until passing away in 2021. He'd been such an integral part of this core lineup that replacing him permanently felt wrong, even before his death. We decided to remain a four piece who would enlist the help of friends as needed. Chad Darby of Samiam played on the 7" in 2020, but he's got his hands full. We've all known Andrew for ages, and he and Tim (our drummer) are very good friends. Once he moved back to Florida, we asked him right away to step in for the new songs, and he'll also be with us at the upcoming shows and tour this year. Fun fact: I went to see Against Me! In Michigan shortly after moving here, and it was Andrew who asked "So when's AFR gonna reunite?" That was the comment that inspired the discussion which led to the 2008 reunion and I guess, indirectly, everything since.
PRT: I'm really liking the new album. It's still the As Friends Rust we have come to know and love, but it all sounds more expansive, more catchy, more bite. Just 'more' in general basically. Is that the result of being able to experiment more recording at home or having more years of experience under your belt?
Damien: Thank you! That's how we feel as well, and that's kind of what we were going for. We didn't want to be that band of old guys who come back after 20+ years only to deliver something limp or uninspired. The years don't have to make a band self-important or pensive. No one cares how sophisticated you've become. We're a hardcore punk band, and while we sure love our melody and hooks, we wanted to come out baring teeth. I think it's more experience and frustration, and maybe knowing how to express it all more effectively.
PRT: The new album is called 'Any Joy' and I saw a Facebook post where you wrote that As Friends Rust is not the most positive band and that if anything, you have become even more cynical, self-deprecating and critical over the years. Can the band's mission statement be summed up as misery loves company?
Damien: Absolutely. Misery loves company, and that company – our friends in the audience – makes the misery less lonely and more tolerable.
PRT: 'Any Joy' will be out on German label End Hits Records. How did you end up working with them?
Damien: We've had our eye on them for a while, as their roster is top notch and the quality of the releases, packaging, distribution, marketing just really, really tight. We weren't sure who would release this new album, and part of us thought we'd do it ourselves, but as soon as Oise from End Hits asked, we were in. It's been a great experience already. They're extremely thorough and communicative, which is really important to us.