Features
on
Wednesday, September 27, 2017 - 15:25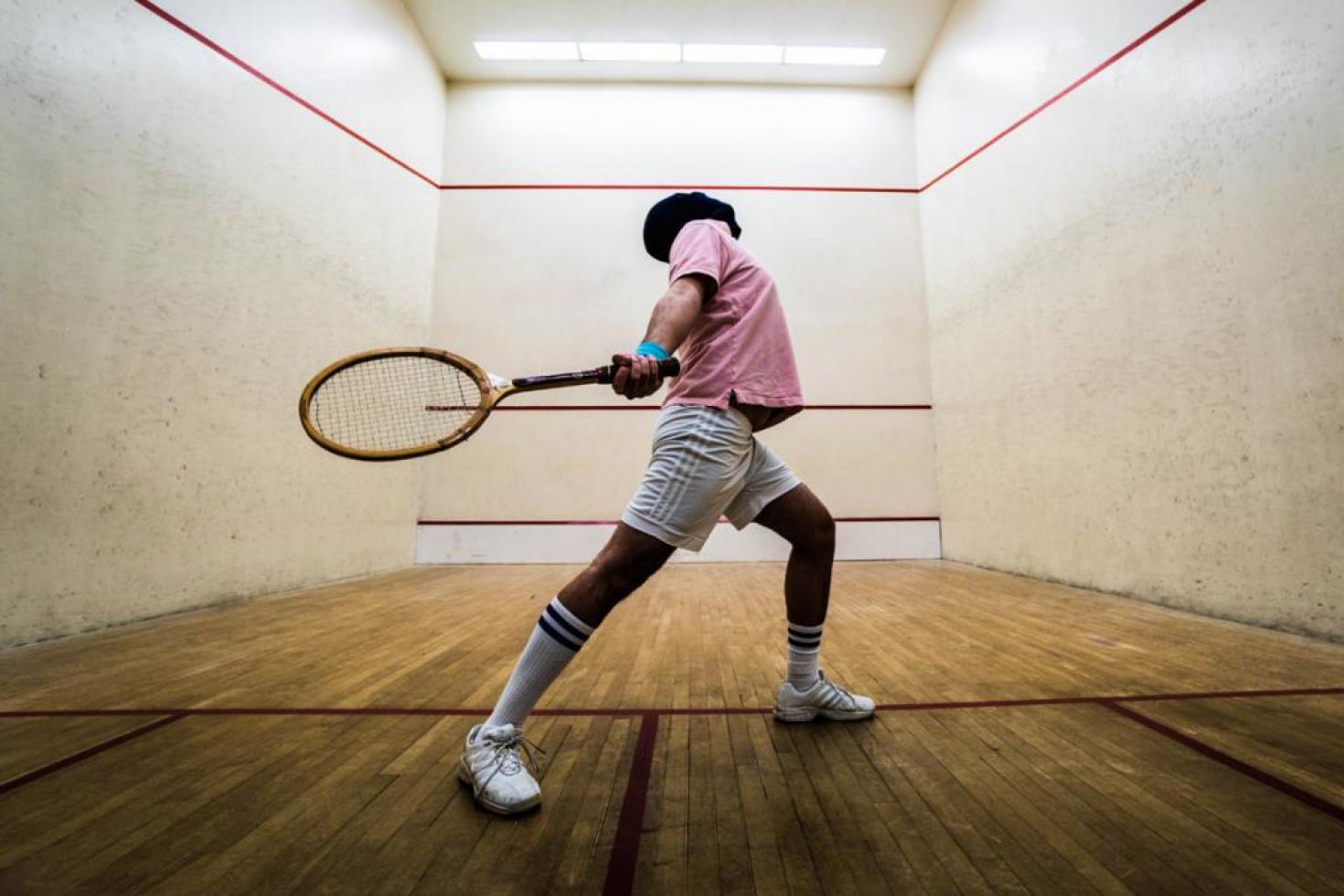 If you are old enough to remember the Canadian sketch comedy show Kids in the Hall, you may remember a particular sketch on Season 1, Episode 1 called "The Eradicator". In this skit, Bruce McCulloch plays a squash fanatic who goes by the alias The Eradicator and wants to make his way up the D-squash ladder at his gym.
Twenty something years later, The Eradicator is back in band form. Chicago's Andy Slania (GALACTIC CANNIBAL, Bad Mechanics) injected his musical talents into the character, whipping up twelve original songs about the only sport that matters, squash. Backed by a revolving cast of musicians - including members of Direct Hit! - The Eradicator is aggressive punk at its finest and most intriguing.
We caught up with Andy to talk about The Eradicator's self-titled debut album, which will be out Oct 13 via Stonewalled.
PRT: The character of the Eradicator comes from a Kids In The Hall skit from 20 years ago... what was it about the skit that appealed to you so much that you wanted to start a band around it?
Andy: The Eradicator was my favorite Kids in the Hall sketch, and I was a huge fan growing up.  The way this whole thing morphed into a band was really by accident.  I was in a punk band in the Chicagoland area called Tension Generation, and we broke up and I didn't have anything else going on musically but I didn't want to stop and wanted to do a more light-hearted project.  I didn't have anyone in mind for a singer of a new band, so I decided to go into my practice space and try to come up with something based on some previous songs I was demoing as part of previous bands.  I had one chorus in mind which reminded me of the "Eeeeeeradicator!" from the sketch so I thought it would be interesting to write a song from the perspective of the character.  I then wrote instrumental for another song, and just decided to keep going with it.  So to answer your question - I didn't have this whole thing in mind from the outset, it just evolved.
PRT: And while we are on that same subject, how do you start expanding on a 5-minute skit?
Andy: At first it was a challenge, which is why I only had 5 songs total when I did the first EP, all of which was written in 2012 but recorded & released about 3-4 years afterwards.  After doing the recordings with Shane Olivo up in Milwaukee in 2015, I tried to figure out how I would pull this off live, which expanded the concept further and incorporated not only the attire from the sketch, but elements of the sketch such as leaving the venue out the front door and "getting into a cab", which I still do to this day.  I kept playing shows, and in mid 2016 after I wrapped up songwriting for a full length from my other band Bad Mechanics, I decided I wanted to explore the possibility of a full length for The Eradicator and just came up with random tentacles from the character that could be either elaborated on, or just made up to make my own story out of it from a songwriting perspective.  At the same time in 2016, I started training for a marathon that I completed late last year, which gave me a lot of free time to think of random ideas about the character as well as hooks for songs.  So the mixture of that lead to the evolution of the tracks and sequencing for the record.    
PRT: The songs that make up your self-titled debut all deal with squash. Did that require a lot of research on your end or are you an avid squash player yourself?
Andy: No man, I'm just a hack who is a fan of Kids in the Hall and ended up making a band out of that sketch.  Just some basic research via Wikipedia and such.  Funny enough, when the "I'm A Squash Man" video was released, someone reached out to me from the /squash Reddit and asked if I was just a KITH fan or if I actually played squash, and also turned me onto the discussion where one of the commenters was elaborating that I used a tennis racket in the video, as well as the balls used aren't actually squash balls.  Both of which are true.
PRT: You recorded the album with the guys from Direct Hit!. How did that happen? And doesn't that make things a bit difficult when it comes to planning shows?
Andy: I started becoming friends with all of those guys while playing in Tension Generation, and we played their 2nd show ever up in a coffee shop in Milwaukee.  It was just them and us, and instead of us playing first then them, I went up to Nick and asked if they just wanted to do a battle set.  We would then trade off shows between Milwaukee & Chicago over the years.  The way I started getting involved w/ that crew musically actually derived from the Eradicator.  Back in 2012 I wrote those 5 initial songs and I asked Nick if he wanted to start it as a band with me.  He said no.  But he asked if I wanted to start a band with him & his brother up in Milwaukee, which turned into Galactic Cannibal.  Then, after DH got bigger and signed to Red Scare then Fat, Galactic Cannibal broke up and I was band-less again and decided to pick up the Eradicator again.  I asked them if they'd be down to record on the record and play occasional shows, and they were down.
Regarding shows - that has evolved itself over time.  At first the focus was to play a couple of shows here & there as a full band w/ those guys, but due to distance (I'm in Chicago, they're in Milwaukee) as well as time commitments it just couldn't happen.  But I liked it so much that I wanted to keep it going.  So I decided to take on more shows with the rationale that if they are available to play, then they can, but if they're not I would just do the show solo with a virtual backing band (drum machine / bass keyboard).  After doing more & more solo shows, I liked the full band aspect especially for bigger venues, so the guiding principle still stands where if they're in town, and they can play, then great.  If not, I'll see if any of my other friends in town can do it.  If I can't get anyone to do it, then I'd just do it solo.  
PRT: Now, I didn't say this... but I heard some people say that squash is to tennis what a paddling pool is to an Olympic-sized pool. Any thoughts on this?
Andy: I don't know who these people are who are saying that, but I would recommend that you stop talking to them because they're pussheads.
PRT: While doing my research, I came across the term kidsinthehallxcore in reference to you... is that something that should become a thing?
Andy: As long as it turns more people onto the Kids in the Hall, then yes it should become a thing.  I want to see Rod Torfulson's Armada featuring Herman Menderchuck.  I would also like to see the real life adaptation of Grivo become an actual thing.
PRT: Not only do you have your debut album coming up, you also have a hot sauce called "This Sauce Kills Pussheads". How did that come about?
Andy: Kyle Janis from Soothsayer Hot Sauce, who goes by the nickname "The Mark Zuckerberg of Hot Sauce", actually booked the first solo show that I did for the Eradicator.  Kyle's been doing his thing for a couple of years now and I'm a huge fan of all the sauce he's done for bands from in and around the area.  I've been trying to convince him to do an Eradicator hot sauce, and he finally caved in.  Very excited to be working with him.
PRT: You have shows coming up with Bong Mountain that end with both of you playing Fest. Did you already check for the nearest squash venues? And what are three things you need in order to survive Fest?
244 Fletcher Dr, Gainesville, FL 32603 - hours of operation are 6 AM to 12 AM.
The three things needed to survive Fest are the following, in the following order:
Water.  You need water to live.  It also tastes good if you put stuff in it or soak stuff in it.
Food.  You need food for energy.  It also tastes good if you put stuff on it, in it, or around it.
Money.  You need money to do stuff.  It also tastes good if you put stuff on it.