Features
The Drowns vs. The Last Gang
on
Saturday, July 1, 2023 - 14:31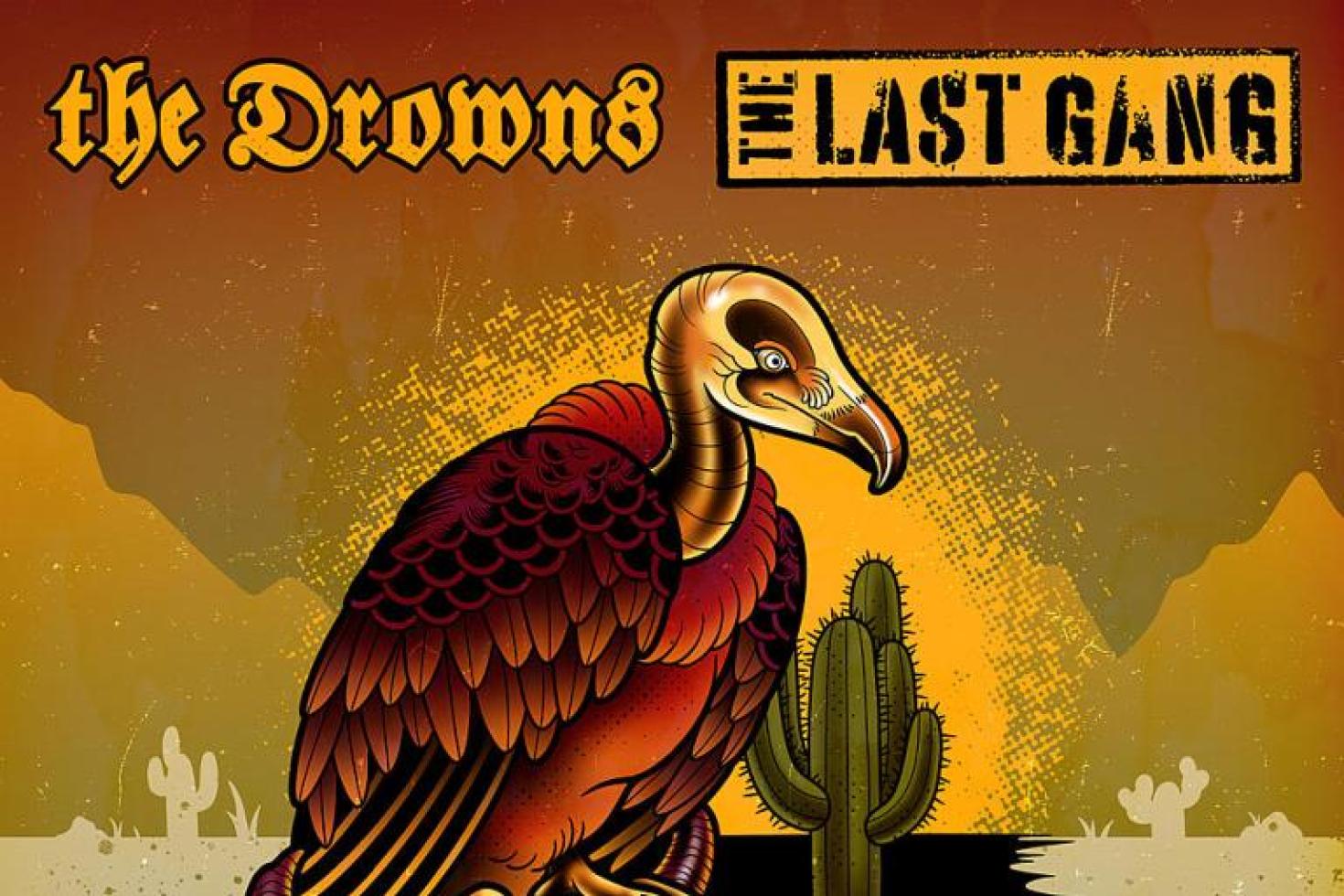 Although Seattle's The Drowns and LA's The Last Gang both reside on the West Coast, it was while touring Europe together that they got the idea to release a split - motivated by mutual friendships and fandom of one another's music. We figured it was the perfect occasion to let both bands ask each other a couple of hard-hitting questions. Read on below and pick up your copy of the split 7" at the Pirates Press store. It's a solid addition to each band's discography, with one brand spanking new track from both bands: The Drowns' "Subculture Rock 'N' Roll" is a gritty, swaggering ripper that sounds like Fucked Up covering AC/DC, and The Last Gang's "Pleaser" uses catchy '90s-style skate punk to take on the culture of superficial beauty standards.
The Drowns: Of all the bands you've played with over your career so far, who's the most "bucket list" band that really meant more to you to be able to share the stage with? 
The Last Gang: Truthfully, doing this all the time is bucket list for us. Honorable mentions could be Bad Religion, Descendents, X, Flogging Molly, Murder City Devils. 
The Drowns: What's the one trash food spot on the road that you find yourselves hitting up the most? 
The Last Gang: Whopper, Whopper, Whopper, Whopper Junior, Double, Triple Whopper Flame-grilled taste with perfect toppers I rule this day
Lettuce, mayo, pickle, ketchup
It's okay if I don't want that Impossible or bacon Whopper
Any Whopper my way
(You rule)
You're seizin' the day At BK, have it your way 
(You rule)
The Drowns: What's the most "guilty pleasure" banger that you put on in the van that all of you will sing along to? (for us it's the Goofy Movie Soundtrack)
The Last Gang: Please refer to the track mentioned above (also, the Mean Jeans 'Jingles' record)
The Drowns: We've seen you guys do a KILLER cover of a Darkbuster tune. Besides Darkbuster, who do you think is a criminally underrated punk band? And what other songs out there would you love to cover?
The Last Gang: Swingin' Utters for sure is criminally underrated. We would probably cover 'Kick It Over.'
The Drowns: We know you're a pup loving band like us, and we've see you all go out of your way to pet random cute dogs on the road. Are there any cat people in the band? And have you ever considered bringing a pup with you? Cobra Skulls used to tour with one.
The Last Gang: Sean is definitely the cat guy more than the rest of us. We all love kitties, but he is the true cat lover. And we ALWAYS roll with our dawgs on tour!
The Drowns: We can definitely hear the Clash influence in what you do. What's your desert island Clash album and why?
The Last Gang: 'Cut the Crap' to remind myself it could always be worse. But really, 'London Calling.' 
The Last Gang: If you could be in any other current band, what would it be?
The Drowns: We'd probably want to be in Cock Sparrer. Such a legacy band, and such incredible people. Or 7 Seconds, because we love those guys, and shredding songs that fast every night seems like a blast!
The Last Gang: Desert island, only one choice... pickles or pretzels?
The Drowns: Damn, this is rough as hell. Way to put us on the spot…. We couldn't live without pickles, so we'd have to go with that. But we have also been known to go out of our way to find a mall just to get some Auntie Anne's pretzels on the road.
The Last Gang: What's your favorite collectible you own?
The Drowns: We all collect different things. Jake and Andy both collect horror memorabilia. Simon collects tattoos from specific artists that he loves and seeks out. And Rev collects sci fi memorabilia and comics. We all have extensive record collections that we cherish, but we'd have to say that collectively we probably have one of the largest VHS tape collections of any touring band and we're really proud of that.
The Last Gang: What's something that brings you comfort while touring?
The Drowns: We try to make sure not to take it/ourselves to seriously, ever. You guys have hung out with us, you know how dumb we can get. Being total goofballs can really get you through a lot though. So if one of us is feeling down, the other three are usually going to try to do something really stupid to make that guy laugh until he either pees, or feels better.
The Last Gang: Once we were compared to Rod Stewart. What's the most random artist you've been compared to?
The Drowns: We get Motörhead A LOT. And we don't see it at all. Those dudes were way gnarlier than us. We're like the Mickey Mouse Club in comparison.
The Last Gang: What's a venue that's no longer around that you'd love to have back again?
The Drowns: In Seattle, we had a place called The Highline that really was the greatest. We loved all the staff, the shows, the food, and everything about it. It's also the last place we played before the pandemic. It will forever live on in our hearts.