Features
on
Thursday, September 17, 2020 - 08:07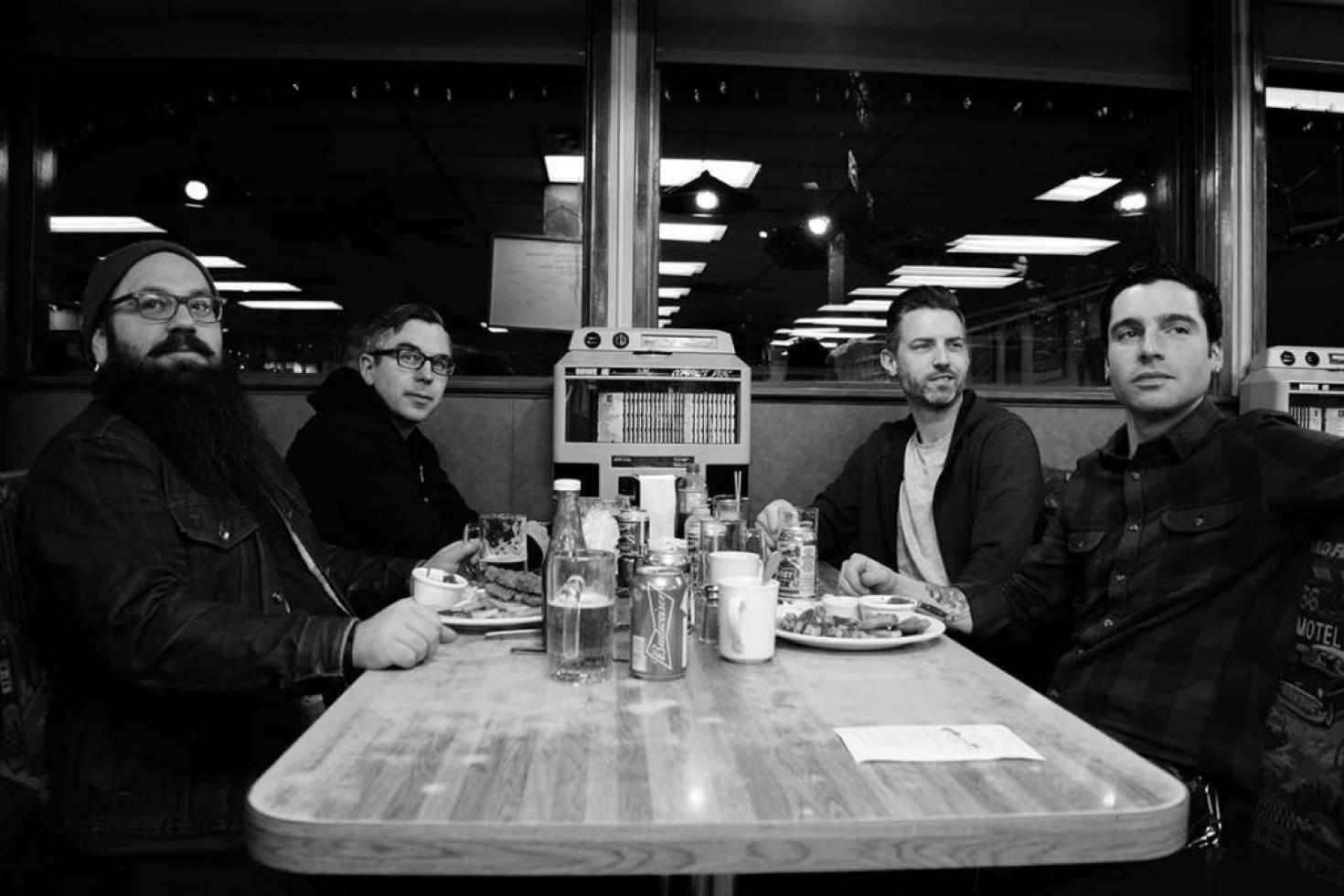 One of the most surprising releases this year has to be Territories' new EP, 'When The Day Is Done,' out now on Pirates Press Records. These Canadians have quite a lot going on in just six short and fast songs and all of it is pure goodness. You would be hard-pressed to try and cram more hooks and sing-alongs into these songs. These former members of western Canadian punk rock staple Knucklehead got back together in 2015 in Calgary and decided to start again from scratch. We caught up with drummer Eric Jablonski to talk about all things Territories.
PRT: You had already been playing together for two decades under the name Knucklehead before calling it a day in 2013. Why did you stop? Was it a matter of different priorities in your lives?
Eric: Knucklehead was initially formed by Kyle, Matt and Clay as a bunch of young high school kids.  The band added Jimmy and Eric in 2003 and that lineup lasted another ten solid years.  Over time some different priorities started to emerge in terms of musical direction and what live show opportunities to pursue.  It seemed like a natural time to pivot and allow the Knucklehead legacy to rest.
PRT: When and why did you get the itch to start making music together again?
Eric: It did not take long to get the itch to make music again together.  Four of us were back in the basement jamming out new tunes in no time flat.  It was very liberating to restart from scratch.  We did however take our time to come up with a deliberate musical vision and to rebrand ourselves with a new name and identity.
PRT: Was writing songs together like riding a bike? Or did it take some adjusting?
Eric: The new songs flowed out of us quickly at first as everyone had been bottling up ideas.  We did however purposefully decide to take more time shaping and refining our sound to better reflect our experience and maturity.  Our songwriting process involves someone bringing an idea to the table but then everyone gets input on how the song should be crafted and this allows us all to flex our creative muscle.  We have made a conscious effort to prioritize quality of songs over quantity with this band. 
PRT: With the new music came a new name, Territories. Was it an easy decision to go for a new name rather than sticking with Knucklehead?
Eric: We had a hell of a time coming up with a new name!  It took months of brainstorming and lots of disagreements.  We knew that we had collectively outgrown the name Knucklehead but coming up with a new name was daunting. 
PRT: How much of this feels like you are starting all over again?
Eric: Knucklehead had organically, over many years, gained a solid following all over North America and abroad.  We knew that we would lose some momentum by changing gears and forming a new band but we were confident that this rebranding would allow us to shed some baggage and expectations of what we should sound like.  So it did feel like starting over, but we took that in stride to expand our sound, reach new audiences and grow as a band.
PRT: Am I right in saying that the songs you write now are still political, but that they come from more of a personal place?
Eric: With years of songwriting under his belt, our lyricist and lead singer Kyle is still improving his craft.  His precision wordsmithing has continued to impress us.  The themes of our songs often have poignant social or political commentary which are delivered with heartfelt passion.  At times his songs are very personal but also seem to be extremely relatable for many of our listeners.
PRT: You released a powerful video for the song 'The Lockdown' while also giving away 50.000 flexis with the song for free in an effort to get some real conversations going. But when you look at the US and how divided people are, do you think it's even still possible for people from different sides of the political spectrum to sit down and have a real conversation?
Eric: We sincerely hope that the song 'The Lockdown' can help to start a dialogue amongst kids, parents, teachers, communities and politicians.  We don't think that there is a simple and universal solution but we could not ignore the problem of gun violence in schools that we were seeing on the news most days.  The US might be politically divided, but so many people have been personally affected by school shootings.  The music video was produced by Chris Curtis and we found it to be a stark, concise and devastating visual representation of the issue at hand.  Pirates Press Records came up with the brilliant idea to give away 50,000 flexis in order to get the word out far and wide – we really appreciated their partnership, which dramatically increased the scope of this effort.
PRT: You just released an excellent new EP called 'When The Day Is Done'. Just like every other band, you are not able to promote it with shows right now. Is that even more frustrating when you are still working on getting your name out there?
Eric: Our new EP is finally out! It's called 'When The Day Is Done' and was released on Pirates Press Records.  We are very proud of this collection of songs.  We were also very happy to be able to stick to our release timeline during the pandemic in order to give people some new music to listen to while they were isolated at home.  Shout-out to Jesse Gander at Rain City Recorders in Vancouver, British Columbia, Canada – he was the wizard that made this sound great!  We can't promote with live shows right now which is very frustrating, so we are using this opportunity to get back in the basement to write some new songs.
PRT: How did you guys spend your time in quarantine? Any new songs in the works already?
Eric: We spent lots of time with our families, maybe too much time…  But, we also used our time to get a new guitarist trained up and put some solid energy into writing a new batch of songs. Once again, the ideas are coming hot and fast since they were bottled up for months.  Stay tuned for more of our punk rock coming out from the great white north!