Features
on
Wednesday, December 14, 2016 - 09:35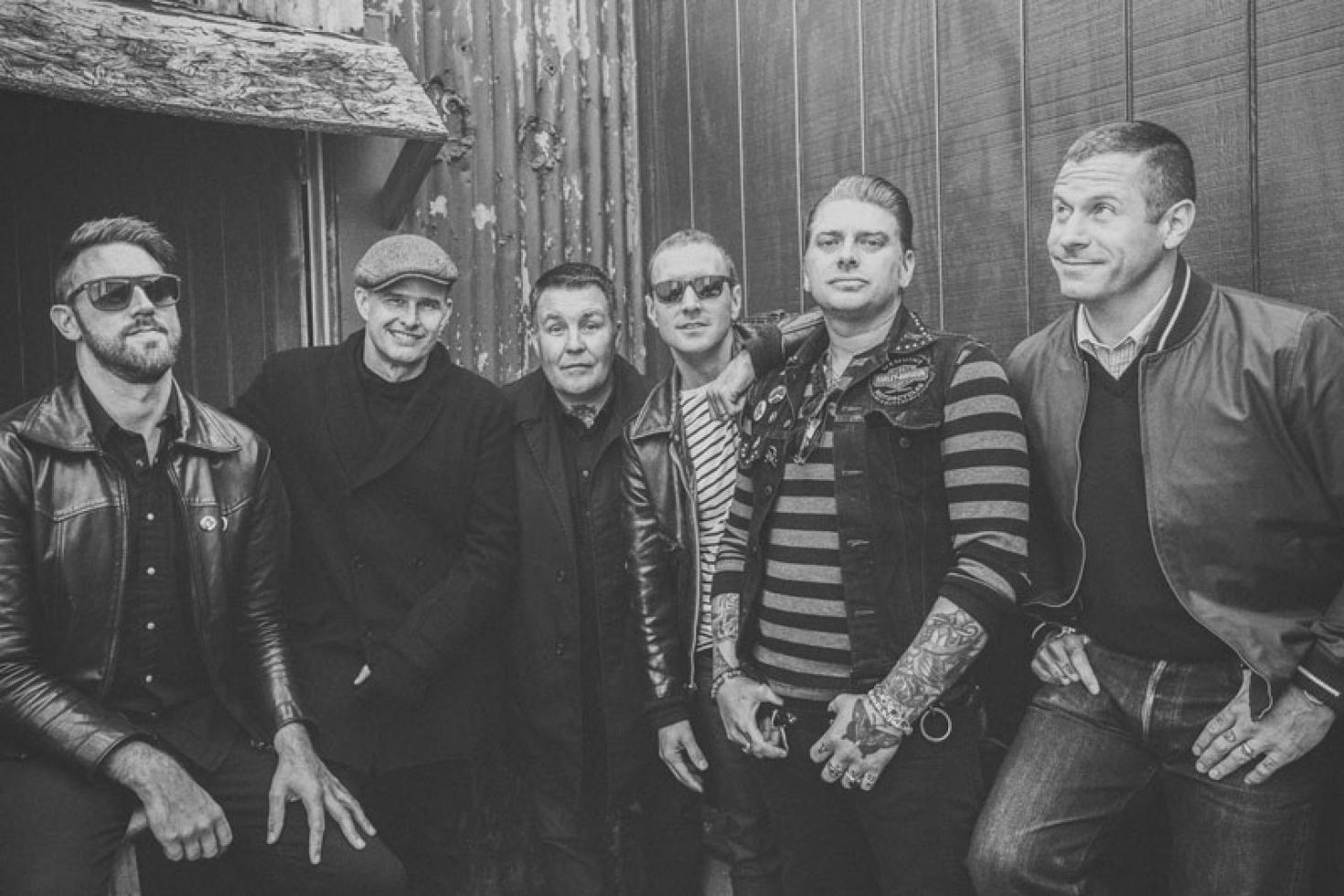 At this point in time, I think it's fair to say that Dropkick Murphys is more than a band. They are a goddamn Boston institution. For their ninth album, "11 Short Stories Of Pain & Glory", the band traded in their natural habitat for the state of Texas where they recorded with Ted Hutt. The result is another solid addition to the band's already expansive discography. We caught up with drummer Matt Kelly to talk about the new album and The Claddagh Fund, their charitable foundation. "11 Short Stories Of Pain & Glory" will be out January 6 via the band's own label, Born & Bred Records
PRT: "11 Short Stories Of Pain & Glory" is the first album you didn't record in Boston. Instead you went all the way to El Paso, Texas. What was it like to record in a completely different environment?
Matt: We basically lived at the studio in these little casitas; that building was almost like a really nice motor inn with a nice outdoor common area and ample indoor space to break bread.  It lies about forty-five miles outside of El Paso, TX, abutting the Mexican border, on what I think I was told is the biggest pecan farm in the world. 
You're surrounded by grove upon grove of pecan trees, dust, a highway, and Mexico two miles to the south of the actual compound.  Nothing is walking distance except some of the other studio buildings (about a mile away via the roads next to irrigation ditches), and there are around nine feral and/or stray cats that keep the bug factor pretty low.  These cats are cool as hell, but vicious.  One morning I came out to grab some breakfast, and walking through the courtyard I spied what I thought was two kittens wrestling.  It wasn't two kittens; it was a kitten and a squirrel.  They weren't wrestling; the kitten was eating the squirrel's face.   So that was nice. 
The daily routine consisted of starting around 10 AM, breaking for a quick lunch in the afternoon and a quick supper in the evening, and then working until 11 PM or midnight each night.  Living there for two-and-a-half weeks, we were basically immersed in the process without the distractions of "how late am I able to stay tonight?" or "I need to hit the grocery/package store/pick up the kids/walk the dog/et cetera".  Creative juices were allowed to flow and we could really just work uninterrupted. 
I think I personally left the studio on three occasions during the 2 ½ weeks there: twice to go out to restaurants and once to go to the grocery store! 
I really wasn't too pleased with the idea of leaving my family for that amount of time on top of our usual touring schedule, but once we settled in I really, really enjoyed the process.
PRT: I think the new album marks the third time you work with Ted Hutt, whereas previously you produced the albums yourselves. Was it hard the first time around to have someone else come in?
Matt: Actually, our first two albums were produced by Lars Frederiksen from Rancid.  However, after not working with a producer again since 1999, first meeting-up with Ted for the 2011 "Going Out In Style" album, we felt very comfortable with him and his approach to producing.  His particularly subtle blend of psychology and extreme violence really got the creativeness flowing in our camp.
PRT: What is the main thing you have taken away from working with Ted Hutt?
Matt: Simplify, simplify, simplify.
PRT: The song "4-15-13" deals with the Boston Marathon Bombing. How did you got about writing a song about a tragedy that happened in your hometown and that is still fresh in everybody's mind?
Matt: Very, very carefully.  We'd thought about it for a long time after the whole thing happened, and wanted to tread very lightly around such a fresh wound.  We figured every band out there would be writing a song about it, and we wanted to be sure our approach wouldn't insult the victims or their families in any way.  When dealing with and writing about such a horrible subject, even if it is (and in this case it certainly IS) personal, you've got to be creative when you're expressing your grief, or else you come off as a dickhead.
PRT: You started The Claddagh Fund back in 2009 to help support addiction recovery and you are involved with other charities as well. Is that your way of giving back?
Matt: Yeah, it's actually tripartite: helping out disadvantaged and terminally-ill children, veterans coming home, and those suffering from addiction.  We figured rather than use the band's popularity for more personal gain (to me, being able to do this for a living for twenty odd years is plenty of personal gain!), why not use it to help others and try to improve our community?  Please check it out and donate at http://www.claddaghfund.org. Thanks.
PRT: You have been a band for over 20 years now, "11 Short Stories Of Pain & Glory" is already your ninth album, you got to give the Boston Red Sox anthem an update and pretty much everyone knows the name Dropkick Murphys. Are there still things left you'd like to achieve?
Matt: I'd like to play with AC/DC, my favorite band in the world!  But seriously, that's a tough question.  We set out to headline our own gig at the Rathskeller in 1996, and now twenty years later we've been blessed to have been able to accomplish and see so much. Maybe play a free gig on the moon?!!!! Anyways, thanks for the interview and see you out on the ice…