Features
on
Wednesday, September 11, 2019 - 16:52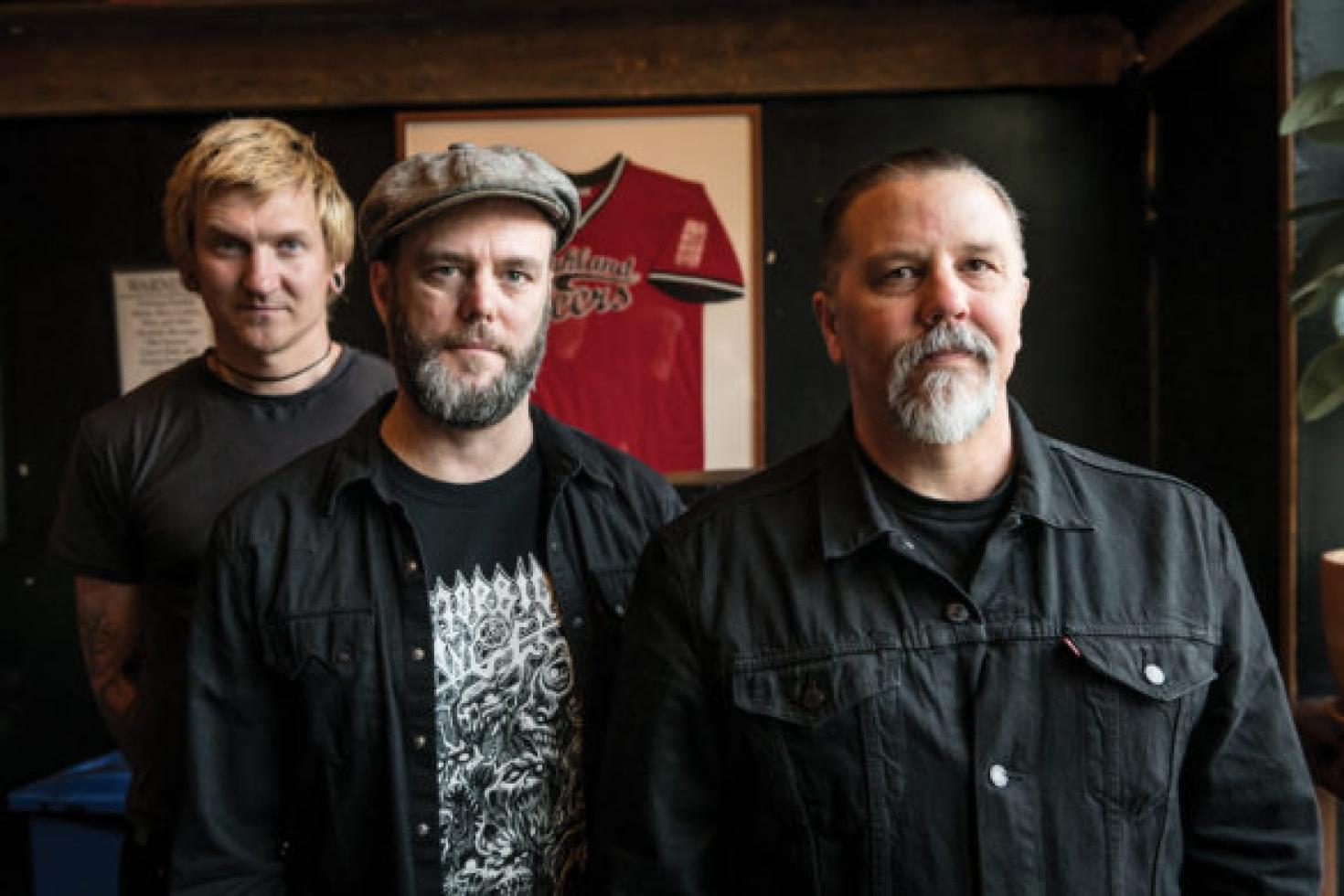 - by Tom Dumarey
Charger recently released their self-titled debut through Pirates Press Records. Which is kind of funny seeing how there wasn't even supposed to be a band at first. It was more of a musical challenge between friends exploring their roots and mutual passions. Those friends would be Rancid's Matt Freeman, guitarist Andrew McGee and Jason Willer of Jello Biafra and the Guantanamo School of Medicine fame and those roots would be anything from Black Sabbath and Judas Priest to Motörhead and AC/DC. But with an East Bay execution. Want to see them live? You can do just that at the 15th edition of Rock The Ship, which will take place October 17-20 in the Bay Area.
PRT: When and how did the three of you figure it made sense to start a new musical project together?
Jason: I had been teaching Matt's son the drums for a few months. Eventually we got talking about music and what inspired us to play when we were kids. We decided to get together to see how we played off one another. We hit it off great and started working out rhythmic ideas. After a few months we invited Drew to play guitar with us and it worked right off the bat.
PRT: Having been in bands as long as you have, is Charger as much about the music as it is about starting something new?
Jason: We write music we want to hear and are having a blast doing it. We are challenging one another as well as playing a style none of us have played before. 
PRT: Does it feel like you are breaking out of your comfort zone as well?
Matt: No. We are having a great time.We don't analyze things too much.
Jason: We are all bringing elements in we hadn't used before in our other bands. For instance its the first time I've ever played double bass in a band. I've  expanded my set up to an eight piece drum set and sing lead vocals on a few songs, that's also a first for me. Matt and Drew are also experimenting with different sounds and styles from what they have done in the past. It's really exciting for us.
PRT: Is Charger as much a very brief mission statement as it is a band name?
Jason: CHARGER are three friends having fun playing music they believe in.
PRT: Listening to the songs, it's obvious that you share a love of all things 70ies rock and 80ies metal. What is it about that music that first drew you to it? The musicality, technicality, imagery,…?
Matt: I think all those things to some degree.When I first started getting into music as a teenager I just knew that I really liked it. I had no idea how those records where played or recored. I just liked it. Now I listen to them having a pretty good idea how they where made and I can really appreciate how genius they are and what it took to be that good.
PRT: What is the first album you went nuts over?
Matt: The Who . Live at Leeds
Jason: When I first heard Iron Maiden I must have been nine. The musicality and guitar harmonies blew my mind. When I was fourteen I picked up Neurosis Souls at Zero, it scared the hell out of me. I knew if music can make me feel like that it must be good. 
PRT: Did the songs on the album come from just the joy of playing that type of music? Or was it more that you felt like you could put a fresh spin on the genre?
 
Matt: We just wanted to make good music and have fun doing it.
PRT: You draw influences from hard rock, metal, punk, prog and more. Was it a challenge to boil down all those different influences into short songs? Or is the songwriting process pretty easy-going?
Matt: We don't think to much about it. We all contribute and we rehearse allot. We just have fun and play what we like.
PRT: With you being active in other bands, having families,... what are the plans for Charger? Just take it as it comes?
Matt: We are just going to keep playing shows and recording. Thanks for the interview.