Features
on
Monday, September 30, 2019 - 13:33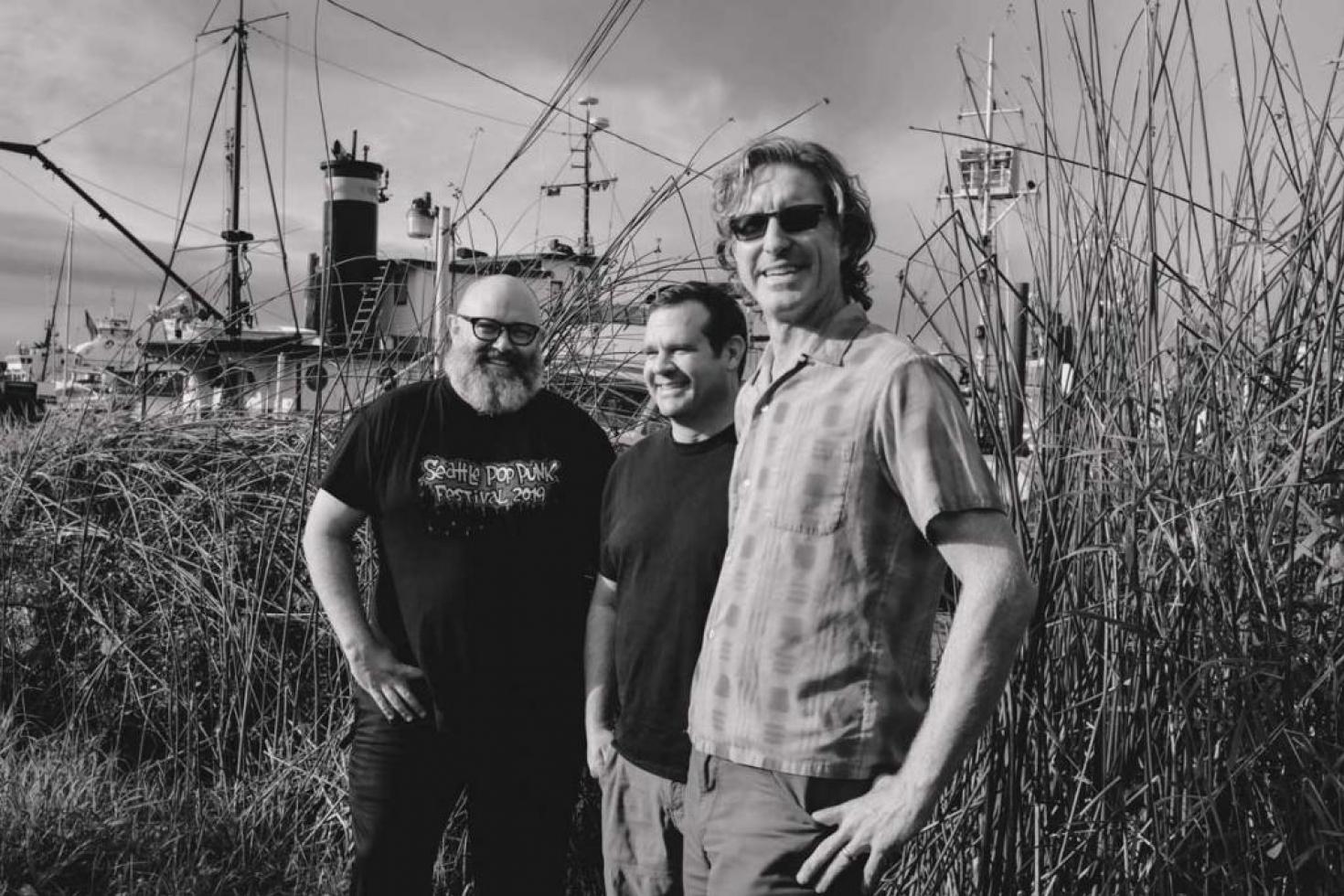 - by Tom Dumarey
Sicko's Ean Hernandez and Denny Bartlett were kind enough to take us on a tour through his hometown of Seattle that includes everything from a pirate-themed punk rock dive bar and regrettable late-night choices at Dick's Drive-In to micro breweries and maxi parsnips. They would also like you to know that even though this city guide might seem like an invitation, they don't actually want you to come and visit. While you are at it, make sure to check out 'In The Alternate Timeline,' the band's recently released anthology that is out now via Red Scare. (photo credit: Zack Bolotin)
PRT: What made you first fall in love with the city?
Ean: Seattle is my hometown, so for a long time I took it for granted, and then wanted to leave it for bigger and better places.  Living overseas, I came to miss the rain, the little punk shows, organic gardens, the Seattle freeze, my family and friends, all the stuff I wanted to escape.  I think leaving made me realize that I belong here.  Last weekend, it was raining, and I was working in my garden, pulling up carrots and parsnips.  I was digging around for hours up to my elbows in wet earth and getting rained on.  I stood up at one point, encrusted in dirt up to my elbows, soaked but not chilled, holding a huge parsnip in my hand and looking up at the clouds.  I've never felt more right in a place in my entire life.
Denny: The mountains, the music scene, and the greyness.  I grew up in Spokane, where I was sunburned all the time.  I never get sunburned in Seattle.
PRT: If you had to come up with a marketing slogan for the city, what would it be?
Denny: "Hope you like it wet"  But seriously, people need to stop coming here… we've got too many people as it is and you can't get around town anymore without a major headache.  Is that a good thing for a city guide?
Ean: Seattle: we don't like you.  If you love that, you are going to like Seattle.  Love, Seattle.
PRT: Best place to play?
Denny: The Crocodile was always one of the best places and even though it's been reconfigured, it's just good to see some place still in business and hosting good shows.  A lot of the venues doing shows now didn't exist when Sicko was a thing.  Me and Josh's new band, the Drolls, only play the smaller clubs, but out of those, I think the Funhouse is the best currently.
Ean: The Kraken Bar: Seattle's #1 Pirate-Themed Punk Rock Dive Bar.  We have a real punk bar, inclusion is their M.O., and the pinball is pretty good.   There is a Rainier Beer Beer-Light, and PBR on tap too. There are no monitors, so HTFU punky.
PRT: Best place to go for a late night drink after the show?
Ean: If I actually needed to drink more after a show (eesh), I would head to the Piper's Creek Pub in Crown Hill.  It's a dive, but the bartender is an old punk, and the booze selection is pretty good.  No Old Fashioned's allowed for reasons I forget.  When Seattleites get this drunk, they temporarily forget their Freeze.  Don't tell anyone I sent you.
Denny: Oh man… The last time I went somewhere else for a drink after a show was with some of the guys from Camera Obscura to the Unicorn.  But I would say if I were going to do that now, I'd probably go to Life on Mars.
PRT: Best place to go for a late night snack after the drink after the show?
Denny: Dick's Drive-in is the place to go.
Ean: Everyone will tell you to go to Dick's Drive In, which is a beloved chain of drive in burger joints still around from the 1950's.  A total Fonzie and Ralph Mouth type scene.  They make about 4 things, and don't take special orders.  Most Seattleites have worked there at one point or another, I certainly have.  That said, there is nothing you will regret more at 10:00 AM the next day than a 2:00 AM Dick's Deluxe, fries, and shake followed by a 2:30 AM bedtime the night before!  
PRT: Best touristy thing to do in the city?
Ean: Do a micro brew pub crawl.  It's easy: start at any point in the city, Google Map the closest micro, drink one pint, and repeat.   It actually works: you can walk drink walk drink as long as your stomach can hold up.  There are 174 breweries in the city… you're bound to run out of steam before we run out of beer.
Denny: I think the Chihuly glass garden at Seattle Center is the coolest touristy thing around.
PRT: Best hidden spot in the city?
Denny: The Alibi Room in Post Alley in the market is a gem with great food and drinks and all the tourists seem too distracted by the stupid Gum Wall to even notice it.  You can walk in at lunch time and get a table right away.
Ean: Carkeek Park.  216 beautiful acres of ravine, forest, trails, park-lawn, and beachfront right in NW Seattle.  Hard to find, but there is access from the secret Mary Avenue Trail, the tiny South Ridge Trail off of NW Norcross Way (between two backyards), the cul-de-sac behind the Holman Road QFC, and of course down long and winding NW Carkeek Park Road off of NW 110th St.  Find the 19th century orchard planted by the Piper family and maintained today by park orchard kooks.  PNW glory!
PRT: One thing you would like to see changed in the city?
Denny: We need way more affordable housing.  Young artists can't afford to live here anymore.  Hell, teachers can't even afford to live here if they don't already own a house.  So all the creative people move away and that's a great way to kill a city.
Ean: Change out Amazon for just about anything.  We are taking offers…
PRT: What's your best memory about the city?
Ean: Being young, in a band, in love, and wandering around in the rain on a crisp autumn day wearing a oversized thrift store suit jacket.  You can't buy that feeling for all the money in the world.
Denny: Probably coming home from a 6-week tour and driving around the Michigan curve on I-5 where suddenly downtown is right in front of you and you're just relieved to finally be home.
PRT: Where in the city did you get your heart broken?
Denny: Heh, uhhh, a dock on North Lake Union, the old Denny's in the Cascade district, and my old studio apartment on Queen Anne.
Ean: Nowhere.  I do the heart breaking.
PRT: Is there a historical fact about your city that makes you chuckle?
Ean: The history of Seattle is riddled with whores.  Late 19th century Seattle had less than 10,000 residents, 2700 of which were "seamstresses".  "Seamstress" was 1880's code for "hooker".  The lap dance was invented here. Many famous citizens were either wrapped up in or active in the skin trade.  Salacious prostitution busts are frequent and enthusiastically followed news stories.  Our quaint little coffee and tech port town is a den of fleshy iniquity!
Denny: That the term Skid Row comes from the old skid road they used to drag logs down to a mill in Pioneer Square.  So the town was always known for destitution and people are suddenly acting like the current homeless situation is unprecedented.
PRT: Favorite song about your city you'd like to share, either yours or someone else's?
Denny: Probably PiL's 'Seattle'.  It's such a weird bit of seemingly misdirected animosity... but at least it probably stopped some people from moving here.
Ean: Summer Never Came, by Sicko, of course!