Features
on
Tuesday, September 8, 2020 - 15:58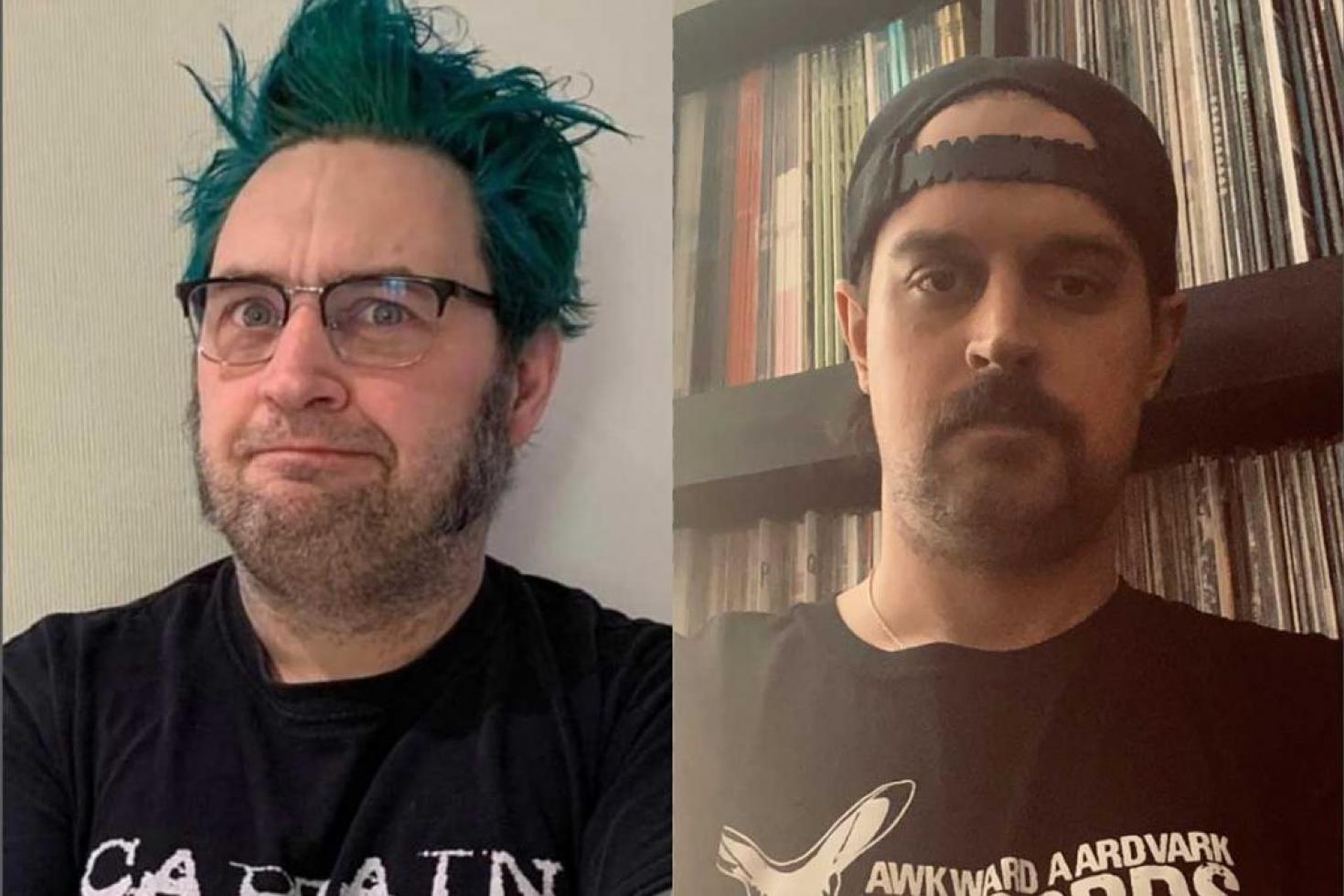 Awkward Aardvark is a London-based label with lots of As in their name along with some consonants thrown in to combat boredom. Founded by vinyl nerds Tom and John who share a penchant for fast and loud music, Awkward Aardvark has been craftily releasing 7" by the likes of Good Riddance, Anti-Flag, The Bombpops, Authority Zero and many more with all of the proceeds going to the band and a good cause picked by the band. Sounds interesting? We thought so... which is why we caught up with Tom and John to talk about all things Awkward Aardvark.
PRT: Okay, let's get this one out the way... who came up with the name Awkward Aardvark and why?
Tom: Well, I did. I had a conversation with Adam the now retired label mate in AAR about how the English language has funny tongue twisters and when asked for an example the very best he could muster was awkward aardvarks. After a short pause and an embarrassed laugh, I said "there is a label name right here" or something like that, probably let the annual almanacs reflect that he really cannot remember the exact phrase…. It seemed ingenious enough even a couple of days later… so I did what I usually do and started visualizing it by designing a logo. My laptop is swamped with designs that never went further hence it was just a fun exercise if anything. John joined as a fan after the first release came out, I wonder what he thought of the name…
John: I think that's honestly one of the things that attracted me to label, or at least caught my attention enough to click on the webpage. I remember laughing and thinking to myself how genius the name was. It's one of those names that you don't forget!
PRT: When and how did you come up with the idea to start the label?
Tom: Once the logo looked right we thought that the idea of having these on a sticker that we could plaster on the wall of the 'relief room' in any punk rock bar sounded rad enough to start a discussion about the how and well more so… HOW?!, we thought that it could be for charity. Because anyone likes a charity and surely every band on the planet, or at least in the punk rock and hardcore community loves to do good things. So that should be easy, right…? What we did not count on was the fact that bands are busy, or when they are not touring (remember that time?) that a lot of the bands have day jobs, or are signed to a label with exclusives etc. Our dewy eyed approach of 'build it and they will come' was in for a few school boy lessons….
PRT: As if it isn't hard enough these days to run a label and sell music, you guys are happy to just recuperate the costs and then give the rest of the money to charity. Who came up with that business plan?
Tom: We have jobs. I work in a vinyl pressing plant and John has a heart of gold that bleeds nuggets, so that pays the rent. But it also enables us to look at our label as a bonus. A hobby if you want. The opportunity to release cool records, get to give something back and talk to the artists about how and why we are doing it is just a rad thing to do. But as I found out doing it, it's also a great way to build links to artists and labels and make virtual or sometimes even real friendships. So yeah as a business plan, this has about as many legs as a bowl of yogurt and we don't even take money for our time, but as a hobby and way to be a part of the community it is the best idea in the world. But you got to see it in context, we only ever anticipated doing 2-3 7"s per year
PRT: You don't operate as a traditional label because... well, you're not. You don't sign bands, you don't have to negotiate multi album deals, you don't have to market them. Is that something you'd eventually want to get into as well?
Tom: We talk about it. Not constantly but the question comes up whenever we hear an awesome track and the band asks, "how about releasing our album?" I have gone and done this for AAR-501 7Years – Lifetime because they are a great band and it seemed the right thing to do. It was a re-release of a CD only record and had some real killer songs on it. This has been to date our first proper LP release, but we do not have the resources to market the bands right now. In the end, we know that being a label that signs bands, we need to have the drive to make every band as big as they can possibly be, we would not want to do a half job. But marketing and distribution costs money and to do this properly it would undoubtedly mean the end of the charity principle, even in parts. And I am not sure if we want that right now. But John has a habit to convince me if he smells a good idea lingering in the midst of mayhem.
John: The conversation definitely comes up from time to time, but honestly the concept we have right now seems to be working! My eyes and ears always open so that's not saying if the right opportunity presented itself I wouldn't pounce it, and then beat Tom's ears until he agreed. But our ideas are constantly evolving.
Tom: So yes, we are already making concessions to our initial plan of being a 7" only label, we already have done one 12" and we soon will add a 10" series to the repertoire. 4 bands per record. Now that will be fun… So yes we are evolving and who knows what the future brings, but with the pandemic making touring impossible our bands already lost their main sales avenue. As they get records for free in return for contributing the song(s) they would usually sell them on tour. So we have slowed down a little and postponed and shelved some releases until we can figure out what will help our bands.
PRT: You are based out of London but you recently opened an office in Pittsburgh, PA as well. In this day and age, what are the advantages of having a physical office in the US?
Tom: Oh undoubtedly world domination! In an age that an office means nothing anymore to the people occupying it, we thought we counter that trend by bringing meaningful value to our discerned vinyl buddies in the USA. John is learning to be a mason so we can make it less square too…but, all joking aside, we have seen postage prices rise dramatically in the last 10-15 years. Asking someone to pay twice to three times the vinyl price just for postage to ship overseas is dumb.
John: I think with the way shipping is now it just made sense, a lot people will avoid buying simply because of outrageous shipping costs and long delays. So having a location in the USA allows to also ship from the USA for our customers that aren't in Europe at a lower cost and quicker turnaround. I'm also a collector so I know how frustrating it can be waiting long periods of time with packages in limbo! Let's just say I've gained a couple more grey hairs this year!
PRT: How do you pick the bands you work with?
Tom: We beg,… lol. But initially we hit up the contacts we had. And that is where those lessons came in… Seriously in the beginning it was harder than anticipated, we were a new label without a release. Now imagine you get an email from someone you knew reasonably well and you get asked to be on a label that no one knows and release a record for charity. It seems weird at best but also incredulous to some, ask you asked us yourself, why? Hence we got a lot of friendly no's. And when we wrote to bands that we did not know but thought would fit well, we got less no's and mostly nothing.
But once you get going, you have the first release under your belt and you can actually show how it works, things click into place. I was kinda lucky to bump into Stefan from SBAM Records at the right time. He had just finished the line-up for the spring Edition of SBAM Fest 2019 and we had been pressing a few releases for his label. Adam who lives in Austria went up to visit him and asked if we wanted to do a release ready for the festival and Stefan asked if we would consider doing 3 7" too.

Naturally we said yes. In this case the label was pushing us to step up, and the bands were super rad and wanted to know everything about us. Now we get approached and if we like the music we talk and see how things develop. Right now we artificially slowed down due to COVID, but there are a few releases bubbling that I am super stoked about. John has experienced similar in the USA once he started talking with peer.
John: I was pretty straight forward and demanding with Tom when I signed on and told him exactly who I wanted to put out, and it honestly didn't take much convincing, he was on board!. It started as a 2 band 7" and lucky enough for me, this said person is always thinking outside the box like us and convinced me that it should be a 4 band 10". But I think things just sort of happen naturally, I hear something I like and try to get them to put something out with us.
PRT: Are the labels those bands are on always on board right away with you releasing something by one of their acts?
Tom: So far yes, we are approaching bands directly and there aren't any gagging clauses or prohibitive contracts that bands have these days, so conversation is free flowing and most labels even see it as free promo.
PRT: I know you are supposed to love all of your children equally, but I also know there is always one that is your favorite. So which one is your favorite Awkward Aardvark release to date?
John: That's a tough one but I would have to say the Anti-Flag/Good Riddance release. Altho I may be a little biased being that I'm from Pittsburgh!
Tom: Haha, that wouldn't be Pittsburgh PENNNSYLVAANNNIAAAAA, by any chance? Figures. You are so easily pleased, but hey I love these guys, who doesn't?. For me yes it is hard to pick favorites and I pretty much love all of them equally. More so I don't want to offend all the awesome people that release with us. For that reason I will definitely and 100% keep it quiet that the first born, our 7Years/Bodyjar split will always have a special place in my heart. It features Joey Cape and launched us. So that will be my secret.
PRT: Any upcoming releases you can already shed some light on?
John: Sure, while I'm not gonna get into specifics just yet, I will say it is something that we haven't done yet! A 10" record featuring 4 bands. I've been working on this release for a while and it has finally come together! I think people are really gonna be excited over this one!
Tom: Ha, 4 bands on a 7" was not an option. We believe in good cuts and best sound so 45rpm is where it needs to be, so John is the brainchild behind the 10" series. I have a couple of releases earmarked that bridge country borders. We are hoping to have bands recording towards the end of the year when things ease up. With some luck we will release 2 7" with some brand new songs by 4 extraordinary bands. We will keep you posted
PRT: What is the one band you dream of working with?
John: Man that's a tough one, but if I had to pick one, I would say The Replacements, maybe we can get them back together long enough to record us a song! I also would like to try to do something with The Homeless Gospel Choir! I've always loved his music, but now he has the full band and they kick ass, their latest album was a game changer, so that could be cool if I could get him on board for a release!
Tom: I am working via the pressing plant with some interesting bands that I would love to do a split with. And as that is what we do, 'splits' it has to be two bands right? Phew that narrows it down somewhat… OK It is a gut response, our rule has always been that bands must still be active and are able to tour, so I would love to do a NOFX and Descendents split 7". Maybe playing each other's songs, that's a dream right? Earmark this for AAR-100.