Upcoming Releases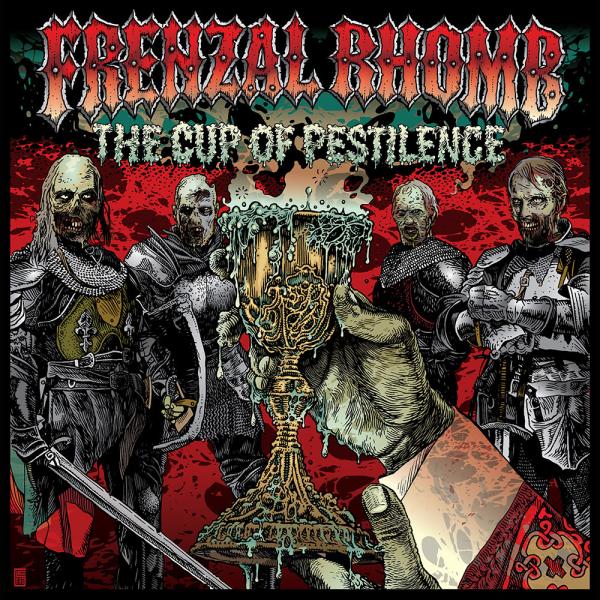 on
Friday, February 17, 2023 - 09:10
It's the all-new Dark Ages! Of archaic snake oils and occult alchemy, turning horse drugs into fool's gold, and otherwise worldly townsfolk into the village idiot. But all is not lost, dear vassal, dear patron, for who is that doth march o'er the crest of yon hill, battle-scarred armor reflecting back the sun of a brand new day? It's Frenzal Rhomb's new album, The Cup Of Pestilence! Drink long and deep of its zest. Its lifegiving succor. It's mad riffs. I'll probably stop with the weird medieval stuff now.
About the album:
"We've done a new album! Our tenth! It took us a while because, you know, *gestures everywhere*, but we did it. Written in our houses, mostly during the pandemic, demoed at The Pet Food Factory, and recorded, mixed, and mastered at The Blasting Room in Fort Collins, Colorado in the year of our lord 2022, by Bill Stevenson, Jason Livermore, Andrew Berlin, Chris Beeble and a cast of other people who look better in chainmail than we do. Art by Glenno and his beautiful warped mind.
Nineteen songs full of the characters and slightly discomforting ideas you've come to love or at least put up with from us. The stories of good times, beloved friends, and slightly less-friendly types ("Where Drug Dealers Take Their Kids," "The Wreckage, "Lane Way Dave,"" I Think My Neighbour Is Trying To Kill Me" for example), the tales of enlightenment through recreational substances of "Dog Tranquiliser" and "Thought It Was Yoga But It Was Ketamine," and some great budgetary ideas for a cash-strapped household, with songs such as Instant Coffee and Gravox, the latter a Paul Kelly classic updated for the time-poor sous-chef in the kitchen at Christmas. Also, an unusually large number of animal references. And an a cappella choir that's just Jason. We contain multitudes.
And we also contain a serious number of hot riffs and licks, brilliant bass lines, and devastating drum bits that we all definitely got in one take. (Actually, Gordy did get most of it in about one take. He's a busy man)."
The Cup Of Pestilence track list:
Where Drug Dealers Take Their Kids
Gone to the Dogs
The Wreckage
Dead Man's Underpants
Lil Dead$hit
Laneway Dave
Instant Coffee
Dog Tranquiliser
I Think My Neighbour Is Planning to Kill Me
Horse Meat
How to Make Gravox
Deathbed Darren
Tontined
Fireworks
Hospitality and Violence
Those People
Old Mate Neck Tattoo
Finally I Can Get Arrested in This Town
Thought It Was Yoga but It Was Ketamine