Album Reviews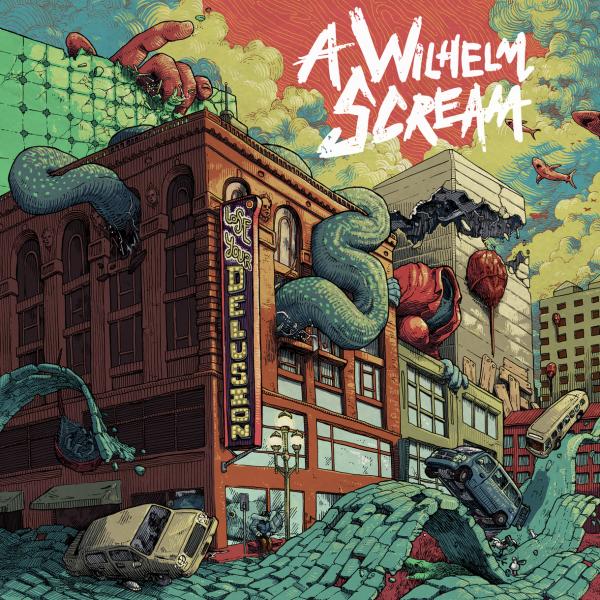 on
Thursday, April 14, 2022 - 15:04
The world sure has changed since A Wilhelm Scream released 'Partycrasher'. We are now living in an age where it seems people attach more value to fake news than news from reputed sources and a time where every other Twitter user seems to hold a PhD in virology. Makes sense to launch a heartfelt appeal for us all to lose our delusion, which is exactly what the New Bedford, MA progressive punk quintet does on their latest album.
'Partycrasher' was an eleven-song banger of an album that saw the band take their hardcore inflections and build on it. Nine years later, the band proves to still be on top of their game, evidenced right off the bat when they crash into 'Acushnet Avenue At Night' at breakneck speeds while still managing to simultaneously sound experimental and technical without sacrificing fun or melody in the process. Elsewhere on the album, 'GIMMETHESHAKES' is what passes for a pop song when you are A Wilhelm Scream, 'And Big Nasty Was It's Name-o' and 'Apocalypse Porn' are lightning-fast hardcore bangers while 'Figure Eights In My Head' comes with more unexpected hooks and transitions than should be allowed in a song that barely scratches the two-minute mark.
Granted, 'Lose Your Delusion' is a lot to take in at first. The band is continually shredding forward, veering left and right or just completely turning the other way at the blink of an eye while you just try to hold on for dear life. But once you dig in, you'll find that there is a lot to love - and a lot of love - in these eleven songs.
Lose Your Delusion track list:
Acushnet Avenue At Night
The Enigma
GIMMETHESHAKES
...And Big Nasty Was Its Name-O
Yo Canada
Figure Eights In My Head
I'm Gonna Work it Out
Apocalypse Porn
Be One To No One
Lose Your Delusion
Downtown Start II