Album Reviews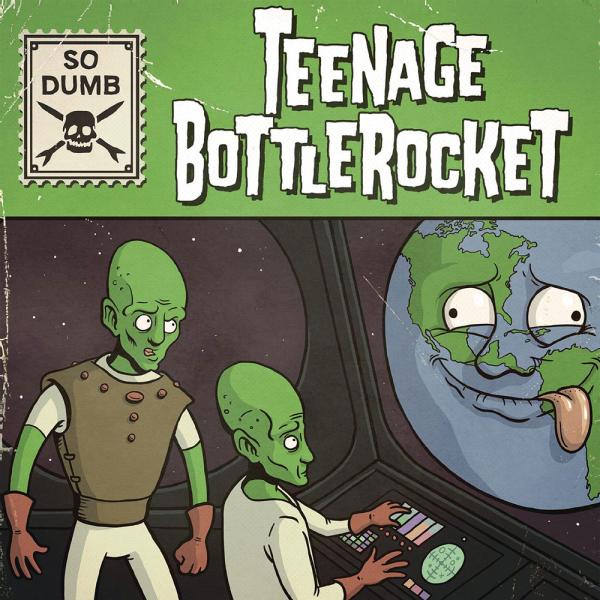 on
Sunday, April 23, 2023 - 11:41
With their new double A-side 7" 'So Dumb/So Stoked', Wyoming pop-punks Teenage Bottlerocket are back with their first new music  since 2021's 'Sick Sesh,' which honestly didn't really do much for me. So how do these four new songs hold up to the band's earlier material?
They kick things off with the 'So Dumb' title track, which bassist Miguel Chen wrote to express his frustration at what he observed as people's unwillingness to work together for positive change back when the pandemic hit. The other title track 'So Stoked' was written by a hopeful guitarist/singer Kody Templeman, who was inspired by what he saw as forward momentum and progress in and around his home of Denver, CO. Both cuts are vintage Teenage Bottlerocket with buzzing guitars, a rhythm section that fires from all cylinders and hooks. Big hooks.
The other two songs that round out this 7"s are okay-ish. 'Heart Attack' comes to live in the chorus, but the verses will probably not make people's heart rate go up. And I'm sorry to say that 'It Wasn't Enough' lives up to its title... the song's most redeeming quality is that it only lasts 97 seconds.
It makes Teenage Bottlerocket's first release for new home Pirates Press Records a bit of a mixed bag. Two trademark TBR tunes along with two songs that aren't quite up there with the band's best material. Like my teachers used to say in high school, you could do so much better.
So Dumb/So Stoked track list:
So Dumb
It Wasn't Enough
So Stoked
Heart Attack