Album Reviews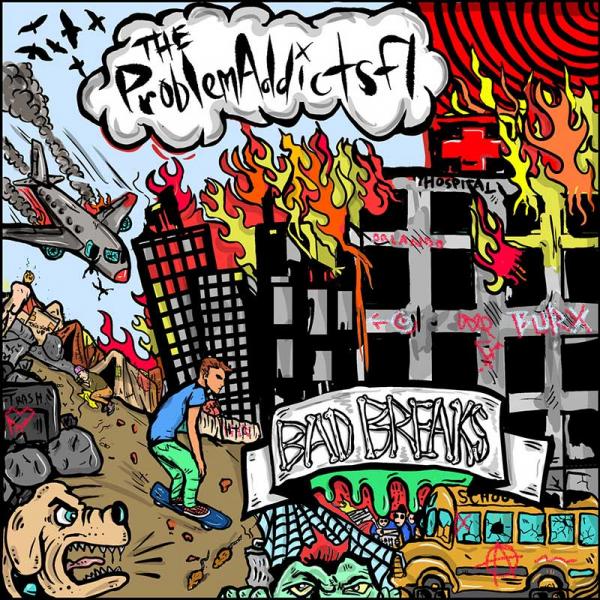 on
Wednesday, September 11, 2019 - 06:58
- by Tom Dumarey
Barely a year after the release of their debut EP (link naar http://punkrocktheory.com/music_reviews/problemaddictsfl-derailed), Florida's The Problemaddictsfl are back already with a full-length.
Just like the songs on 'Derailed,' the ten tracks that make up 'Bad Breaks' are of the pop-punk variety that will take you all the way back to early Blink and a lot of the Epi/Fat bands that provided the soundtrack to my life in the 90ies. Think No Use For A Name, Descendents and even a horn-less version of Less Than Jake on 'Hospitals & Heartbreaks'.
They like to keep up the pace and seem to have an almost endless supply of melodic hooks and catchy choruses at their disposal. And with vocalists Jacob Snell and Steve Brandhuber constantly trading off lines, they have an extra failsafe built in to keep things from getting monotonous.
The only thing you could fault these guys on is that they stick pretty close to the pop-punk rulebook. Or that we didn't really need another cover of Ben E. King's 'Stand By Me'. Then again, you'd have to be an incredible sourpuss to go that way instead of just having a good time with 'Bad Breaks'.
Track listing:
Cliffnotes on a Broken Heart    
Overdue    
Off The Couch    
Hospitals & Heartbreaks    
Paystubs & Paper Cups    
Temper Tantrums    
Option Three    
Sunday Morning Porcelain Praying    
Stand By Me    
All Up To Me