Album Reviews
Are We Not Men? We Are Diva!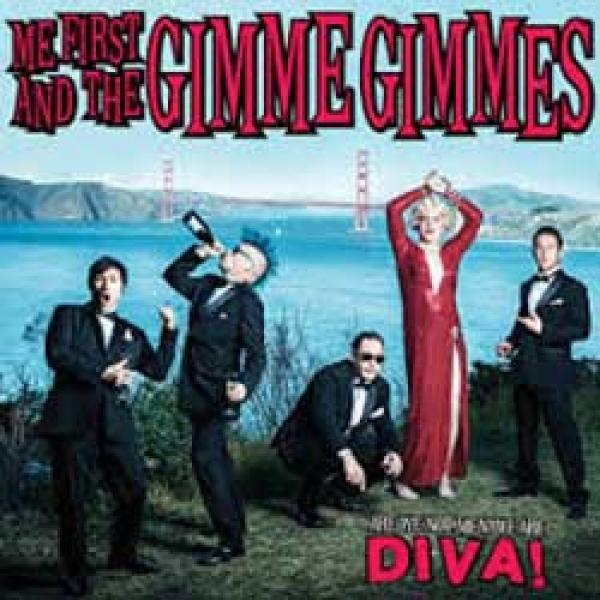 on
Thursday, May 8, 2014 - 20:50
Just when I thought they had outlived their purpose ("Sing In Japanese" and "Go Down Under" really were crap), Me First And The Gimme Gimmes strike a pose and release "Are We Not Men? We Are Diva!".
I never had any doubts about the Gimmes' concept but when you start covering Japanese songs no one has ever heard before, it's kinda hard to get in on the joke. It seems like they got the point because this time around Spike Slawson, Fat Mike, Joey Cape, Dave Raun and Chris Shiflett head for diva country. I wonder if this also means they'll start asking for ridiculous shit on their rider? Anyway, whether it's Cher ('ive had so many cosmetic surgeries, I don't even know my real age anymore'), Christina Aguilera ('I'm skinny, I'm fat, I'm skinny') or Whithey Houston ('I snorted too much coke and now I'm dead'), they all get the Gimmes treatment on "Are We Not Men? We Are Diva!".
In some cases the result is simply a punkified, sped up version of the original ("Beautiful", "Top Of The World"). Nothing too surprising there, even though it's still fun. But every now and again the Gimmes go all the way… the folky swagger in their take on "My Heart Will Go On" is a stroke of genius! And they get bonus points simply for including a Culture Club song on an album with a diva theme.
Also make sure to check them out live now that you still have the chance. Before you know it, they'll be hanging out with Perez Hilton and feeling too good to play in front of sweaty punks like you and me.
Here's the complete track list:
1. I Will Survive (Gloria Gaynor)
2. Straight Up (Paula Abdul)
3. Believe (Cher)
4. Beautiful (Christina Aguilera)
5. My Heart Will Go On (Celine Dion)
6. I Will Always Love You (Whitney Houston)
7. Top of the World (The Carpenters)
8. Speechless (Lady Gaga)
9. Karma Chameleon (Culture Club)
10. Crazy for You (Madonna)
11. On the Radio (Donna Summer)
12. The Way We Were (Barbra Streisand)