Album Reviews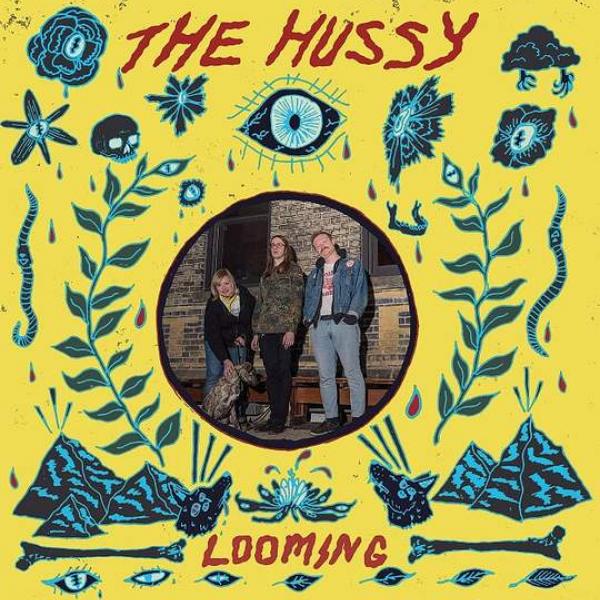 on
Saturday, September 28, 2019 - 08:56
- by Tom Dumarey
Following stints in, respectively, synth wave post-punk act Cave Curse and Proud Parents, Bobby and Heather Hussy are back with their main hustle.
For those not in the know, The Hussy formed as a duo in Madison, WI in 2008 and has carved a trash-punk path since, playing shows alongside everyone that would have them. Which happened to be badass bands like Mudhoney, Ty Segall, Thee Oh Sees, Reigning Sound, The Black Lips, King Khan & BBQ, Tenement to name but a few. In 2015, The Hussy turned into a trio when Bobby and Heather adopted Baby Tyler (Fire Heads, Proud Parents, T.S. Foss) to make things even noisier at their already chaotic live shows.
On their latest album 'Looming,' these Wisconsin natives once again feast on scuzz-pop. Or trash-pop. Or whatever you want to call something that is both dark, dirty and sugary sweet. It might seem like a weird combo, something that simply doesn't mesh. But The Hussy have absolutely no problem making cuts like opener 'Coast', 'Sorry' and 'Cornflakes' sound like a party while singing about death, divorce, addiction and well, just the general shittiness of the world we live in.
Throughout sixteen songs that run the gamut from pure pop bliss to psych-punk over garage-y rock, constantly Bobby and Heather Hussy trade off vocals as synths, jagged guitar leads and an overall heavy sound constantly zigs and zags in and out of focus. Think of Jay Reatard, older King Tuff and throw in some Culture Abuse and you'll get an idea of the Hussy's general badassery.
Track listing:
Coast
Have To Hide
Down In The Dirt
No Credit
Sorry
Tower
Better Stuff
Hung Up (Circle)
Tyler's Jazz Odyssey
Ode To Self
Erase/Her
Cornflakes
History Lesson – Part III
Be My Girl
That's The Way It Is (It Is)
Rewind