Album Reviews
Brothers Of The 4x4 / A Fiendish Threat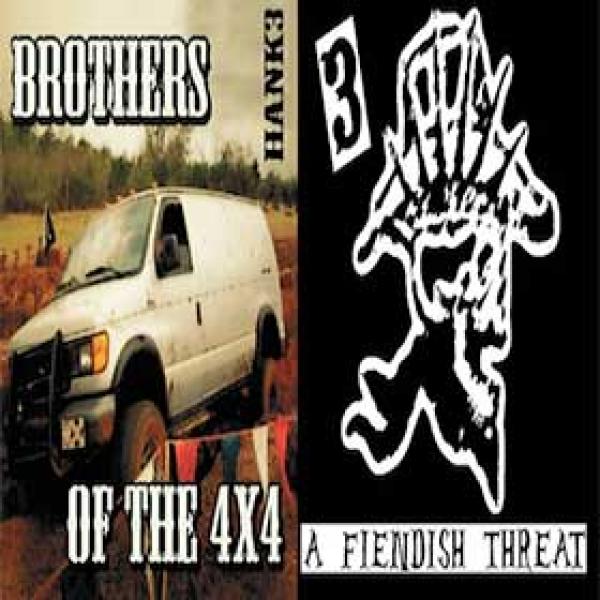 on
Saturday, October 12, 2013 - 17:48
Hank3 is at it again with what is probably his zillionth release…this time around he's releasing a double country album ("Brothers Of The 4x4") along with a punk album ("A Fiendish Threat"). While the sound on both albums may be different, his attitude remains the same throughout. Because let's be honest here, Hank Williams III is the unofficial ambassador of outlaws around the world.
"Brothers Of The 4x4" is filled with country tunes that come complete with fiddles, steel guitar, horns and some of the best pickin' you'll hear this year. Hank's distorted voice is draped over the songs and touches upon the kind of subjects guys talk about in the bar: cars ("Brothers Of The 4x4"), women ("The Farthest Away"), jobs ("Ain't Broken Down") along with some stuff that's more suited for your psychiatrist ("Deep Scars").
"A Fiendish Threat" on the other hand is more along the lines of Hank's work in Assjack, Superjoint Ritual and 3 Bar Ranch. Recorded in the same four months as "Brothers Of The 4x4", Hank not only sang and played acoustic guitar on this album but also took care of the drums. That's ADD for you. Throw in some fiddle and and a stand-up bass that thwacks from start to finish and you're not exactly looking at your standard punkrock album.
There's only speed on this album which is full ahead and while you might try and hang on for dear life as if you're riding a wild bull, the end result is too monotonous to keep me interested. There are some cool ideas here and there but a song like "Broke Jaw" should not drag on for five minutes. And the fact that "A Fiendish Threat" sounds like it was recorded in the parking lot of the cheapest studio one can find doesn't exactly help things.