Album Reviews
Satan's Graffiti Or God's Art?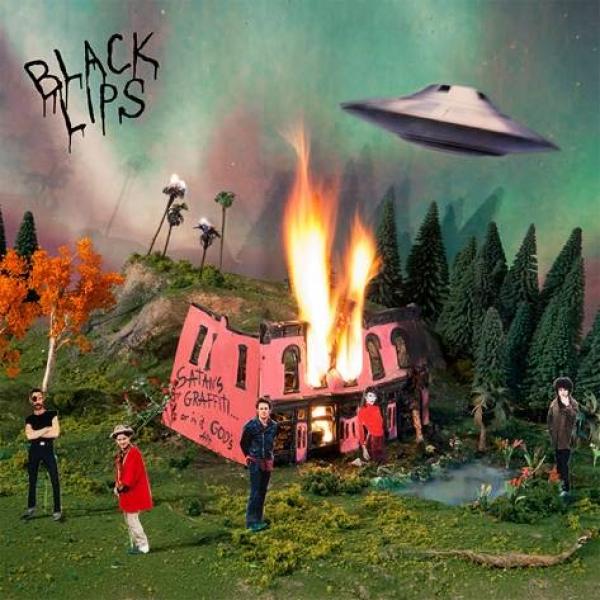 on
Thursday, May 18, 2017 - 16:06
The Black Lips' last two albums—2011's "Arabia Mountain" and 2014's "Underneath the Rainbow" —saw the Austin-based band flirting with a more mainstream sound thanks to big-name producer producers like Mark Ronson and Black Keys' Patrick Carney. Unfortunately it didn't actually get them more mainstream attention. So for their new album they waved their middle finger at everything and everyone and jumped headfirst back into their old, trashier sound.
"Satan's Graffiti Or God's Art", produced by Sean Lennon, comes with a reshuffled line-up and nineteen songs, not all of which are… well, let's just say we get some varied results. The dirty-ass blues of "Got Me All Alone" for example are 3 minutes and 32 seconds of my life that I will never get back. Luckily, there are also songs like "Can't Hold On", a catchy tune that shows off the band's songwriting skills. But you also have to sit through "We Know", which can be best described as the sonic equivalent of a junkie that keeps nodding off with the needle still stuck in his arm.
The album comes with a strong 'anything goes' vibe, which goes explaining how they jump from country and blues to rockabilly and the demented "Crystal Night", a love-gone-wrong sixties pop song complete with Chipmunks-style vocals set against the infamous 1938 Nazi raid against the Jews. The word 'weird' doesn't really cover it here.
Oh, apparently Yoko One contributed some backup vocals somewhere on the album, but to this day I haven't been able to find them. I'm sad to say the same goes for my sense of appreciation of this album.
Track listing:
Overture: Sunday Mourning
Occidental Front
Can't Hold On
The Last Culdesac
Got Me All Alone
Crystal Night
Squatting In Heaven
Interlude Bongos
Rebel Intuition
Wayne
Interlude Elektrik Spiderwebz
We Know
In My Mind There's A Dream
Lucid Nightmare
Come Ride With Me
It Won't Be Long
Losers Lament
Finale: Sunday Mourning
Atlanta flower punk pioneers Black Lips have announced that their first album in three years, Satan's graffiti or God's art?,is set for release May 5th in the UK on Vice Records. Produced by Sean Lennon at his studio compound in upstate New York throughout 2016, the albumis the group's most musically evolved to date,while still staying true to their original blistering take on fuzzy, dirty rock n' roll.
 
During the recording the band isolated themselves from the outside world, infusing the album with a focused liveliness similar to the spirit that brought them together in the first place. On Satan's graffiti or God's art? founding members Cole Alexander and Jared Swilley teamed with former guitarist Jack Hines (who played in the group from 2002-2004) and recent additions Oakley Munson on drums and Zumi Rosow on saxophone. The album also features contributions by Saul Adamczewski of Fat White Family and guest vocals by Yoko Ono.
 
Black Lips were born of DIY ethic, working their way from sweaty basement shows in Georgia to huge crowds at international music festivals(including a performance at Fun Fun Fun Fest that appears in Terrence Malick's forthcoming film Song to Song) to tours in such far flung locales as India, Jordan, Cyprus, Egypt, Lebanon, Iraqi Kurdistan, the United Arab Emirates, and many more. Satan's graffiti or God's art? vindicates Black Lipsfor sticking it out through many years of shifting trends and buzz bands; a sonically captivatingdocument that is as creatively unhinged as it is precisely executed, one of the rawest and most expansive albums in the band's storied history.