Features
Stepping Stone Party #3 - Thalia Zedek (Come/Live Skull/Uzi)
on
Friday, October 16, 2020 - 15:25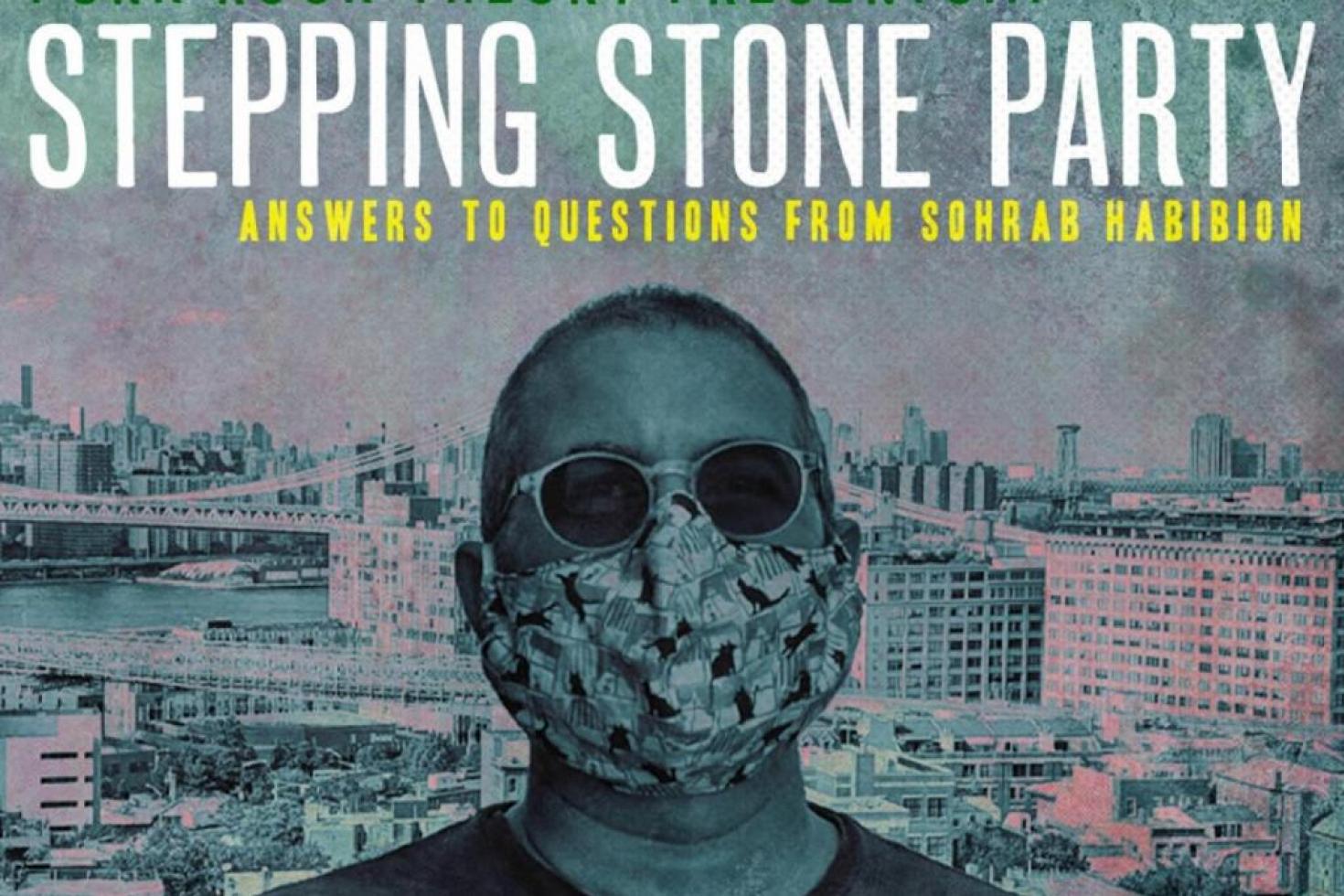 The first time I heard Thalia Zedek was listening to Live Skull's "Dusted" album. I loved the way her voice sat between the weaving guitar lines and thumping toms. A growling croon that gave the amorphous push and pull tension of the music a focal point.
From there I went backwards and discovered Uzi, whose lone 12", Sleep Asylum, is a perfect 22 minutes of post punk—carefully balancing experimental approaches with traditional rock structures, threading together These Immortal Souls' "Marry Me (Lie! Lie!)" and Mission of Burma's "Mica."
But it wasn't until seeing Thalia play live that I realized she also has a very recognizable guitar sound and style. And while she refers to some musicians in this interview that offer understandable touchstones, they only hint at what she has made her own.
Thalia has been in some great bands over the last few decades. The best known one is probably Come, but all are worth exploring and, if you haven't heard E, their most recent album is a perfect place to start.
There's tons of links embedded in the Q&A, so please click along and listen to some tunes while you read. Or bookmark for later, like I have with this 2017 TED Talk from poet Nikki Giovanni.
Sohrab: Is there a record that's really important to you which you think deserves to be better known?
Thalia: "Radio Ethiopia" by Patti Smith. I always felt that that was overlooked by all except her most rabid fans.
Sohrab: I read that you and your brother would drive from DC to NYC to see Patti Smith play. Did you take any inspiration from Lenny Kaye's guitar playing?
Thalia: I actually saw Patti Smith in DC. Twice, I think. My brother was living in NYC starting in '77 and he took me to CBGB's to see X-Ray Spex. I think it might have been their only US show? But there were tons of punk shows in DC and I saw the Ramones and the Cramps a lot in the '70s, as well as Patti Smith. I probably was more influenced by Ivan Král and Tom Verlaine's playing than Lenny Kaye's playing. But Lenny's Nuggets Compilations and writing was very influential for me.
Sohrab: What about other guitarists in NY from that time... like Robert Quine and Richard Lloyd? Or anyone else?
Thalia: I really liked the guitarist in the Urban Verbs who used tons of reverb. I think his name was Robert Goldstein. Both Johnny Thunders and Tom Verlaine became a huge influence. I also always loved Sterling Morrison's playing.
Sohrab: When did you start playing guitar? Was it your first instrument?
Thalia: I started playing guitar when I was about 12 years old. I already played the recorder and the clarinet.
Sohrab: Your guitar sound and style is very distinct and recognizable. Was there a particular moment that it sort of came to be?
Thalia: I think when I found my Hagstrom 1 guitar it all started to come together for me. I kind of had a guitar sound in my head that I was going for, kind of Rowland Howard mixed with Karl Precoda from the early Dream Syndicate, but I was always really broke and never had the money to buy amps or guitars to try and find it. I knew that I liked Fenders better than Gibsons, and I always liked Twin Reverbs. I would always check out what my favorite guitar players were playing through, and it was usually Twin Reverbs. I was looking for a second guitar for Come in 1996 and found a Hagstrom 1 for sale for like $250 or something. I fell in love with it and put some money down on it. I would talk about it a lot and I had a birthday coming up, so my girlfriend at the time got a bunch of friends to chip in some money and they paid off the guitar for my birthday! I should say that my favorite amp that I ever had was an Ampeg VT-40. Don Fleming from Gumball asked to borrow it at a show we were doing at Maxwell's in Hoboken and he blew it up. I've never forgiven him!
Sohrab: Is the guitar your main songwriting tool?
Thalia: Yes.
Sohrab: You mentioned to me that you're beginning to venture into the digital home recording world. Do you think of it as a new songwriting tool? A way to collaborate more easily with others? What are you hoping to get from it?
Thalia: I'm just using it as a way to make demos for my bandmates, and as a way to collaborate with others since it's not really safe yet to play together a lot in person. But it's really opened up a lot of doors for me in terms of collaborations. I put down some guitar and clarinet on a track on the new Nonconnah record, I just finished doing vocals on a Rowland Howard cover for a benefit record for the Women of Rock project, and I recorded with saxophonist Steve Norton for a piece in Mary Staubitz's Deaf Duos series. So I guess the answer would be that I'm using it more as a collaborating tool than a songwriting tool so far.
Sohrab: How do you incorporate your lyrics? Do they come separately and inform the vocal melody and chord progressions? Or do you settle on the riffs first and then figure out what works syllabically, etc.?
Thalia: I write the music first. It usually starts with a guitar riff that I think is cool. I hear the vocal melody in my head and then kind of let the words burble up when they're ready.
Sohrab: Are there writers you particularly admire? Any poets or novelists that spark ideas for you?
Thalia: I really love William Burroughs' writing, it definitely sparks something. I'm also a big fan of the writer Anna Kavan. Leonard Cohen is one of my favorite lyricists, along with Patti Smith and Mick Jagger. For poets that influenced me, I would say Nikki Giovanni, Artaud, and Richard Brautigan are all poets that I really liked at one time.
Sohrab: How much do current events weave into your writing? (Side note: when Obama repealed "Don't Ask, Don't Tell" in 2011, the first thing I thought of was the Come album . . . from 1994!)
Thalia: Very much so, especially lately. I'm a bit obsessive about keeping up with the news. For better or worse, I have a fear of not knowing what's going on. I tend to write about events in my life and the lives of people I am close to, so current events always have an influence, especially lately!
Sohrab: Given the totally bonkers state of the world, have you found yourself listening to any particular album more than others?
Thalia: I've been enjoying the music that Thurston Moore has been releasing during the pandemic and I think his new double-LP "By the Fire" is really cool.
Sohrab: Growing up in the DC area, how aware were you of the local punk scene? Were you going to shows and did like any of the bands?
Thalia: Yes, very much so. I had a fake ID and starting hitchhiking from Silver Spring to go to shows at the Atlantis (which later became the 9:30 Club) when I was 16. I really liked the D. Ceats, Urban Verbs, The Nurses, The Slickee Boys etc. I was already playing guitar by this time. I was in a band called the Fingers of Shame with the lead singer of The Shirkers (who had a single out on Limp) that recorded a demo with Don Zientara. We never played out though.
Sohrab: Speaking of Don, with all of the various studio recordings you've been involved in, you've had the chance to work with some incredible engineers and producers—Martin Bisi, Lou Giordano, Bryce Goggin, Paul Kolderie, John McEntire, Tim O'Heir, Carl Plaster, Sean Slade. Is there any particular album or song of yours that you think best captured what you were hoping for going in?
Thalia: I would also add Howard Bilerman from Hotel2Tango in Montreal and Andrew Schneider, who is a fantastic Boston recording engineer now based in New York, to that list. For the past 7 or 8 years I've been doing most of my recording with Andy Hong at his Kimchee Records Studio and I've been really happy with how he captures both my guitar and vocal sounds. I've also really enjoyed working at Machines with Magnets in Pawtucket with Seth Manchester. He's worked on the last two E records and I'll be doing a new TZ Band record with him there in December.
Sohrab: When you're plugging into an unfamiliar amp, what do you usually futz with to dial in what you're looking for?
Thalia: I usually try to get as clean a tone as possible, so if there is both a volume and a master volume knob that would be the first thing that I set. Then the tone controls (treb, mid, bass) and I would set the reverb. I prefer guitar amps with master volumes so I can control the overdrive, but besides that I like to keep it simple.
Sohrab: How did you end up in Live Skull? Did you enjoy just singing and not having to think about playing guitar at the same time?
Thalia: I was a huge fan of Live Skull. They were one of my favorite bands and I would go to see them whenever they played in Boston. My friends in The Wild Stares opened up for them in Providence (at Lupo's maybe?) and I went to see the show. I was hanging out in the dressing room with The Wild Stares and I was introduced to them by my friends who mentioned that I played music and was in Uzi. Uzi had put out a posthumous record on Homestead which was the same label that Live Skull was on at the time. It turned out that they were big fans of the Uzi record and when I told them that Uzi had broken up they asked me if would be interested in trying out for Live Skull as a lead singer. They told me that none of them really wanted to sing, that they would all prefer to concentrate on their instruments. I was really surprised to hear that, but really intrigued by the opportunity. They were about to go into the studio soon and they already knew that James Lo was leaving after the recording, so they were kind of in transition at that time on a few different levels.
It was really strange to not be playing guitar at first, especially when Live Skull was writing new material. but it also really enabled me to move around a lot more during performances which I enjoyed!
Sohrab: How did the Dangerous Birds tune end up on the Sub Pop 100 compilation 4 years after it'd come out on a 7"?
Thalia: It was weird. Bruce Pavitt heard of us somehow and called me on the telephone. He said he was starting a cassette label and asked if he could put one of our songs on it. I don't remember too much about the particulars, but this was very pre-digital so it must have involved the mailing of tapes somehow?
Sohrab: Was it strange to have your old band be on a release while you were actively making music with Uzi?
Thalia: Not at all because no one on the East Coast had any idea who Sub Pop was until like 10 years later!
Sohrab: Phil Milstein manipulated tapes in Uzi and also collaborates with you in tK. Martin Swope, who was the tape tweaker for Mission of Burma, produced the Dangerous Birds 7". What is it with Boston and tape manipulation? And you? Are you secretly assembling tape collages while answering these questions? In all seriousness, when I think of tape manipulation, I think of the early works of Steve Reich and pieces like It's Gonna Rain. Where do those ideas find purchase in rock'n'roll?
Thalia: I was definitely really influenced by Martin Swope's early work in Mission of Burma and also by a band called Circle X who I discovered completely by accident in the early 80's while visiting my grandmother in Germany. Their first album was made in Europe for Sordide Sentimental, a very cool French label. I think my interest in looping was also sparked by the work of William Burroughs and Brion Gysin and the cut up methods that they invented. For me tape manipulations were a way to do that with sound. I learned about a lot of cool stuff by reading RE/Search magazine, which was for sale in the record store that I worked in.
Sohrab: Please tell me about Needlenose. All I know is you had some stuff on the End of Music compilation in 1988.
Thalia: I remember recording with Kramer in New Jersey, but it was just a one-off band put together for the compilation. It was basically Live Skull minus Tom Paine, but I don't remember where Tom was at the time or why we did it really.
Sohrab: I know Come has done a few rounds of reunion shows and that you've played solo shows with Chris Brokaw, but has there been talk about writing together again? Or was Come something that happened in a specific time that you're occasionally willing to revisit but not necessarily rekindle?
Thalia: I've talked to Chris about trying to write together again. I would definitely be into it, but I don't think he's interested, even though he likes doing shows with me as a duo. As for me, I've told him that I'm only interested in continuing to do the duo thing with him if we have new material, so I guess we'll see what happens? I enjoy sharing a bill with Chris for solo stuff, but I'm a little burned out on doing Come shows as a duo because it's so much more fun to do it with the whole band. I only want to do that if it's something really special, like when we played in Moscow or when we went to Japan last year, neither of which would have been possible with a full band.
Sohrab: You've kept impressively busy the last 20 years with solo stuff, TZ Band stuff and E, not to mention projects like tK. How do you juggle everything? When are you writing for E vs. TZ Band vs. solo, etc.?
Thalia: The TZ Band stuff and my solo stuff are one in the same, and with E we all write together collaboratively. Sometimes I come up with a little guitar riff that I think Gavin and Jason might like to work on, and I will set it aside for E. E has had to learn to work remotely since Jason moved to Boulder a couple of years ago. So we're learning how to work together collaboratively, but mostly remotely which has been interesting. With tK me and Heather are improvising and Phil is too to some extent. Even though Phil's parts are pre-recorded he speeds them up, slows them down, combines them in different ways etc.
Sohrab: Just between Chris Brokaw and Jason Sanford, you've played with some formidable guitarists. Have you learned anything in particular from either of them? Has playing with them altered your approach to the instrument?
Thalia: Oh God, yes! I've learned so much from both of them and playing with them is really humbling. They are really different players but have certain similarities. They both have very good rhythm and they are both fond of playing pretty densely stacked chords. They're challenging to play with and really force me to be creative in coming up with parts.
Sohrab: Your brother Dan has done great design work for quite a few of your records. From Dangerous Birds to Come to some solo stuff and also E. Do you give him free rein or is there a conversation and some discussion about what you want? Have you ever rejected anything he proposed? Did it make for an awkward Thanksgiving dinner?
Thalia: Yes, my brother Dan is a phenomenal art designer/graphic artist and I am so lucky that he has been willing to help me out with design and layout. We rarely if ever disagree and I trust his opinion a lot. He's really busy with working, teaching and his own band so I will present him with the basic artwork whether it's photos or paintings etc and he will put it all together and make it look good. He's willing to try out my ideas and never tries to enforce his own preferences, but if something isn't going to look good he will be honest with me about that, which I really appreciate. I really am incredibly lucky to have such a sweet and talented brother!
Sohrab: What's on the horizon for you? What can we look forward to?
Thalia: I'm going into the studio at Machines with Magnets to record a new TZ Band record in December, which will come out in 2021.
There's a new Live Skull record coming out on Bronson in December which includes a bunch of unreleased tracks that I recorded with them in the '80s.
I also have a few reissues coming out next year, which I will be able to announce in the near future but not quite yet.
And hopefully E will finally be able to tour on our latest record, "Complications," in the summer of 2021—both the tour and the record got postponed by the Pandemic, with the record finally being released over the last few months. So if we can get this virus under control, 2021 could be a really fun year. But right now the "if" looms pretty large!