Features
The Smugglers' Grant Lawrence: 10 Lookout! albums you should love as much as he does
on
Thursday, February 25, 2021 - 14:01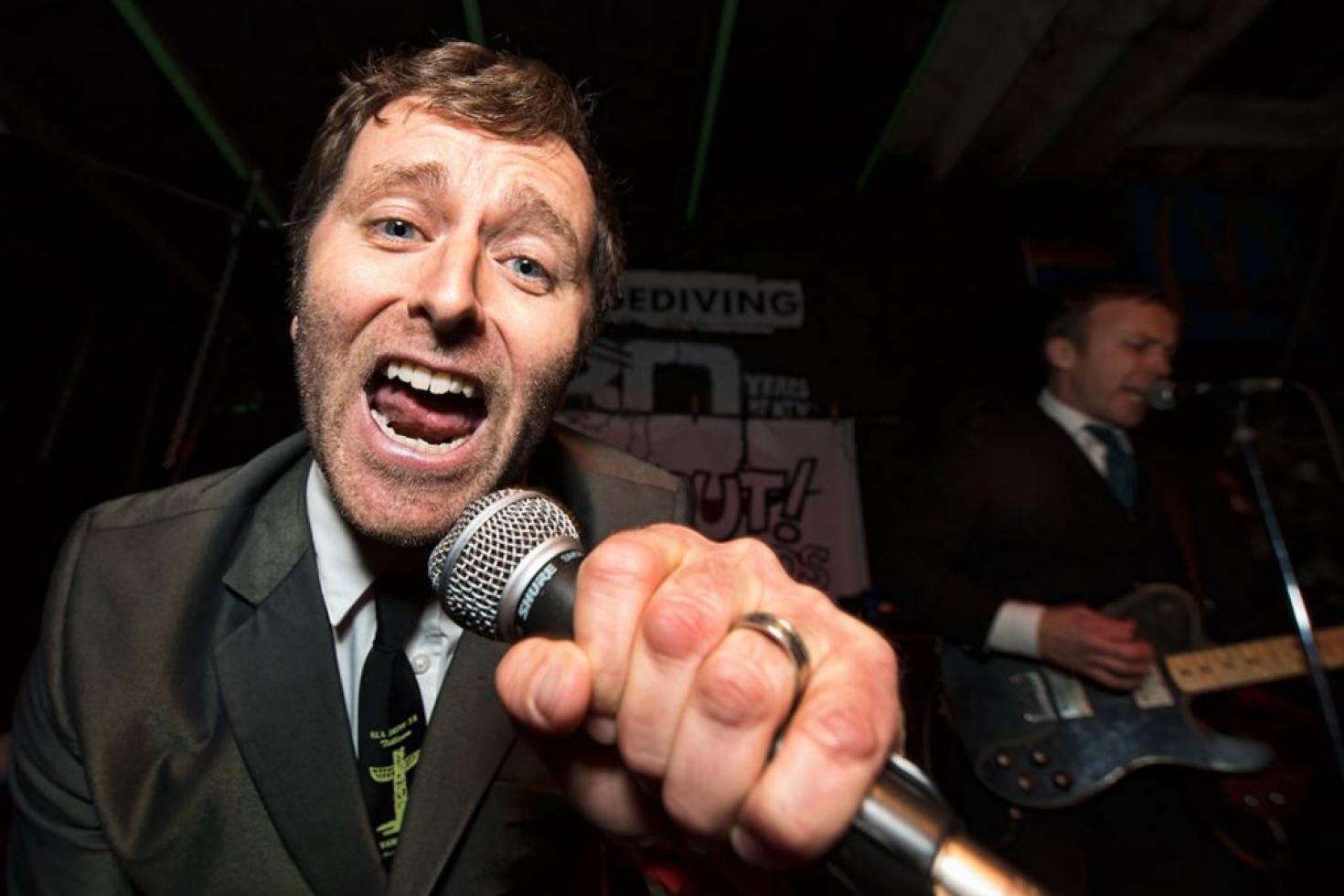 In the spirit of togetherness, community, friendship, good times, and yes, nostalgia, Oceanside Productions started a monthly online live performance series for 2021 called LOOKOUT ZOOMOUT. The reunions will bring together the singers and songwriters from Lookout Records, the iconic pop-punk record label notable for bands like Green Day, Operation Ivy, the Donnas, the Mr. T Experience, and Screeching Weasel.
"If your band was lucky enough to land on Lookout Records like ours did in the 1990s, it felt like winning the lottery", states the Smugglers frontman Grant Lawrence, who will lead the conversation between performances. "It was an incredible community of artists, bands, and friends. It didn't end well, but there were some amazing times and some really, really great records while it lasted." To prove his point, Grant has painstakingly pieced together a top 10 list for us featuring his favorite Lookout Records releases, which you can check out below.
The second Lookout Zoomout will occur live on Sunday February 28 at noon PT / 3pm ET and will feature performances by Dan Vapid (Screeching Weasel / the Riverdales / the Mopes), Dr. Frank (the Mr. T Experience), Rose Melberg (Go Sailor), Kepi (Groovie Ghoulies) and Larry Livermore (Potatomen and Lookout Records founder). It promises to be another interactive experience with fans from around the world. You can get your tickets HERE.
Grant: When I kerplunked down to create this list, I wondered how difficult it would be to come up with ten titles. My band had the honour of "being signed" to Lookout from around 1995 to 2005… ten mostly amazing years. The Smugglers never broke any sales records, but we felt like the Forrest Gump of punk rock 'n' roll bands to simply be associated with iconic Lookout bands like Green Day, Operation Ivy, and Screeching Weasel. Diving into the list, the hardest part turned out to be whittling it down to ten from the 39-ish titles that ended up on my original list. I avoided those huge bands, instead honing in on some of the great records that have been fresh in my head from the Lookout Zoomout online events of 2021. Some may have slipped past you when they were originally released, and that shall hereby be corrected… NOW!
10. The Mopes "Accident Waiting To Happen" (1999)
Grant: This was a kind of under-the-radar Lookout supergroup, bringing together Dan Vapid and Jughead from Screeching Weasel, B-Face from the Queers, and Dan Lumley from Squirtgun. Together along with Lookout wonder-producer Mass Giorgini, they created one incredibly brilliant power-pop record that is hit after hit after hit. Vapid writes with a heart-on-his-sleeve honesty, and sings in a locked-in, emotional tone that is rarely heard in punk. Truly a great album.
9. Go Sailor "s/t" (1996)
Grant: In January 1994, I had the pleasure of spending about a week in the Bay Area while I was on the road with cub. It was a week that would change my life. During those fateful days I met the members of the Ne'er Do Wells, Lookout founder Larry Livermore, Kepi and Roach from the Groovie Ghoulies, and... Rose Melberg. The first time I heard Rose sing was in a tiny cafe in Santa Rosa. Her purely angelic voice left my lower jaw on the floor. Probably still there. Go Sailor is her pitch-perfect jangle-twee-punk band with Paul Curran from Crimpshine. They compiled their three EPs into one awesome album, and these days it goes from $50 to $1000!
8. The Crumbs "s/t" (1997)
Grant: Cool. That's the word that comes to mind when I think of the Crumbs. They kinda came out of nowhere ("nowhere" being Miami, Florida, which on the punk rock map, was basically nowhere.) None of us had heard of a punk rock 'n' roll band from Miami until the Crumbs. I can remember Cathy Bauer from Lookout sticking this record under my nose, suggesting I might like it. I LOVED it. Lead singer / songwriter Raf Classic's unique singing style lifts this underrated collection of trashy 1950's-ish-street-style punk songs to a classic echelon of underrated Lookout cool.
7. Ne'er Do Wells / Judie and the Loadies "Gift of Knowledge" (1993)
Grant: When the Smugglers were touring the USA in the early 1990s, people kept saying, "have you heard the Ne'er Do Wells? Your band is EXACTLY like them!" When we eventually met up, we struck up friendships that endure to this day. This AMAZING double/split album only came out on CD, and I played it constantly, falling in love with the stripped down, ramshackle Milkshakes-style thirftstore rock 'n' roll, surf, and pop nuggets found throughout its 34 tracks. "Soap Soap Soap"!
6. The Groovie Ghoulies "Travels with my Amp" (2000)
Grant: I've rarely ever met a human being who GETS rock 'n' roll more than Kepi Ghoulie. He truly bleeds it, and has a deep appreciation for the genres' 70-odd year history. He has personally and professionally kept the tiki torch of rock 'n' roll burning brightly to this day. Full respect. This album contains drop-dead bloodsucker Ghoulies classics such as "Highwayman", "Bye Bye Brain", "Hair of Gold (Skin of Blue)", and "(The Girl Is) An Unsolved Mystery", which are easily enough to land this slab on any best-of list of anything related to music ever.
5. Pansy Division "Absurd Pop Song Romance" (1998)
Grant: I don't really think the impact of Pansy Division can be understated. Not only were they the world's first out all-gay punk band, they were the first out all-gay rock band, period. They were fearless musical trailblazers: brash, funny, in-your-face, and kind. They helped thousands of people to find the courage to be true to themselves. For me, the band came into their own on this record, which for the most part parks the novelty for great songwriting and darker subject matter. This was their final Lookout release before moving on to Alternative Tentacles for the rest of their career.
4. The Donnas "Get Skintight" (1999)
Grant: The Smugglers had the honour of accompanying the Donnas on their US tour for this album, a wild sold-out 40 night affair that spanned three coastlines, which I chronicled day-by-day twenty years later on Instagram. We were already friends with the Donnas before this tour, but it was seeing them deliver night after night that solidified our deep respect for them as musicians and performers. "Get Skintight" is a breakout album for the band - the record EVERYONE heard - which captured the Donnas at their rock 'n' roll best: marrying their Ramones-style teenage rebel songs with their true-of-heart metal leanings. Love this band.
3. The Hi-Fives "Welcome To My Mind" (1995)
Grant: Most "garage rock" is snotty, dark, mean, and generally all about girls doin' you wrong and spreadin' their lies all over town. This wildly jubilant garage rock record is the antithesis of that - there's pure jump-rock joy found in them grooves, and a self-effacing hilarity amongst the breakneck riffs, beats, and group choruses. Like the Mighty Caesars meets Freddy and the Dreamers on speed.
2. The Queers "Don't Back Down" (1996)
Grant: Over the decades, the Queers seemed to have evolved into one of those love 'em or leave 'em bands, but the Smugglers were lucky enough to log a lot of touring mileage with the Queers, and it was mind-blowing to hear just how deep their set list could go. I always appreciated Joe Queer's pop songs the best, and those shine the brightest on this record, considered by many including me to be their masterpiece. You know you have a great, great record in your hands when a perfectly crafted pop song like "Janelle Janelle" -which could have been a bubblegum radio hit in the late '60s - is a deep cut on side two.
1. The Mr. T Experience "Revenge Is Sweet And So Are You" (1997)
Grant: This record, which came out a year after MTX's very successful "Love Is Dead" (which I adore), was at first seen by some cynics as a kind of rushed sequel. But unlike most follow ups, "Revenge" is way more "Empire Strikes Back" than "Weekend at Bernie's 2." In fact, I'd make the argument that Dr. Frank - arguably the architect of the modern pop punk sound and Lookout's longest signing - had honed his songwriting craft to from great to excellent on "Revenge." And hey, it contains the actual song "Love is Dead"! And "Swiss Army Girlfriend"... and "Another Yesterday"... and "Here She Comes"... and "Lawnmower of Love"... and… well, you get the picture. MTX RULES! Now listen!
Honourable mention: Bratmobile "Ladies, Women, and Girls" (2000), Ted Leo and the Pharmacists "Hearts of Oak" (2002), cub "Box of Hair" (1996), Squirtgun "s/t" (1995).