Features
Ryan McKinley (Pkew Pkew Pkew) about his new solo project Moral Pleasures
on
Sunday, May 23, 2021 - 09:17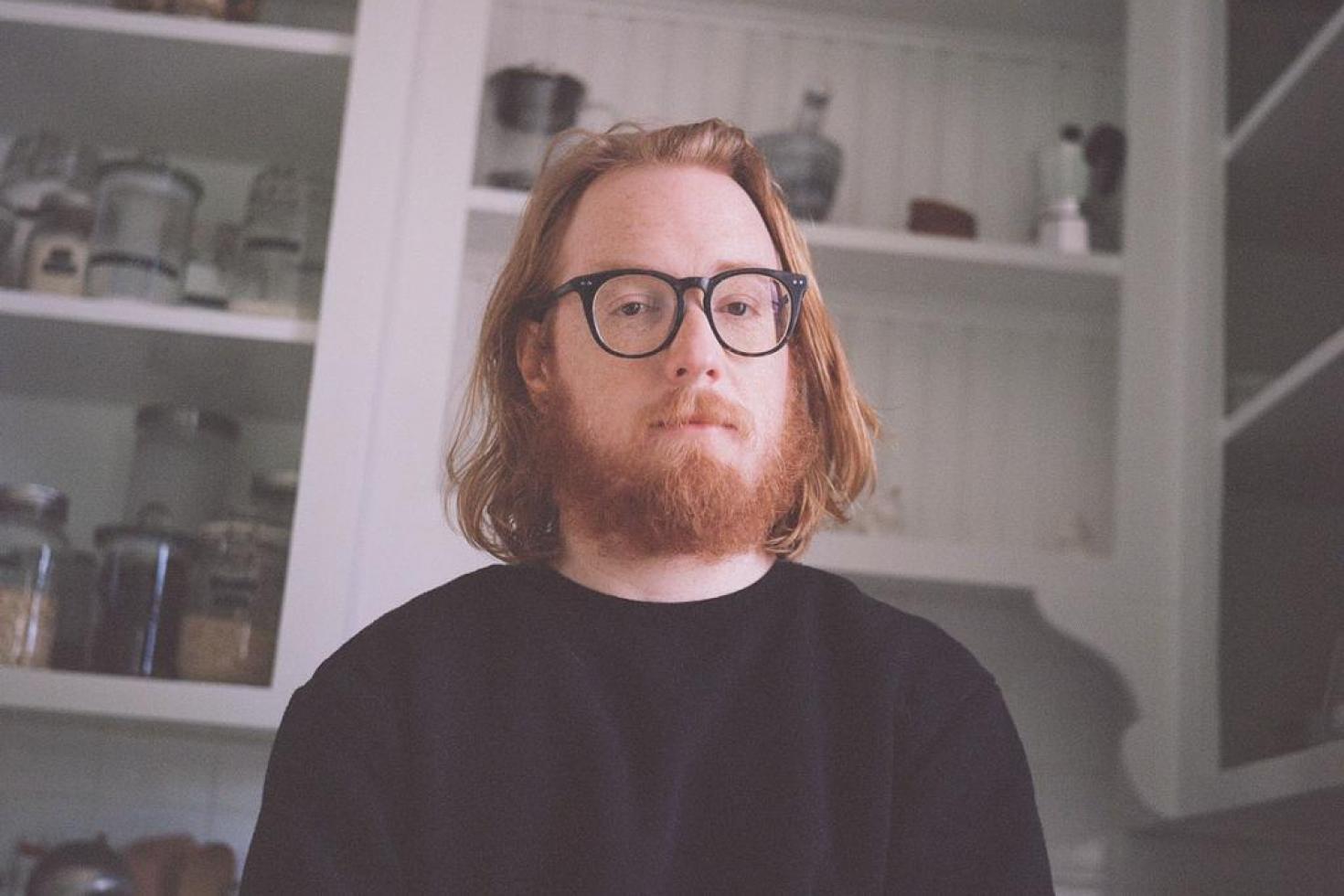 When Covid grounded the whole world last year, Pkew Pkew Pkew's Ryan McKinley suddenly found himself at home with his girlfriend and their cat instead of on the road with his three friends. It wasn't an unwelcome change. Pkew Pkew Pkew  just got off a gruelling yet rewarding two-year album cycle that saw them touring their ass off while also writing with The Hold Steady's Craig Finn and appearing on Late Night with Seth Meyers.
Instead of letting himself get down by the lockdown and the frustration and anxiety that came with it, he quickly built himself a simple home studio and learned the basics of recording. Then he started writing. The result? The dreamy new bedroom pop project Moral Pleasures and a 5-song EP called 'Simple Songs For Dying Loves,' a collection of 5 stripped-down, ethereal pop songs tied together by the theme of eternal love in a finite world.
While it definitely sounds different from Pkew Pkew Pkew's snotty, drunk punk anthems, Moral Pleasures allows McKinley to explore the boundaries of what he's capable of and find personal meaning in the creative process.We caught up with McKinley to talk about Moral Pleasures and recently released single 'Goth'.
PRT: As big fans of Pkew Pkew Pkew, we're stoked to see you embark on your solo journey! Is there anything you learned in your years touring with your band that's stuck with you now?
Ryan; Thanks a lot. I'm really happy to finally get this project on the go. Pkew's a real workhorse band, so the last year (as shit as it was) afforded me the opportunity to focus on doing my own thing for the first time in a while. I never thought I'd miss being stuffed in our little van as much as I do though. Touring teaches you a lot of life lessons, but in terms of what can carry over to Moral Pleasures, it's probably the importance of connecting with people. With Pkew, it's always been about the people in the band having fun and when we really started touring hard, we realized we could bring all kinds of different people from all over the world along for the ride. That's what's made it so gratifying. Moral Pleasures is more of a reflection of my own mind, but I hope that I can still make meaningful connections with people.
PRT: How do you feel your work as Moral Pleasures differs from your past work?
Ryan; I'd say what makes this project different from other things I've been a part of is that it only comes from me and I'm not going put any boundaries on it. When I was younger, I tried doing a folk singer kind of thing, but it never went beyond playing around Toronto. Pkew is a punk rock band - if we put out a shoegaze album at this point, it'd be weird. With Moral Pleasures, I don't want there to be any limitations on what I can explore. I love all kinds of music and I'm interested in writing about all kinds of things.  I might write 10 piano ballads about The Crusades or a full band record about trees. I'm ready to follow any whim.
PRT: Love the combo of electronic and acoustic instrumentation in "Goth" – it's a really unique sonic palette that feels like a cross between alt rock, old school shoegaze/dream pop, and folk. Who would you say some of your main sonic influences are?
Ryan; Thanks again! I've got people I'm always influenced by: Nick Cave, Kate Bush, The Replacements, PJ Harvey, etc. When I wrote this EP, I was also listening to Cocteau Twins, My Bloody Valentine, Frightened Rabbit, and ambient stuff like Tim Hecker and Ryuichi Sakamoto. I don't know if all of that comes through or not. I'm really new at home producing, so contrary to what I said earlier, I am a bit limited in the sense that I don't fully know what I'm doing yet. There's an element of just trying stuff and seeing what works.
PRT: What was the inspiration behind writing "Goth"?
Ryan; Since I started working on Moral Pleasures, I've tended to write songs in batches. I'll have nothing for a little while, then an idea will hit me and I'll write a bunch in a short period of time. That becomes an EP or an album where all the songs are tied together by some theme in my head. With these ones I was thinking a lot about aging and its effect on relationships.  "Goth" is mostly about being young and throwing caution to the wind with the people you love. There's also some subtext about my morbid thoughts and how they've gone from fascinations to fears as I've gotten older.
PRT: Thanks for taking the time to chat! So what's next for Moral Pleasures?
Ryan; No prob. Thanks for your Q's. I'm excited to get this EP out on June 11th and see where life takes me. I've written a lot over the last couple of years, so I'll just be holed up in my little bedroom studio, getting it all recorded. Then I'll shop to labels and hopefully get it all out in the world. I'd love to start playing shows when the pandemic is in the rearview, but for now, it's all about writing, recording, and trying to build this thing up the right way.