Features
on
Wednesday, July 8, 2015 - 22:34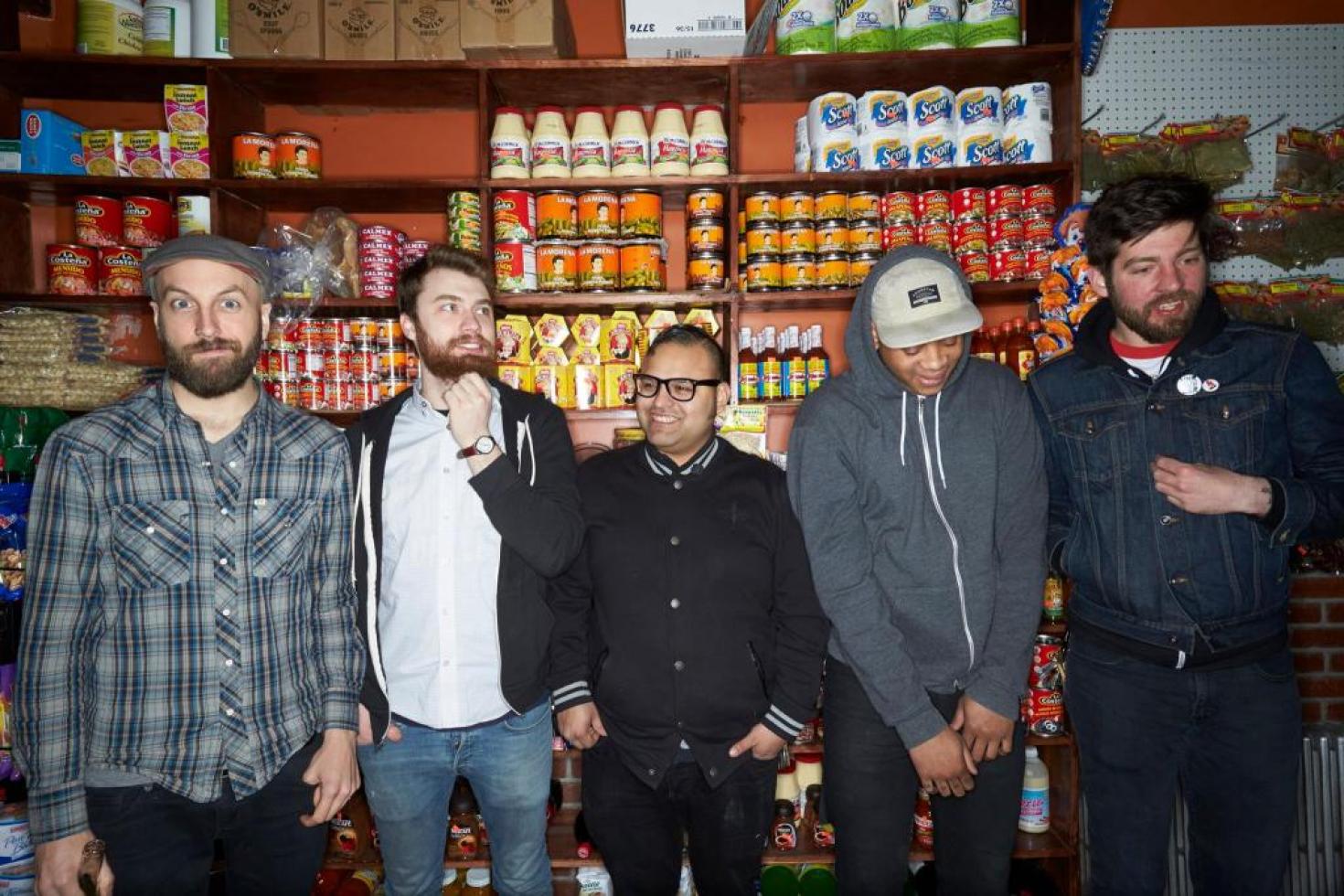 Boston's Rebuilder is still a relatively new band, but that didn't stop them from releasing a solid full-length debut filled with the kind of punkrock tunes with a little Americana mixed in that make your day instantly better. That album is called "Rock & Roll In America" and is out now on Panic State Records. Do yourself a favor and check it out... but read this interview with guitarist/vocalist Sal Medrano first!
PRT: First of all… congrats on the album! How has the reception been so far?
Sal: Thank you! So far everyone has had nothing but good things to say. I felt the record was very important but I wanted others to feel that way as well. I've heard a lot of people say that they think it's important and sonically pleasing.
PRT: "Rock & Roll In America"... that's two terms that encompass a lot for one album title. Can you tell us a little bit more about why you chose that title?
Sal: I was trying to think of a name that was almost a bit over the top. I think of classic rock bands like AC/DC, The Who, Aerosmith, etc., that presented themselves are the raddest and most badass bands ever. I grew up on those bands and those are the bands that made me want to play music. I actually had to search and make sure "RNRIA" wasn't already taken by Grand Funk Railroad or something. If they had that title, for the time and genre, it would be fine. For us to take the name and attach it to a punk band from Boston with a bunch of guys who aren't badass at all, it's pretty funny. It shows that we don't want to be a sad emo band, or try to be too serious. We love playing in this band and want to show that we like to have a good time. Hence: Rock & Roll In America.
PRT: It's not necessarily a concept album, but the album does have a flow and mindset to it that ties everything together. Is that something that you set out to achieve with this album from the start?
Sal: Not at all. It's actually crazy how it worked out. I had some songs written, Craig had some of his own songs, some we wrote together, Daniel had some ideas too. Lyrically we never discussed each other's ideas. When we started playing them at practice, some lines that Craig wrote were very powerful to me. A lot even matched with personal things happening in my life. I feel we are lucky to have a band where the songwriters compliment each other. We all definitely have a common goal and similar struggles.
PRT: I love how the songs sounded instantly familiar and took me back to the bands that got me into punk rock to begin with. Not necessarily sounding the same, but the same kind of vibe. Is that something you hear a lot?
Sal: Yeah, a lot of people have been saying it's like old school pop punk but more mature, which I can see. For me, 90's punk like Bouncing Souls, Nofx, Millencolin, is my favorite stuff to listen to. It's no surprise that when I write songs you can hear the influence. I also love newer bands like Diarrhea Planet, Iron Chic, and Frank Turner. That also works it's way into the mix. Craig likes a lot of folky Americana stuff so that's another element. Not a lot of bands have an organ player too. That makes it even more unique.
PRT: Do you still remember what got you into punk rock exactly?
Sal: I do. I was heavy into grunge music and mainstream rock because that's what was popular. I was in 6th grade. I had already been introduced to The Vandals and NOFX from my friend's older brother. I didn't know where to find more punk bands. I had no idea of a local scene concept. I remember going to see Save Ferris at Axis in Boston and the Pilfers opened. I enjoyed them so much that I looked at where they were playing next by using the library computer. They were playing two weeks later at Bill's Bar on a Sunday morning matinee. My mom drove me to the show. The room was packed. One of the bands that played was Kicked In The Head. They had a lot of energy and everyone was into them. So I did the same with them. I looked up where they were playing. Saw that a show was happening at the Franklin K of C a week later. I got to the show an hour early before doors because I thought these bands were huge since the last time I saw them it was packed. I waited for an hour before I could even get in. There was no line and maybe 40 kids total. First time I saw a show without a stage. I didn't know why the bands were at the merch table and not "backstage". It instantly spoke to me. The bands sang about real issues that I could relate to and not feel alienated. It didn't seem like being in a band that people like and can gravitate to, was unobtainable anymore. I wanted to be a part of whatever this was. I also could not believe that none of these bands were huge or doing it for a living. I continued to go to every Kicked In The Head show I could. I booked bands in Framingham, MA just so I could see them play. I then started working as a merch guy for Kicked In The Head from high school to college. I'm a music business major but everything I know about the music business and music in general, I owe to KITH.
PRT: You recorded the album what Jay Maas. What was that like and what is the main thing you took away from working with him?
Sal: It was the first time we made a record with someone who wasn't a friend or a buddy who can give us a deal. He was the perfect choice for this record because he knew how we should sound and what needs to happen to get everything done in the time frame we needed. It was working with a professional who can be fast paced and not cut quality. He's extremely knowledgeable and very forward thinking. The main thing I took away from him is that embracing technology and new ways of doing things is very important to progress in this environment.
PRT: Your self-titled EP came with more of a straight-forward punk rock sound, whereas on the new album you incorporated a lot of traditional rock 'n roll influences. Is this the sound you were going for from the start or was it more of a natural progression?
Sal: It was a natural progression. All the songs on the EP are songs that I wrote and I wanted it to be straight forward punk rock. From there, once we started writing together and bringing Craig more into the songwriting mix, it was no longer just my sound. I also am not a guitar player. I grew up as a drummer. I've been really trying to grow as a guitar player and trying different ways of songwriting. We talk a lot in the band about doing different thing rhythmically so that we don't fall into a pattern of writing the same song over and over. It forces up to be better musicians. That's a dynamic that didn't exist when we started.
PRT: For the people out there who haven't heard Rebuilder yet… if Rebuilder was the lovechild of two other bands, which bands would have had sex and which position were you conceived in?
Sal: Probably Against Me! and Descendents, but it was a blindfolded circle jerk into a cup that was then brought to a lab and out came the hairiest prettiest thing you have ever seen.
PRT: You recently made a video for us on how to make a salfie (thanks for that one), but there's another video you guys did… a commercial for Century 21 as one of the worst garage bands in the world. Did that one get you a lot of shows yet?
Sal: HA! It didn't get us any shows at all. We were asked to do it for a company that was doing the concept for their client Century 21. We got some loot out of it to pay some people we owed money to for a long time. It was fun.
PRT: What's up next for you guys? Any tours in the works?
Sal: Since we did the full length, we went and record 2 other songs with Alex Garcia-Rivera (of American Nightmare), at Mystic Valley Studios, we made a music video, and we did Converse Rubber Tracks. All of those have no plans yet for release but hopefully we get to it soon. We are going to tour from Boston to Austin TX and back in August and September. Then we're doing a tour to Fest in October. We plan to just keep playing as much as possible and hope people are psyched to see us.