Features
PREMIERE: Lone Wolf talk 'Together Alone' and share title track
on
Wednesday, September 25, 2019 - 13:18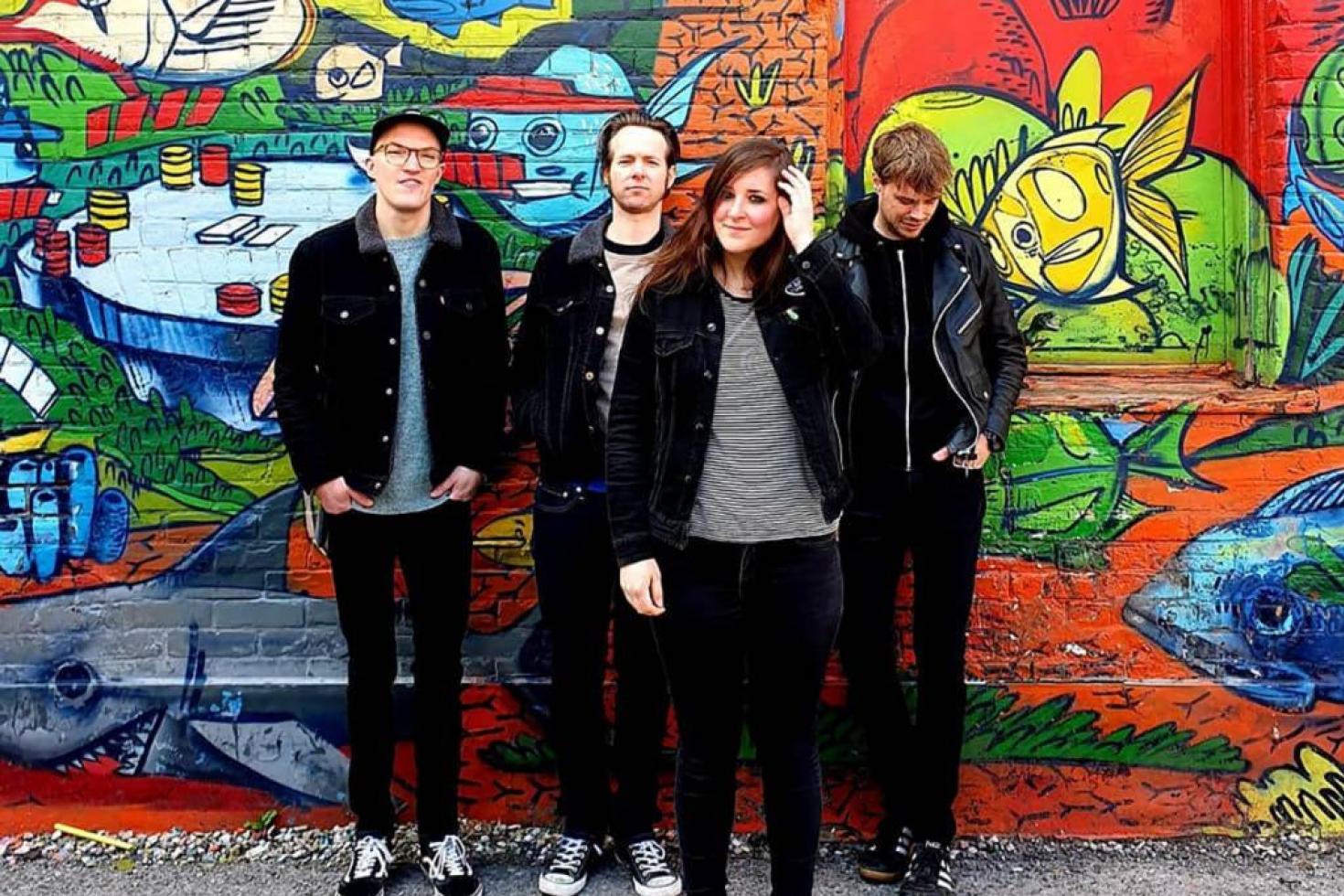 - by Tom Dumarey
Put simply, Lone Wolf's self-titled album was one of the best debut albums to come out last year. Hands down. It came with a dozen garage-y punk rock songs that were just the right kind of poppy and Merel Schaap's vocals helped lift everything to an even higher level.
Determined to keep the momentum going, Lone Wolf is back already with the band's sophomore album. We caught up with bassist Ox to talk about all things 'Together Alone' and are very happy to premiere the album's title track.
Pre-order is available from Stardumb Records (EU), The Machine Shop (US) and CD will be co-released with Waterslide Records (Japan).
PRT: It has been barely a year since your debut album came out and you are already releasing your second album... where's the fire?
Ox: Just playing together has been a blast the last couple years. Before our first album came out, we were already a few songs into 'Together Alone' and the songs just kept coming. So we figured let's keep this rollercoaster going and go back to the studio as soon as possible. We actually just went back again to record some songs for a split 7" coming out later this year.
PRT: The new album is called 'Together Alone'. Is that how you feel as a band? Or where does the title come from?
Ox: It's something we talked about while hanging out at one of the shows last year and felt like it fit the album perfectly. I wasn't in a good place at the end of last year and felt the world was changing a little bit too fast around me. It made me really feel isolated at times. But to have a great group of friends to fall back on and pull you out is the best thing in the world. It's easy to feel alone in this world but it's nice to know that you are in it together.
PRT: I felt like the only thing that could have made your debut album even better was a little bit more variation. And that is exactly what I hear on 'Together Alone'. Is that something you paid attention to?
Ox: I think we've really grown as songwriters playing with LONE WOLF. We all came from different bands and we were trying to do something different from the start but I think on the first album we still kept it on the safe side. On 'Together Alone' we felt more confident playing together and that made us try and explore more. In the studio as well. I love how this record sounds open and more how we sound live. We recorded it together with Sharkee from The Real Danger in his studio in Amsterdam and we'd be up all night trying different guitar effects and mics. He did an amazing job producing this record and it was such a blast.
PRT: Something you have in common with a ton of other punk rock bands are the upbeat songs juxtaposed against the not quite so upbeat titles & lyrics. Why do you think that combination works so well?
Ox: As I can only speak for myself, songwriting has been the best outlet for me. But playing music with your friends is also one of the most fun things to do in the world. So even if our lyrics may seem dark at times, it's cool that the music still makes you feel uplifted.
PRT: I really like your artwork and merch designs and then read that both Merel and you work as graphic designers. How important is the visual aspect of Lone Wolf?
Ox: The visuals are very important to us. Ivo, our drummer, and Stefan from Stardumb Records are graphics designers too. We could do the artwork ourselves but we love working with other artists. We like the idea of inspiring an artist's creative mind with our songs. Please check out Stay Dirty who did our last record cover and Brunofsky who did a lot of our merch designs.
PRT: You and Merel are also a couple. Was there a bit of hesitation to be in a band together at first?
Ox: We had the idea to start a band together for some time. There never really was a hesitation, cause we love playing music together. Then what started as a side project turned into our main one. It even makes our life a little easier at times because we're able to tour and still spend a lot of time together travelling.
PRT: All four of you have previously played in other bands. What was it about the idea of starting Lone Wolf that appealed to you the most?
Ox: I think we all wanted to create something different from what we were doing at the time in our other bands. We just wanted to rehearse and have fun while writing new songs and try out different things.
PRT: I have heard you describe your band as a hobby that got out of hand. Which is how I describe my site as well. The difference is that your hobby probably costs a lot more than running a small website. Is there still a dream to turn it into more and to get to do this full-time?
Ox: It's still something that we love to think about from time to time, but no, it's not one of our goals. I feel like we're in a perfect place where we're able to tour the way we want, where we want, by turning it into a little vacation. We still rehearse almost every week and hang out all the time.
PRT: You have already played shows in the US and have more coming up this year, including Fest where you have more than 300 bands playing over 3 days. When you played there last year, did you feel there was a lot of enthusiasm for a band from Holland?
Ox: Yeah man! The response on both our FEST and Pre-Fest sets we're awesome. Some even called us the discovery of the weekend. We can't wait to go back to this year.
PRT: For me, the best thing about Fest was getting to see all these bands I love but who hardly ever make it over to Europe. What has been your favorite Fest memory so far?
Ox: I love walking down the streets and see a whole city turning into one big punk rock community. Black denim jackets, punk rock tattoos, PBR and people hi-fiving each other. It never ceases to amaze me. Oh and Merel loves those White Claws.
PRT: In the three years that Lone Wolf has been around, you have already played shows all over Europe, went to Canada and the US, released two solid albums. What is the one thing you would definitely still like to achieve?
Ox: We would really like to try to play more places we haven't been before, like Japan for instance. We have many things already lined up for 2020. Can't wait for it all to start!