Features
Playing favorites with The Hussy
on
Friday, November 8, 2019 - 11:22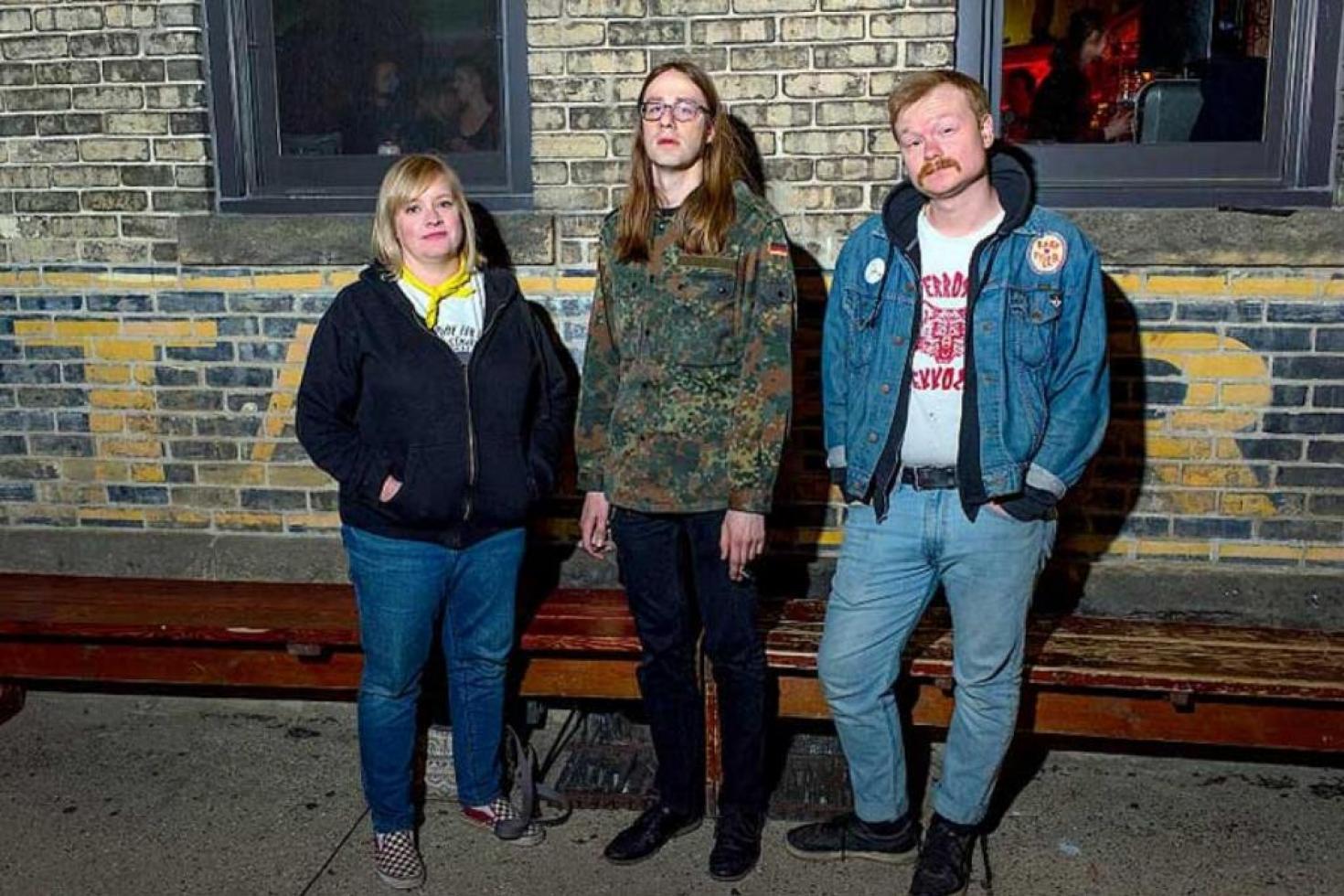 - by Tom Dumarey
One of my favorite things this year has to be 'Looming,' The Hussy's first new album in four years which is out now via Dirtnap Records. The Wisconsin duo consisting of guitarist/vocalist Bobby Hussy and drummer/vocalist Heather Sawyer that is now a trio thanks to the addition of local shredder Tyler Fassnacht on guitar, more than deliver on their new album. I would even go as far as saying that this is by far their finest new material in four years. We caught up with the band to find out about some of their personal favorite things.
PART 1: LET'S TRY THIS ON FOR SIZE
PRT: Favorite pizza topping?
Bobby: Mushrooms all the way!
Tyler: Gonna go with anchovies for this one. Salty and gross, just like me.
Heather: Green olives. I love them!
 
PRT: Favorite song to sing in the shower?
Bobby: Anything by Jay Reatard
Tyler: Anything by blink-182. Great hooks and I don't want anyone knowing how much I listen to them
Heather: Anything by ELO. I love Jeff Lynne and his melodies are the best.
PRT: Favorite superpower?
Bobby: Sword and Sorcery
Tyler: Being rich.
Heather: Flying.
PRT: Favorite way to pass the time while on tour?
Bobby: Smoking weed
Tyler: Eating regional foods.
Heather: Sleeping in the van on the long drives. I love sleep.
PRT: Favorite pet?
Bobby: Jolene the cat! JoJo for short.
Tyler: Never had a pet.
Heather: My dogs, Herbert and Little Ralphie!! 
PART 2: ON A ROLL
PRT: Favorite Tom Cruise movie?
Tyler: Eyes Wide Shut cuz that shit was crazier than him.
Heather: Interview with a Vampire. I've seen like 2 Tom Cruise movies in my life, and right now I remembered that one.
Bobby: Well shit, the other two got to this first! My favorite one is Eyes Wide Shut and Interview with a Vampire is a close second. Both are in my top twenty favorite movies ever.
PRT: Favorite Saturday evening album?
Tyler: Right now prolly 'Stay Home' by Hank Wood and the Hammerheads cuz it gets me PUMPED and it's real short.
Heather: Probably anything Velvet Underground cuz it's super chill.
Bobby: Pete Shelley 'Homosapien'....always gets me ready to head to a show!
PRT: Favorite Sunday morning album?
Tyler: 'How Sad, How Lovely' by Connie Converse. Perfect with a cup of coffee and a bowl.
Heather: Anything Velvet Underground because its super chill.
Bobby: Ravi Shankar or anything western by Ennio Morricone
PRT: Favorite guilty pleasure?
Tyler: Eating candy until my stomach hurts because I am two 10-year-olds in a trench coat.
Heather: Watching Dateline NBC.
Bobby: Back in the day it was Gossip Girl….
PRT: Favorite holiday destination?
Tyler: Wherever the good food is at. I am very food oriented if you can't tell.
Heather: Probably somewhere in northern Wisconsin.
Bobby: Texas or Cali
PRT: Favorite type of cereal?
Tyler: I don't really vibe on cereal.
Heather: I love Golden Grahams.
Bobby: Boo Berry
PART 3: UH OH, TIME FOR THE TOUGH QUESTIONS
PRT: Favorite person to be stuck with in an elevator for 3 hours?
Tyler: Jesus, I wouldn't want to be stuck in an elevator with myself let alone anyone else for three hours.
Heather: Omg, that sounds so horrible. That is a living nightmare.
Bobby: My girlfriend Mel.
PRT: Favorite Dirtnap Records release?
Tyler: I mean besides 'Guitar Romantic', prolly a tie between 'Meltdown' by Mind Spiders and 'Blisters In The Pit Of My Heart' by Martha. Hooks for days makin me jealous.
Heather: The Goodnight Loving Supper Club record is probably my favorite. But there are so many good ones. I love Radioactivity too.
Bobby: Mind Spiders all day….any of em. They all slay.
PRT: Favorite song to play live?
Tyler: In The Hussy 'Bad Speed' is real fun to play, especially since I don't do shit for half of it and can just enjoy the show.
Heather: Maybe 'EZ/PZ'?? The crowd seems to like that one and it's a fun one to sing.
Bobby: Nowadays that's hard to say. I like playing a mix of songs in a set and I don't really have a favorite. I love all our children semi-equally.
PRT: Favorite show ever played?
Tyler: Gonerfest 16 was truly hard to beat. And I'm gonna count the whole weekend as one show.
Heather: Probably when we opened for Thee Oh Sees and Ty Segall.
Bobby: Gonerfest 9, seven years ago. It was a life changing experience.
PRT: Favorite way to spend an evening at home without turning on the TV?
Tyler: Gettin a good vibe goin and listening to records.
Heather: Putting on a good record and hanging with my dogs.
Bobby: Smoking weed, reading.