Features
on
Saturday, March 29, 2014 - 10:16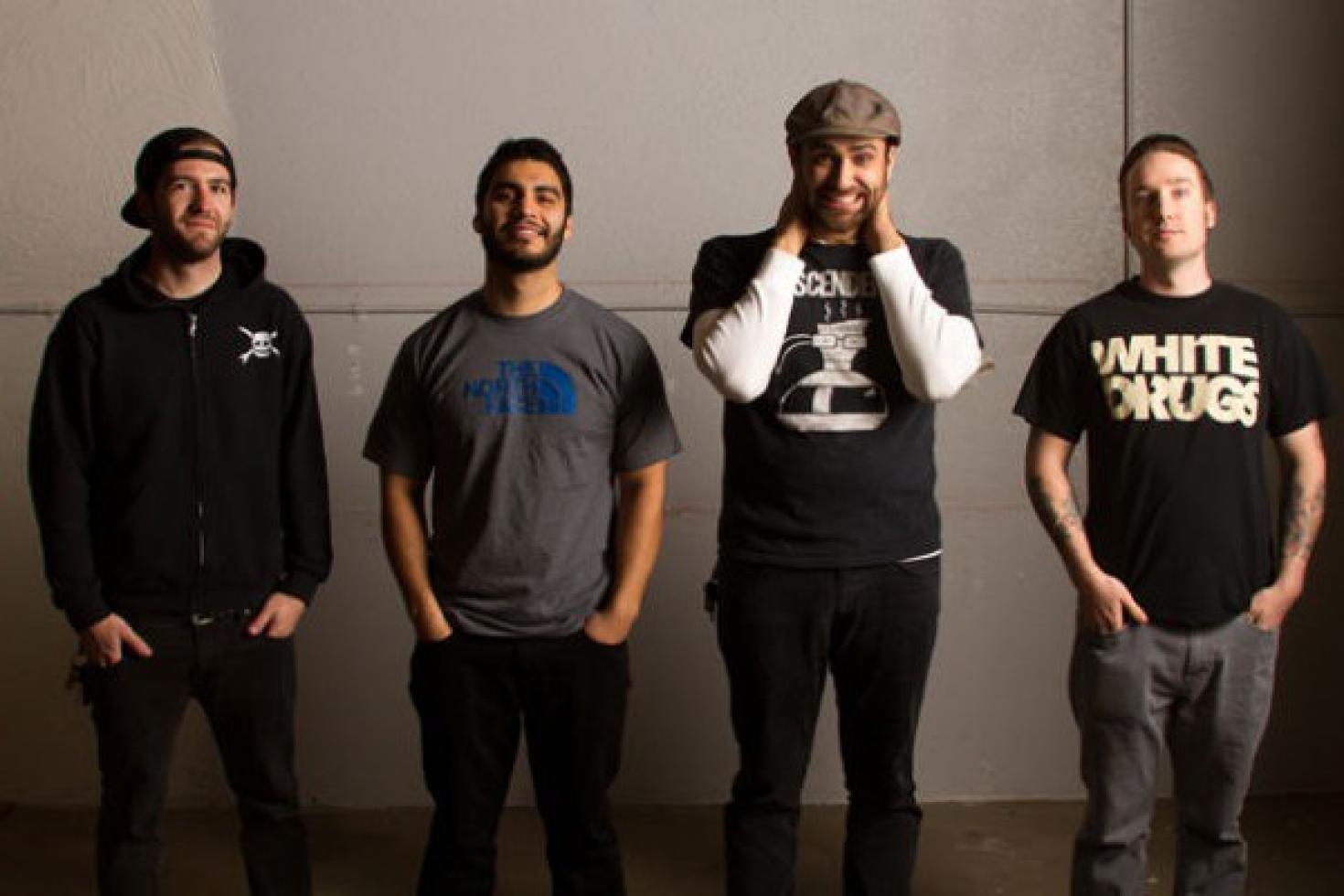 The Mighty Fine just released a new album called "Brothers & Smugglers (out now on Creator-Destructor Records) and on it they indeed sound mighty fine. If you like some solid 90ies punkrock tunes, this California-based band is the one to check out.
PRT: Can you give me the band history written in one minute or less, starting… now!
TMF: It was 2007 I was still going to college in San Luis Obispo, CA when Casey (guitarist) and I decided we were going to start this punk/folk project.  It was a real pain trying to find people to jam with, so when we did find guys to play with, the sound shifted as the members changed.  Fast-forward to late 2008, our drummer Chris joined the band, Casey left for a bit and we went on to write record our first album.  It's one of those albums that you just try to forget about.  When Mikey (bass) joined, we had a better idea of what we wanted to do as a band and it wasn't until 2012 when Casey rejoined the band that the line-up just seemed to fit just right.  So here we are, years later, still getting to play music.  No complaints about that. 
PRT:For the people out there who haven't heard you yet… if The Mighty Fine was the lovechild of two other bands, which bands would've had sex and which position were you conceived in?
TMF: Let's say Millencolin and Hot Water Music were hanging backstage at Groezrock in Belgium, had a few too many Belgian brews and conceived The Mighty Fine. Sure it was a night of regret, but at least we're here now.   There also may or may not have been some funny business involving The Larry Arms and Alkaline Trio.  But that's only rumor.  
PRT:You seem to be influenced by a lot of the punk bands from the 90s… if you had to pick a favorite, who would it be and why?
TMF: The easiest answer would be Millencolin.  Of all the great 90's/early 2000's music to come out, Millencolin probably resonates with the 4 of us the most.  And there may not be a lot of direct influence in our music,  but it's definitely there.  I've always admired those Swedes. I mean, they're huge reason why Casey and I started playing music together as teenagers.  
PRT:There's something endearingly arrogant about calling your band The Mighty Fine. When and how did you decide on that name?
TMF: I can totally see that.  Fortunately, I don't see us as arrogant people or an arrogant band.  The band name, like most band names, was decided upon when we couldn't think of anything better.  It's amazing how many bands (including our own) wish they would have tried just a little bit hard when picking out the name.  
As far as picking the name, let's go back to 2008.  Casey, our first drummer, and I were eating lunch at Firestone Grill, a local hotspot.  Casey bit into his burger and said, "boy, this is a mighty fine burger".  Our drummer remarked "yeah, The Mighty Fine, that could be our band name".  I believe I said something along the lines of "what a stupid name".  Apparently, I didn't have anything better to offer because it's 2014 and it's still our band name.
PRT:You just released your new album "Brothers & Smugglers". What's the title about? Seems pretty cryptic.
TMF: "Brothers & Smugglers" is a lyric from the album's first song "Into The Clouds".  The lyrics focus on betrayals within friendships, more specifically when Lando Calrissian betrays his old friend Han Solo in Cloud City.  The lyric "brothers and smugglers" always stood out to me.  It has a nice ring to it, and in a way encompasses the lyrics throughout the album.  
PRT:I love how the songs jump right off the record. You definitely have a lot of energy going on. Is that Kyle Black getting the best out of you in the studio?
TMF: Most definitely.  Before going into the studio, we knew we wanted to write a much higher energy record than what we had previously done.  We actually worked with Kyle in 2012 for our split with The Shell Corporation.  There we got a taste of what Kyle is all about.  So when it came time to write a new record, we knew there were expectations.  We definitely pushed ourselves much harder than we did before.  And even then, once we started pre-production with Kyle, he helped us elevate the songs that much more.  
PRT:Was there a big difference between recording the new album and your previous releases?
TMF: Prior to working with Kyle, we never had much guidance from a producer.  Our last full length was recorded with our good buddy Nolan Perry.  We transformed our practice space into a studio.  And with that came limitations.  We all produced the record as a collaborative effort.  Anytime you do that, the direction of the recording that move in all different directions.  With Kyle, there was a lot more focus.  He's on the top of his game, and we're lucky to have worked with him in a year where he also worked with Comeback Kid, Strung Out, and Stick To Your Guns, and New Found Glory.  
PRT:You have some pretty cool shows coming up with The Ataris and Heartsounds. A lot of other touring plans in the works?
TMF: Right now, it's all about trying to see what will work within our schedules. Everyone has full time jobs and a couple of us are getting married this year.  That doesn't mean we can't find the time.  But it's definitely a balancing act.  I think for this year, the focus is to partner up with some awesome bands for various west coast dates.  Then as we approach 2015, we can plan some longer tours. 
PRT:What is one thing about your band mates you have managed to keep under wraps up until now?
TMF: Didn't want to divulge this here but since you're asking. Our guitarist Casey is actually James Van Der Beek in disguise.  If you don't believe me, just take a look for yourself.  Now that I've exposed him, I'm sure he will be making a formal announcement in the coming weeks.  TMZ will be all over this, that means The Mighty Fine is moving on up!