Features
on
Friday, May 31, 2019 - 07:57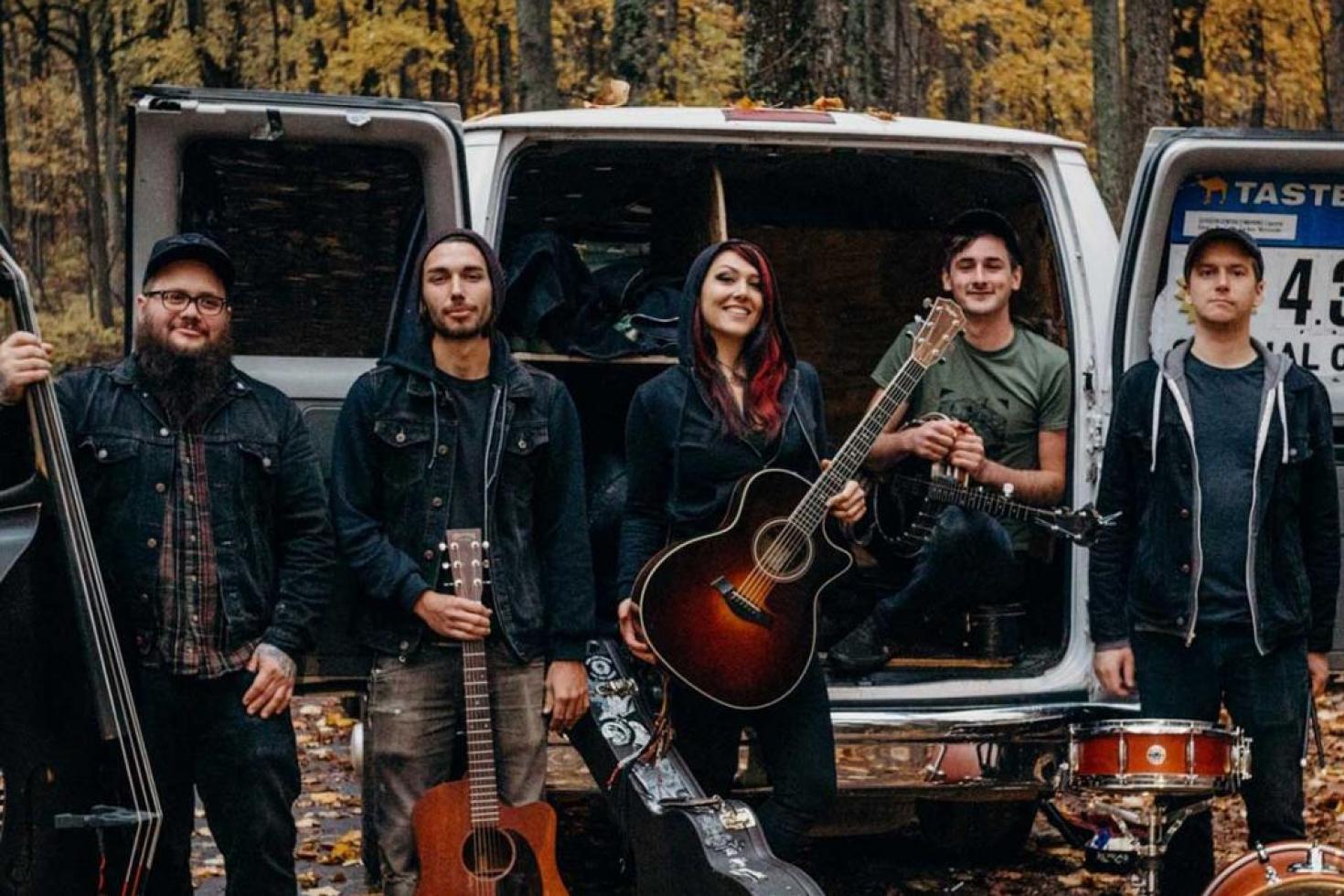 - by Mark Hassenfratz
Gallows Bound is an Appalachian Punk Bluegrass band from Winchester, Virginia. Formed by six childhood friends, the band has been tearing up venues all across the country from the famous C-Squat in New York City to country music mecca Gruene Hall with their furious blend of folky country and classic, ferocious punk. Gallows Bound is currently on a West Coast tour and will be hitting the road in mid-June for a European tour. I recently spoke with the band about their new record, touring life, and working with Father Pete Steinkopf.
PRT: You've toured pretty extensively. What's the most important lesson you've learned on the road?
GALLOWS BOUND: Sleep whenever you can, wherever you can. Have patience, respect, and understanding and most importantly have fun. Oh and bring more socks than you think you need!
PRT: You've just wrapped up recording your second album. Congrats! What was different about recording this album as opposed to your first? What can fans expect from it?
GB: This album is a product of us touring heavily over the last few years and wanting to capture our live sound and energy in a recording. We have grown so much as songwriters and musicians since our last full length and we really just wanted to make songs that we were excited about. We've also created some new versions of older songs that have been previously unreleased but may be familiar to some of our long-time fans.
PRT:What was it like working with Pete Steinkopf? What did he add to the process?
GB: Father Pete has been nothing short of golden and has brought the best out of us and our songs. It's been an amazing experience and we are so excited for everyone to hear this new album.
PRT: How would you describe your sound to someone who's never heard you before?
GB:
·         .5 tsp Sugar
·         3 dash  bitters
·         Cinnamon stick
·         2 oz  Bourbon
·         Garnish:  Orange peel
·         Glass: Rocks
PRT: You fuse elements of bluegrass and punk rock in your music. How do you avoid getting pigeonholed by the elements of either genre?
GB: We don't try to avoid anything. We just let our music speak for itself.
PRT: How does knowing each other since childhood impact the way you work as a band?
GB: It works very well, we all create together in a special way because we have known each other for so long.
PRT: You guys are playing a combination of venues and festivals on this tour. How is playing a festival different from a regular venue?
GB: Playing festivals gives an opportunity to meet lots of new bands and friends and people who may not have come to a show.
PRT: What's it like touring with Swingin' Utters?
GB: Touring with swingin utters has been a total blast..We're having Korean bbq with them right now.  The shows have been killer every night and they're great people. Peace and Love!
PRT: What are you most excited for on this tour?
GB: We are excited to be getting to go back to some spots that we haven't been to in a few years. We've been playing some new songs on this tour which has been cool. As soon as we wrap up our west coast tour with swingin utters we head straight to Europe for a month playing a string of festivals and dates with The Goddamn Gallows.
Check out upcoming tour dates for Gallows Bound at their official website.