Features
on
Monday, May 11, 2020 - 14:30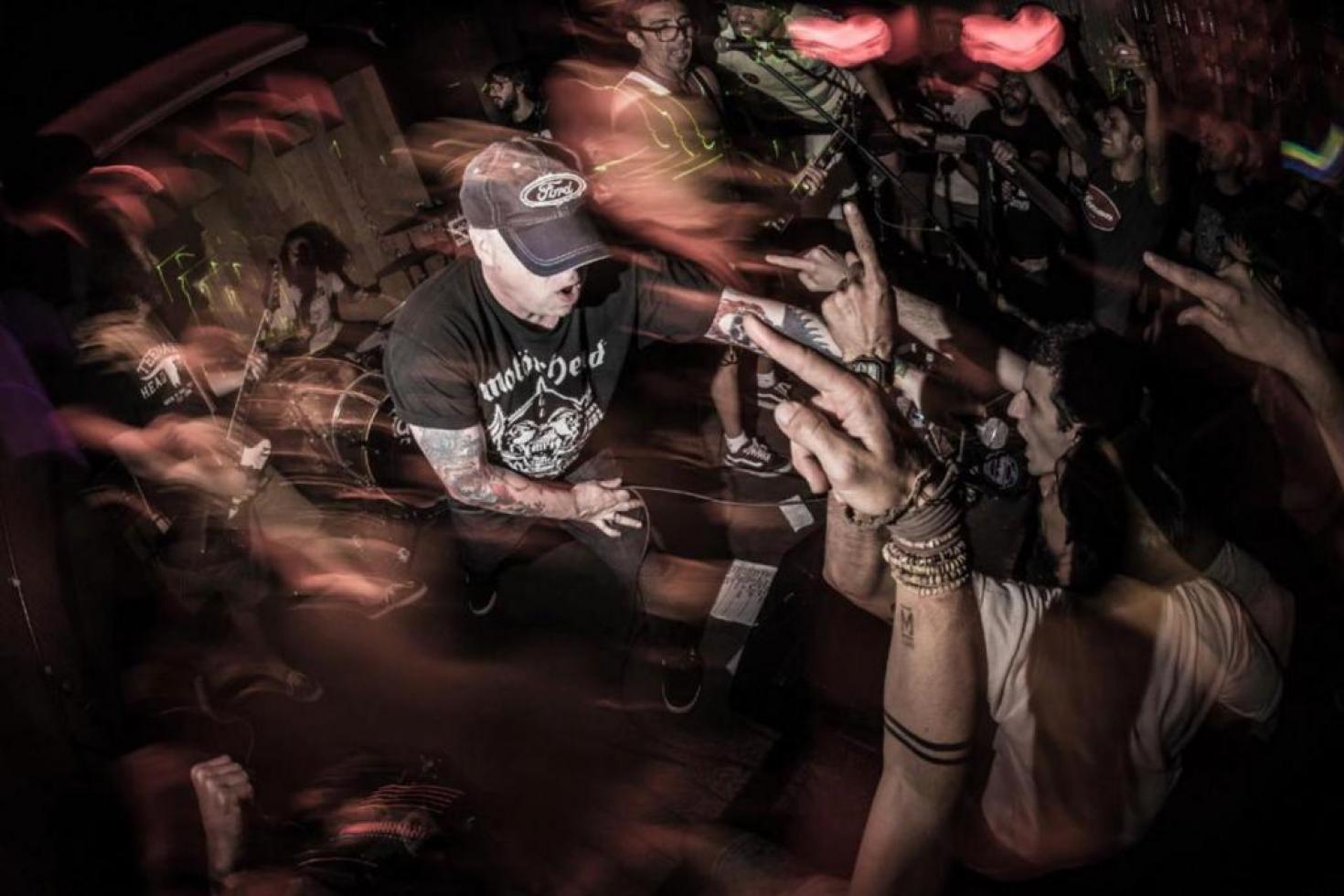 - by Rob Lanterman & Tom Dumarey
Dave Smalley & The Bandoleros recently released a new EP called 'Ignited'. The EP is out now on Little Rocket Records and comes with the kind of quality melodic punk rock songs that Dave Smalley has built his entire career on. We caught up with the legendary Dag Nasty/Down By Law frontman to talk about working with the Bandoleros, the upcoming Don't Sleep album and the meaning of punk.
PRT: First of all… congrats on the new EP! The songs are absolutely amazing!
Dave: Thanks so much. I am so proud of these songs and the guys and the label. And Bill Stevenson's production. Seriously, this is a magic mix of people putting music into the world. I'm lucky to be a part of it. There is magic to this thing. The guys are writing brilliant, incredible songs in Spain, and then I get the music and instantly words and melodies are in my head for each. I have never seen it so instant. Instant spark. And Little Rocket records has been stellar. And the fans and friends of the band, including you, are part of this musical fist! All karma strong.
PRT: The first song you posted off the EP, was 'Punk Rock Battle Cry'. Something we need now more than ever?
Dave: Yeah, I think so. It's important to remember why we do what we do. Why is this music important? Why do we all partake in this particular musical life and lifestyle instead of any others? Where am I going, do I have goals and ideals, am I alone? We only have one life that we're aware of, and punk rock helped forge all of us. It's helpful to remind ourselves that punk rockers and hardcore cats and metalheads stand unique, stand hard, stand proud. I'm at the age now where I know part of my role is to be a leader, and encourage people to stand tall, even when the winds are against you.
PRT: On previous Bandoleros releases, the other guys sent you the music and then you came up with vocal melodies and lyrics. Did you work the same way for 'Ignited'?
Dave: Yeah, exactly that way. It's kind of the only way to do it considering the distance. Someday I would love to have some extended time in Cadiz or Denia with the guys. I love those fellers, and love Spain in general.
PRT: It seems like an efficient and easy enough way to work considering today's technology, but don't you miss the energy and excitement that comes from being together in the same room?
Dave: Yes, I do.  But, the energy we have right now is pretty electric. So maybe this how it is meant to be. It's working great now. So I'm good with it! As we say, if it ain't broke, don't fix it.
PRT: Do you ever need to ask the other guys to make a certain part longer to fit your lyrics in? Or what happens when the music and lyrics you write don't match up? How do I have to picture that way of working exactly?
Dave: There have been a couple of times like that. Pablo was so cool -- he said Dave, whatever you like. But in the end, I am just feeling it and it flows so great. Those guys have grown up with ALL and Down by Law and Dag Nasty, so it's a very natural fit musically. I think they know what I am going to sing before I do! In this band, I write the lyrics once I have heard the music -- so I am never trying to force words in; it is a natural fit because the melodies and words are made with the song structure in mind, and inspired by the music. And it is important to remember: They are such INCREDIBLE musicians and songwriters. The reason the Bandoleros rock is that Pablo, Marcelo, Javi and Rafa are truly a perfect blend. Like that really great, perfect cup of coffee when you're dragging, they make music that tastes perfect, and gets you energized.
PRT: Apart from working with the Bandoleros, you are keeping busy with Down By Law and Don't Sleep as well - not to mention the European tour with DYS you had planned for this Summer. Are you hoping you can reschedule all those shows?
Dave: Yeah, it has been really disappointing on the concert front. It is looking like no real tours in 2020, for almost all bands. Bandoleros tour in Canada was the first victim. Then DBL and now DYS (although there is still some hope that UK shows will stay scheduled for DYS -- if they do, we'll go for sure, even if it's just for a long weekend). We're just hoping everything can be rebooked for 2021.
PRT: I'm guessing you are confined at home like the rest of us. What does a typical day in the life of Dave Smalley look like during the Covid-19 pandemic? And what have been some of your recent "go to" albums?
Dave: I have been working from home and actually work has been very busy. And, most of all, I have a five year old daughter who is high energy all the time! So there isn't a lot of down time for me, haha! Most recently I have been listening to Motorhead, Kid Rock, the Lambrettas, Molly Hatchet, Dez-era Black Flag, Ted Nugent, the Specials, Judas Priest, the Wailers, Jimmy Cliff, the Bandoleros and Don't Sleep (yes, I do listen to my own groups too -- if I don't love it, how would I expect anyone else to love it? Honestly I have been listening to "Ignited" a lot!)
PRT: I'm hoping the new Don't Sleep album will be one of my new go-to albums. It will be out on Mission Two Entertainment, which is basically Victory Records 2.0 if I'm not mistaken. Why did you decide to go with a new label? And did you have any reservations about working with Tony Brummel?
Dave: The new Don't Sleep album is INSANE. Powerful and varied and a standout album. Yes, on Mission Two Entertainment. It should be out this summer. We're huge admirers of Victory Records -- if you take a look at some of the releases over the years, it has been incredible. So when Tony expressed interest in us, I was really happy. Then we had a number of great conversations and I definitely consider him a friend. He's an incredibly unique guy, who honestly loves the band, and loves hardcore and punk rock, and we talked about everything -- the Ruts, the Clash, social scenes, memories of different eras in hardcore, fights in the pit, life overseas, religion and politics, love and loss, everything. He's smart and passionate about music and built his label from tiny beginnings. To be part of the launch of Mission Two is exciting.
PRT: A lot of artists who have been going at it for a long time have a tendency to slow down. And I'm not just talking about their musical output, but also the music itself. Instead of writing more punk rock battle cries, they release an acoustic album or go country. Not you though. What is it about punk rock that keeps you invested?
Dave: I'm a rocker. It's in my blood. I am not on the porch on a rocking chair. I'm tattooed and filled with fire and want to encourage everyone to do the same. 50 is the new 30, or something like that! There's nothing wrong with acoustic, and I love classic country (Hank Williams, Hank Jr and Hank III; Patsy Cline; Merle Haggard; Waylon Jennings; Dwight Yoakam; etc.) But for me as a musician, I'm a rocker, and rock's fire is keeping me strong. The trick is to age powerfully, and gracefully, and not try to act or look 30 -- get better with age, no matter what you do in life. For me that means being a better musician and singer and artist, or writer, or songwriter. I have a lifetime of scars and experiences and training as an artist -- it has all helped forge me into a better sword. If I'm not better now than I was at age 30, then I'm doing something wrong. There may come a day for the acoustic album and the rocking chair. But not now.
PRT: Musically, punk rock today is not the same thing as it was when you started out in the 80's. It's not even the same thing as it was ten years ago. How has the meaning of punk changed for you personally over the years?
Dave: That's a great point. I have been sometimes disappointed by punk rock in recent years. It has become more status quo. Not a lot of innovation anymore. There are lots of big-name punk groups making lots of money just playing the same stuff to the same people. We could all name them. But there are fewer groups taking musical risks or breaking new ground. Too much musical and ideological conformity -- it's not as dangerous or diverse or  challenging as it once was. Think of the innovation that is still innovative of Gang of Four, for instance. Amazing. Or the Clash doing a triple album and trying every variety of music. Wow. So I try to make sure I keep myself fresh. I want my fans to be delighted and surprised each time they get a new song from me. I want to be encouraging and inspiring. Not stagnant. Challenging yourself is part of true punk rock spirit. That's why I'm so into the Bandoleros, and Don't Sleep, and absolutely Down By Law. To quote Forrest Gump: Life is like a box of chocolates. You never know what you're going to get. That's how music should be too.
PRT: How do you keep challenging yourself as a writer?
Dave: I am an artist, and that means making art. Art inherently must be challenging and inspiring to the artist and to the listener or viewer. If it stops being interesting or challenging or inspiring, it becomes just a product of things before. A factory manufacturing the known. I'd rather break the boundaries of age, of expectations. And I encourage everyone to take that approach. Let's enjoy life and music and love. Live hard and burn bright.