Features
Airstream Futures share Little Rocket Records' Countdown Session
on
Sunday, August 9, 2020 - 20:26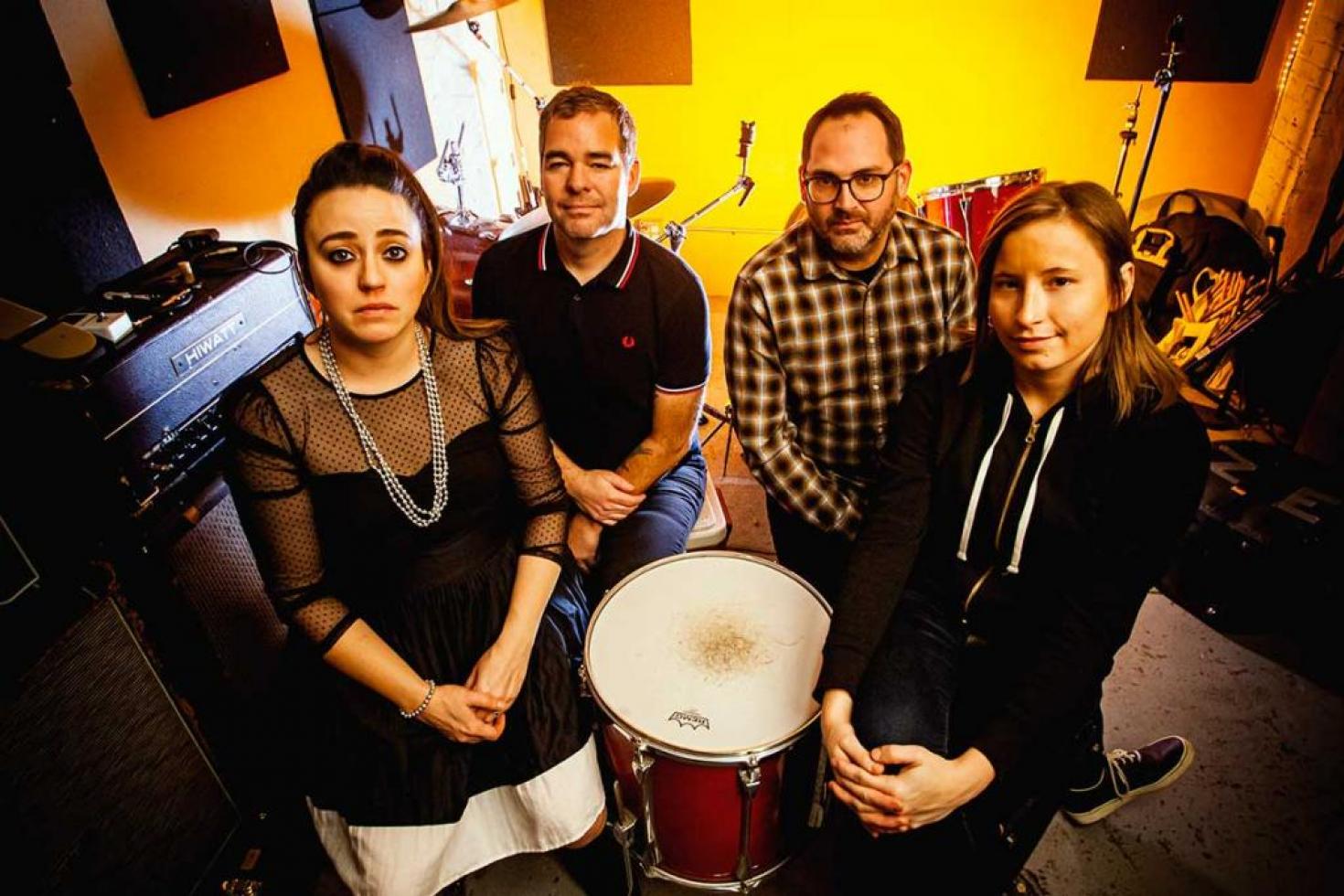 As part of Little Rocket Records' Countdown Sessions, Devon Carson and Jeff Dean of Chicago's Airstream Futures went into the studio to record live acoustic versions of a handful of songs from their recently released album, 'Le Feu Et Le Sable'. You can check those out below along with an interview with Devon where we talk about life in lockdown and the recording session. (photo credit: Marisa KM)
PRT: How have you been holding up these last couple of months?
Devon: It's been a rollercoaster for sure. We've been extremely fortunate so far, but there's no sanity in sight.
PRT: Are there things you learned about yourself during the lockdown?
Devon: I don't miss people as much as I thought! Of course I miss my family and my good friends, but as far as socializing, I'm a total introvert at heart.
PRT: I read the interview you did with the excellent site Jaded In Chicago where you talked about the song 'My Moral Line' off the new album and how it deals with everything that's going on in the world and wanting to do something to fix all of the horrible things and feeling like you can't do anything. I'm guessing those feelings of helplessness haven't exactly diminished over the last couple of months?
Devon: Those feelings have absolutely intensified. I've spent my life making music and theatre. It's been my contribution to my community. I had a job to pay the bills. And now all of those things have been put on hold indefinitely, and all I want to do now is to be useful in some way. I'm immeasurably grateful for all the folx who are doing the work, the hospital staff risking their lives to save others, as well as all the people putting their bodies on the line standing up for the BIPOC communities against the police. For my part, any small actions I've taken seem insignificant. I'm feeling more lost than ever. I need to change and grow and be of more service to my community but I can't see through the fog which way to go.
PRT: You released 'Le Feu et le Sable' late February and played your release show on March 1... and then shows were over and done with and mostly still are for the foreseeable future. Bit of a bummer I imagine when you have been living towards your album release and being able to get out there and play the new songs?
Devon: Definitely a huge bummer because we were scheduled to play some really rad shows. But I know we'll play shows again, I'm pretty patient.
PRT: These videos are part of Little Rocket Records' Countdown Sessions. What are you personally counting down to the most? What did you miss more than anything else?
Devon: Personally I'm counting down to November, and the presidential election in the United States. I miss the days when our country wasn't a huge dumpster fire led by an incompetent lying poseur and his mercenaries.
PRT: How did you decide on which songs to play? Any particular reason you picked these to play in an acoustic setting?
Devon: It was really off the cuff. We didn't prepare or even know if whatever we did would work. What you see is the best of what came out of me and Jeff getting drunk and playing songs completely unrehearsed. There's a LOT of footage that no one should ever see or hear...lol.
PRT: What was it like playing music together again after a couple of months?
Devon: It felt so good to sing and play with Jeff again. Our lives had just been upended, and we'd been so scared and stressed out. So having a night just to play and hang out with him was a huge relief, even though we could only see each other through the studio glass. Smiling, laughing, singing, catching up. It was a little bit of magic in a dark time.
PRT: A lot of smaller venues are facing serious financial issues and chances are at least some of them won't be around much longer. Are you worried about the future of the DIY scene?
Devon: Historically, people have always found a way to play music for people, even under the most extreme threats. We'll claw and fight our way through this, I'm certain. But I also think that right now we have an opportunity and a duty to give back to the venues that have given us so much over the years. We can show them our appreciation and support by contacting our elected officials and advocating for funding. We need to channel all our energy that would be coming out in a mosh pit towards the fight to save the venues that give us that space.
PRT: What's up next for Airstream Futures once we have reached a new normal?
Devon: We can't wait to tour again, locally and internationally. We're dying to see our friends, hug people, play loud music, see our favorite bands, wander the streets of our favorite places. We also have some new songs in the works, and it would be really great to come out of this with another record. I think we have a lot that's been bubbling up, and we should probably let it out and see what happens.