Features
on
Thursday, July 2, 2020 - 16:08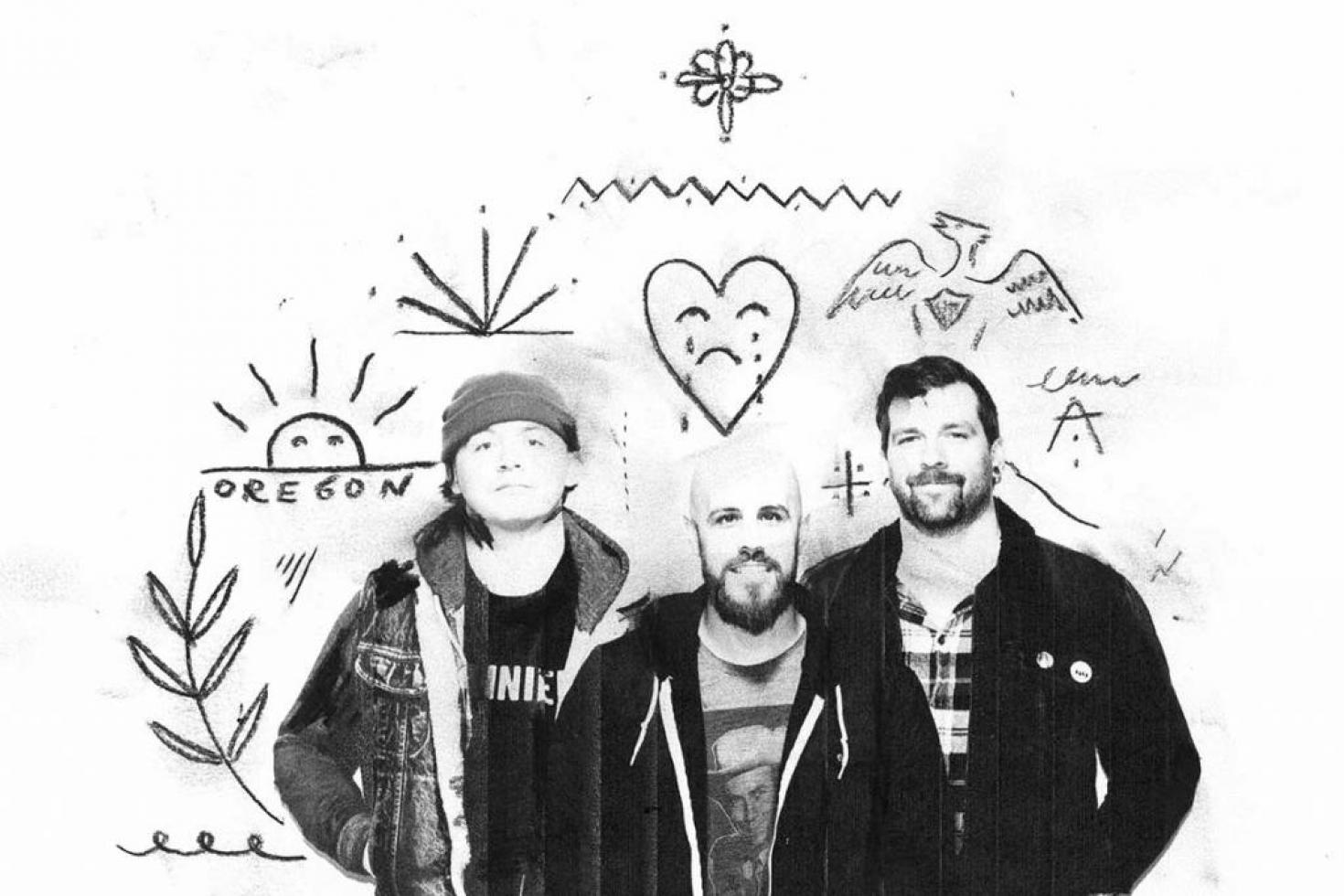 Can you believe it has been seven long years since 'Comfort/Distraction' came out? We can. We have been crying, raging and then sulking over the lack of new Broadway Calls tunes ever since. But guess what? We don't have to shed another tear because Oregon's finest are back with 'Sad In The City'. That's 11 fast, loud and catchy as hell new songs that deal with navigating the end of the most violent empire the world has ever seen. Read on to find out what vocalist/guitarist Ty Vaughn had to tell us about the new album as you keep counting down the seconds to its release next week on Red Scare.
PRT: 'Sad In The City' marks your first new album in seven years. What have the three of you been up to in that time?
Ty: All kinds of things. Josh and Adam both had kids, and I got married. We all reestablished our lives without the interruption of record cycles and tours. Fell back in love with music for fun. Josh and Adam formed a great country band called Wonderly Road, and I started a hardcore band with some of my best friends from Portland called Dead Tropics. We continued to play shows as Broadway Calls whenever someone asked us to. We never broke up or anything, I just had no desire to make another record and be active like we used to be.
PRT: Late last year you wrote a long post on Facebook about how you struggled with depression and how at some point you didn't think there would be another Broadway Calls album. And now here we are... was there like one moment where you decided to have another go at it? Or was it more of a gradual process?
Ty: I don't remember the exact moment, but I do remember a conversation I had with Josh where he really wanted to make music together again. We've been writing together in different bands since we were 14 or 15 years old. Adam has always been with us too. It's funny because some people still consider him the new guy even though we've all been in bands together since we were teenagers.
PRT: I'm guessing it's fair to say then that priorities for all three of you have shifted. What kind of a place does Broadway Calls take up in your life now compared to before?
Ty: Yeah absolutely. I used to have crazy anxiety and feel like a failure if we didn't have things booked out for several months. It was really unhealthy and that was one of many things I would talk to my therapist about during our time away. We all love this band, so now we approach it in a much more rational way than we used to. We really want to play some shows, we want to tour, but it's not a priority like it used to be.
PRT: Once you had made the decision to make another album, did it come together easily?
Ty: Yeah I do think this record came together easier than ones we've made in the past. We knew we wanted to keep the songs simple musically. We wanted to make a pop record. Josh really got motivated and became a great songwriter with his side project, and he and Adam work together so well as a rhythm section. So when we got back together to write this, there was a different, much healthier pressure in the room as far as I'm concerned, as opposed to previous records. I felt I had a lot more support as a lyricist this time around.
PRT: 'Sad In The City' is a very current album 'about navigating the end of the most violent empire the world has ever seen' and it has both love songs and angry songs. Was one easier to write than the other?
Ty: The angry songs come more often. I was usually mad or frightened at what I read in the news or something. Love songs happen naturally though, but even the love songs on this record have a hint of fear of what we're up against. There are so many great love songs in the world so it's usually a challenge to make those stand out.
PRT: You described the album as a violent record for a violent time. With everything that's going on, how hopeful are you guys about the future?
Ty: I'm not very hopeful for the immediate future. I'm very inspired by the protests and the global reaction to police brutality here. To see Black Lives Matter protests all over the world has been incredible. But there is a violent right wing government here, and that government and those police have a lot of support from ignorant people. If people woke up to and united around class struggle I think things could change within a generation or two, but this country was founded on violence. It's always been violent. The civil war is only going to keep heating up until at least November, but honestly I don't see things calming down no matter what happens with the next election.
PRT: Musically, the songs obviously still sound like Broadway Calls but with a wider, more open sound I guess I would call it? Is that Scott Goodrich's influence?
Ty: Scott is an incredible engineer and such a good, positive presence in the studio. We had one week to make this record with him, so we were doing 12, 13 hour days in the studio, and then go to Scott and Ashley's house to work on stuff at lower volumes in their spare bedroom studio. We really wanted different tones and effects on certain instruments to keep moving. We used so many pedals and guitar/amp combinations, there's no way we could go back and replicate the same record. I don't know the recipe. Josh and Scott really took the reins when it came to mixing the record. At that point my brain was pretty fried, and I'm grateful for the hours they put into this record when I couldn't. We're all looking forward to working with Scott again if it's an option in the future.
PRT: With such long days in the studio and not a lot of time to get the record done, does that create a healthy kind of pressure? Or would you prefer having had more time?
Ty: By the end of the week I was exhausted. Josh and Adam stayed behind one day longer than I did to finish some instruments and backup vocals. I drove home to Oregon.
The thing we've talked about since the session is that next time we want to budget some time for us to be in the studio during mixing. Trying to mix a record over texts and phone calls is very frustrating and took a long time. But the time we spent in the studio actually tracking was almost the perfect amount of time. We worked really hard that week and got it done.
PRT: While it has been a calm time for Broadway Calls when it comes to releases, you have kept on playing shows and touring but seemingly on a more on and off basis. Only to then release a new album just when touring is not an option. How different is it to release an album in the age of corona?
Ty: I was really sad about canceling the plans we had. The European tour with The Flatliners was a dream that was finally coming true. I was sad for a few days, and then I realized that if everybody did what they were supposed to, this will all pass and we can make it up next year. Of course 40-50% of americans think wearing a mask and not going out to restaurants is government oppression and our Covid cases are skyrocketing right now. Sadly, I wouldn't be surprised if this record never gets played in front of a live audience, but I'd rather be home with loved ones right now anyway, and there's no way I'd step on a plane.
PRT: You haven't had the best of luck with labels in the past. I read some about what happened with Side One Dummy and seeing as the new album isn't on No Sleep, I'm guessing that didn't work out either. Does that feel like you have the wind taken out of your sails every time?
Ty: I don't hold any negative feeling towards any label we've worked with. They all helped us at the times we worked together, and they all didn't work for different reasons. One reason I can say we probably didn't stick with any one label over the years, is we never sold enough records for a label to want to keep us around. That's just the way it works. It's financial. But the way I look at it, is I have zero regrets. It all led up to where we are now in our personal lives, and we feel right at home with Red Scare. We didn't send demos to anyone else. Red Scare is who we wanted, and we got lucky. Feels right.