Features
5 reasons why you should have already bought your ticket for Brakrock
on
Wednesday, July 25, 2018 - 13:55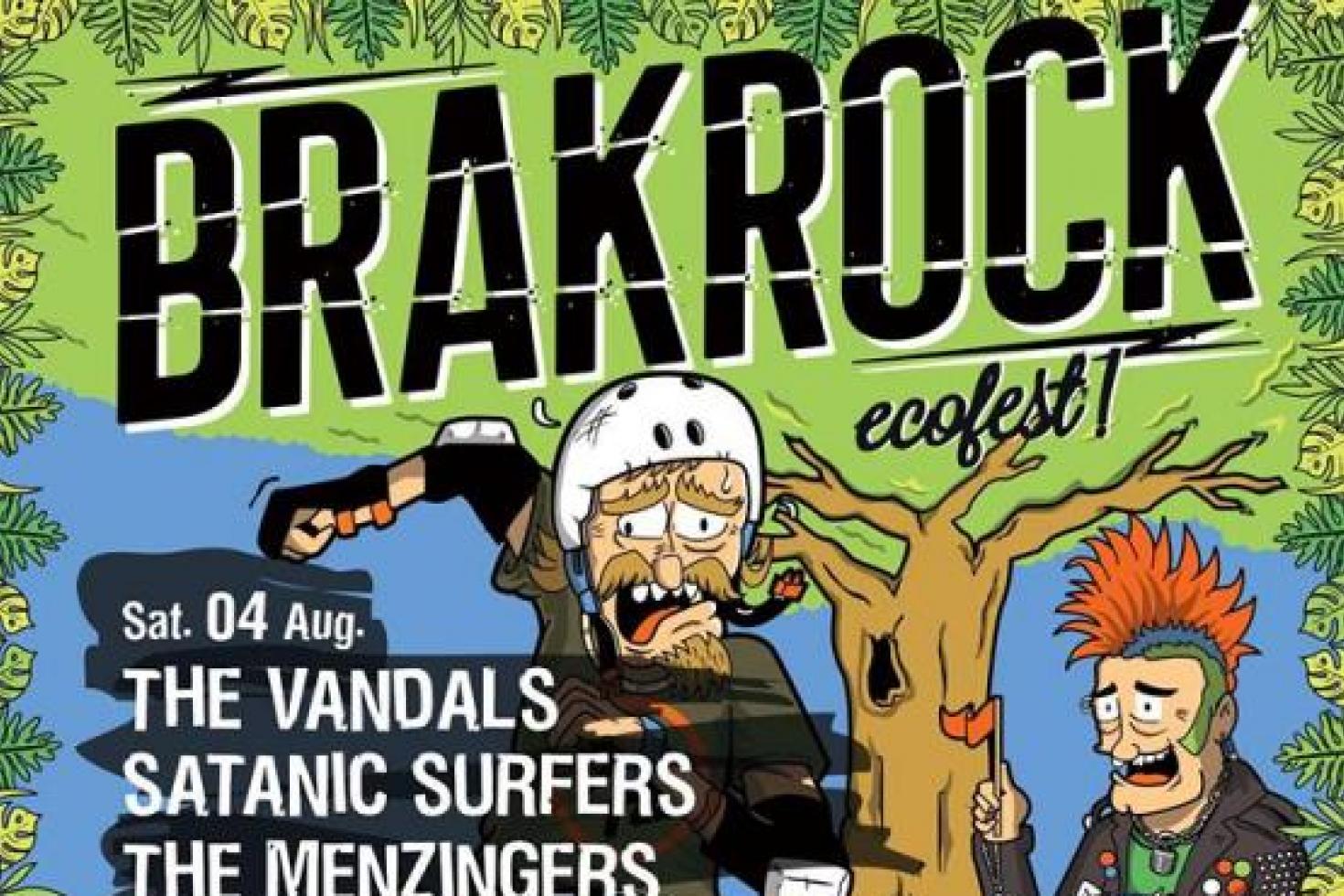 - by Christophe Vanheygen
Hell yeah, it's that time of the year again. Another edition of Brakrock will kick off in a little over a week. Over the past few years, the small festival has grown into one of our favourite festivals of the year. The location is as picturesque as can be and the organisation still boasts a huge DIY-approach. It does come with some minor struggles, but those are outweighed by all the perks of hanging out in the shadows of a castle ruin.
Now, with another edition approaching, here are 5 more reasons why you should've bought your ticket a long time ago.
1. Two days of absolute mayhem
Yup, what a treat: right before you leave for Punk Rock Holiday's five days of partying in the Slovenian sun, you get two days of insanity in the small town of Duffel. The previous years, one day seemed long enough to make a ton of regrettable decisions ("Why yes, I will have another 15 beers thank you very much" and "Why shouldn't a 200 pound man stagedive?", for example). Now you'll have plenty of time for much more shenanigans.
2. Punk rock masterclass
Last year's edition had our hearts racing like they did when we were 18 again, thanks to trips down memory lane with Face To Face, Good Riddance, No Fun At All, 88 Fingers Louie and more. And thanks to being fat fucks indulging in Belgian fries and beer way too often. But that's a different story. Anyway … On to this year's legends in the line-up.
On Friday your punk rock history lesson begins with ADHESIVE, followed by THE QUEERS and VOODOO GLOW SKULLS. And then it gets even more interesting: f*cking D.R.I. is playing! So get outta the way because old dudes will try to run in a circle for more than 30 seconds.
Saturday kicks off early. There is a yoga session at noon, just to please the hippies. So whatever … The punk rock legends who will teach you how to still be extremely cool when you're old are UNION 13, THE LAWRENCE ARMS, T.S.O.L., THE LILLINGTONS, SATANIC SURFERS and THE VANDALS. I mean, those ARE legends, aren't they?
Of course, there are also some new(-ish) bands and very special shows you should definitely check out. On Friday we're very much looking forward to CLOWNS. These crazy Aussies never disappoint. On Saturday, Punkrocktheory-darlings NOTHINGTON will play what will probably be their very last Belgian festival show. We're also quite curious to hear (and see) LITTLE TEETH, featuring members of Arliss Nancy and The Sky We Scrape.
3. Local heroes
Every festival should at least book a handful of local acts, just to give them an opportunity to play for a bigger, international audience. Personally, and especially since the fest lasts two days now, Brakrock could've upped the ante a little with only three local-ish bands, two of which even have to play at the exact same time. Still, … 
MARCH is like the Dutch-Belgian lovechild of The Bronx and The Distillers. To sum it up in one word: badass.
We've seen STEELE JUSTICE being labelled as "Truffleshufflecore". I guess that's what you get when you sing songs about the Goonies. This fun bunch may remind you of a drunk, sloppy and slightly poppy version of Kid Dynamite.
Last local band is nothing new to discover. REPROACH has been around for ages. They've toured around the world a few times. And man, do they shred! Thrashcore at its best, at its fastest and funnest. Is that a word? Maybe. Either way, there is no greater amount of suckage than seeing your favourite thrashers clash with your favourite punk rock band. So, yeah, …
4. Things will be better than last year
It was kinda sad to hear people complain about the (lack of) decent food at last year's Brakrock. The organisation seems to have paid attention, though. There will be a handful of organic, veggie and vegan food trucks as well as a separate Belgian beer bar.
There will also be a reusable, sustainable Brakrock Cup with some fancy design so you can hook it up to your clothes or ear-stretcher. That means you won't have to carry around your empty cups anymore. Huzza!
So yeah, that all seems like progress, doesn't it?
5. Shit! It's almost sold out, hurry the f*ck up!
Two days for 65 EUR is an absolute steal. Camping is free, the shuttle bus to go camping is free, the beer will be reasonably priced, the hangouts will be priceless. Seriously, 75% of the tickets are gone by now. Don't say we didn't warn you, dammit. See you in Duffel!