Upcoming Releases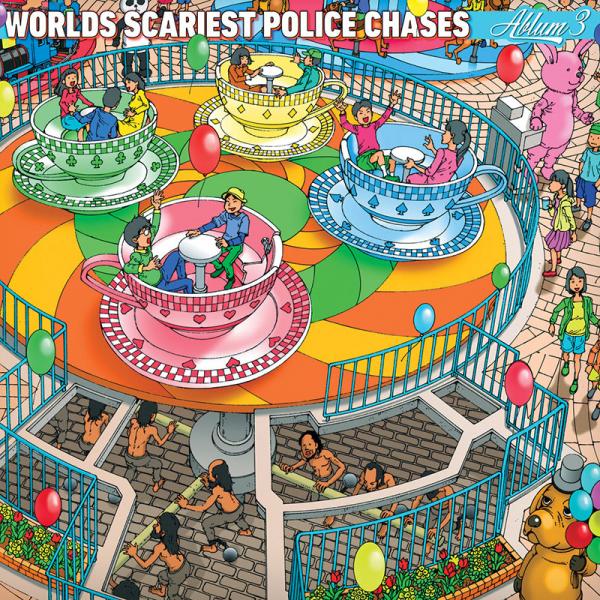 on
Wednesday, September 26, 2018 - 08:06
Pittsburgh punk band World's Scariest Police Chases is streaming a brand new single titled "MODERNBASEBALLISWAR" off the upcoming release, Ablum 3, out October 12 on Say-10 Records. Pre-order Ablum 3 here.
World's Scariest Police Chases returns bearing their first full length album in five years with this lumpy smoothie of perfectly blended skate punk, early 90s hardcore, satire, jabs and general lampoonery. In case there was any doubt, the band that brought you Start (Fucking Yourself) Today shows they still want you fucking yourself furiously with Ablum 3, a twelve track LP available in splatter, white and pink.
From the first song, modernbaseballiswar., Ablum 3 cements the legacy WSPC has long cultivated as the Don Rickles of punk rock. And what's more punk rock than roasting your friends? "Allowance drained on these tattoo sleeves, reading your lyrics to form my beliefs". But, the fun doesn't stop there. From Mind Trap to the Shape of Punk is Dumb, the message is clear: think for yourself. Or at least laugh at yourself.
Drums and bass were tracked at David Klug Studios (Rozwell Kid, The Minus Tide) in Pittsburgh, while the band was simultaneously finishing the writing and demoing of the songs. The guys tracked guitars themselves, and then re-amped them and started on vocals back at Klug's. Ablum 3 was mix/mastered by Justin Francis (Anti-Flag, Roger Harvey, Edhochuli) in Nashville at Sound Stage Studio. Kid Rock contributes guest vocal on the album, as the band stole a lyric from him on their song "Adolf Hipster."
Track listing:
modernbaseballiswar
Mind Trap
My Death
End of Everything (Grammy Me)
Talk Shit, Get Shot
No Friends
Adolf Hipster
Trigger Warning
How To Glean Everything
Burdened by Stupidity
The Shape of Punk is Dumb
Waterfalls