Upcoming Releases
Godspeed - A Tribute To Naked Raygun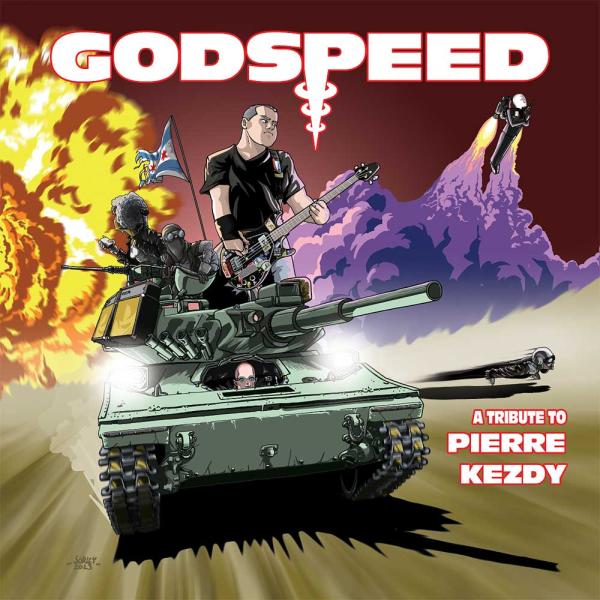 on
Friday, June 30, 2023 - 10:02
"Naked Raygun are one of the few bands that became a permanent landmark in how we, as a band, see and approach the music we play" - Chris Wollard, Hot Water Music
"Naked Raygun is one of the bands that shaped our concept of what a punk band could be; not just raw energy and angst and cool riffs, but well-crafted songs with real wit and intelligence. It's hard to pick a favorite, but 'Knock Me Down' has always stood out to me, so it's fun to try and put a different spin on the arrangement, kind of like looking at a diamond from a different angle." - Josh Caterer, Smoking Popes
Put It Here Productions and Big Minnow Records have joined forces to help continue the legacy of trailblazers Naked Raygun and their bassist, the late Pierre Kezdy, who sadly passed away from cancer in October of 2020. The tribute album consists of cover songs from artists who not only love Naked Raygun, but were also influenced by them. Hot Water Music, Face To Face, Swingin' Utters, J. Robbins (Jawbox), Josh Caterer (Smoking Popes), The Bollweevils, The Methadones, Pegboy, The Brokedowns, The Usuals, Grey Trash Aliens, Death And Memphis, The Turdles, and Stress Dreams, all recorded one of their favorite songs, paying homage to the band and a legend gone too soon.
Godspeed... A Tribute to Pierre Kezdy will be released digitally and on vinyl on Friday, July 28, 2023 (pre-order here). 100% of profits from record sales will be donated directly to the Kezdy family to honor Pierre's legacy and inspiration that he gave to the world of punk music.
A record and merch signing will be held on Saturday, August 26 at 1pm CT at Rogue's Corner (109 E Highland Ave, Elgin, IL 60120) with Naked Raygun's Jeff Pezzati, Eric Spicer, and Bill Stephens.
Track list:
Hot Water Music "Wonder Beer"
The Usuals "Soldier's Requiem"
J. Robbins "Got Hurt"
Pegboy "Vanilla Blue"
Swingin' Utters "Gear"
Death and Memphis "Treason"
The Methadones "Surf Combat"
Face To Face "I Don't Know"
Grey Trash Aliens "Fever Island"
The Bollweevils "I Remember"
The Turdles "Rat Patrol"
Josh Caterer "Knock Me Down"
Stress Dreams "Home of the Brave"
The Brokedowns "Walk in Cold"