Upcoming Releases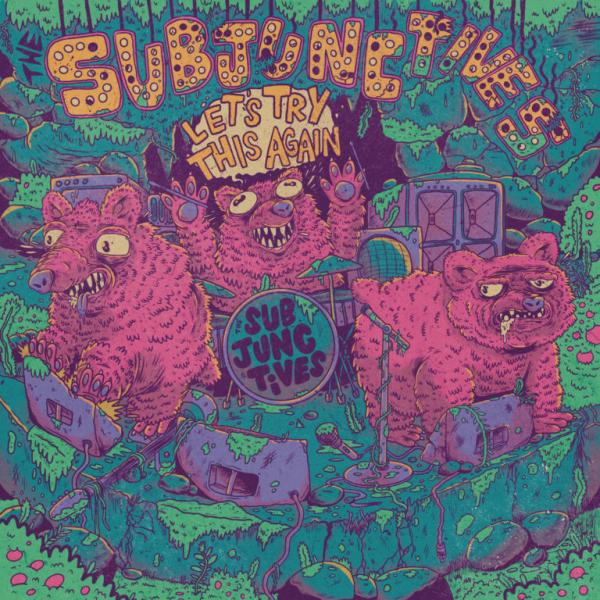 on
Thursday, June 8, 2023 - 21:35
Hailing from Seattle, pop punk veterans The Subjunctives blast through thoughts on everything from decades old punk discourse to workplace feuds on their sophomore record Let's Try This Again. Following up on their 2019 debut Sunshine and Rainbows guitarist Ean Hernandez (Sicko, Tales from the Birdbath, Date Night with Brian) and bassist Jeff Mangalin (Four Lights) along with the band's new drummer Wendell Howell (Desolate Coast) pick up where they left off four years and a life-halting pandemic ago. Sharing vocal duties, the three form a singular unit through 29 minutes of brash but bouncy pop-punk. The band are heading to the midwest to support the release on a mini-tour with Milwaukee's own Bad Year this September: Chicago, Grand Rapids, Louisville, Cincinnati, Cleveland, and Fort Wayne.
In a genre largely associated with adolescence, some members of the Subjunctives have been at it for decades, amassing experience and musical maturity. Guitarist Ean Hernandez had his first brushes with pop-punk in 90s Seattle trio Sicko, whose lighthearted geek-core was an appreciated contrast to the city's growing reputation for self serious grunge acts. Growing as a human and a songwriter, his riffs are simpler and clearer, his lyrics more carefully selected, and the immaturity of the young musician has mostly shaken off. Hernandez describes his growth as a songwriter as not just a development of talent but a shift in purpose. "When I wrote songs for Sicko, I mostly wrote songs with the idea of impressing girls. Today, I'm in a 25 year relationship and have 2 children, so that aspect is long out of the picture!"  Relieved of romantic aspirations and the pressure to take off to a larger audience, The Subjunctives are free to exist as an end unto themselves. For Ean, Jeff and Wendell, the band exists because it brings them joy.
Lest anyone think the band had gotten too mature, the record features tracks like "Goodbye I Will Not Miss You, You Dicks" and "What's Up Fuckers", sing-a-long songs for people who "like to cuss gratuitously". The Subjunctives get silly with it because it feels good to laugh. Let's Try This Again ends on a minute long recording of bassist Jeff Mangalin and engineer Matt Allison (Atlas Studios) pranking Hernandez by running his guitar through a "fart pedal".
The silliness is balanced with earnest emotional expression, best exemplified in "Thanks for Driving Me Home, Old Friend" and "It's a Shame We Didn't Get More Time, Lance". Both are direct translations of real emotional experiences into songs, the former telling the story of being driven home from a bar by a sober friend and finding the friendship equally intoxicating as the alcohol, the latter a heartfelt personal tribute to the late Lance Hahn of seminal San Francisco pop-punk group J Church. Hahn's legacy leaves its mark throughout the album. Directly following "It's a Shame We Didn't Get More Time, Lance" is "Don't Want to Be a Leader, Don't Want to be Led", a track that pulls its name and central thesis from a song released by Hahn's earlier band, Cringer. Hahn is also mentioned by name in "Smart Punks" along with Doctor Frank,  Greg Graffin, Milo Aukerman, and Larry Livermore, as examples of the titular Smart Punks.
Hahn is not the only noteworthy name to impact Let's Try This Again. Amateur pop-punk historians may notice the record is peppered with scene history, whether it's retooling an old Sicko song on "Believe (Rehashed)" or namedropping Henry Rollins as a figurehead for a very specific kind of tough guy punk on "The Henry Rollins School of Menacing". After decades in punk music, the scene has become an inexorable part of the Subjunctives perspective as songwriters. On "Smart Punks", the band dig into age-old discourse. In this particular debate, which was debated in the pages of MRR long before the internet gave it new life, the Subjunctives declare themselves against the macho brand of anti-intellectualism that thrives in some punk circles. "Punk rock doesn't have to be dumb," the chorus rails, making a case for intellectual complexity using only seven words and a simple melody.
The ability to engage with ideas and emotions that are serious without ever being self-serious is a tightrope walk that Let's Try This Again executes neatly. On the one hand it is loudly pro-intellectual, emotionally blunt, and documentarian in its coverage of scene life. On the other hand the music is joyful and buoyant, the lyrics are tongue in cheek, and the whole thing ends with a fart. Somewhere in between those two hands, you find the Subjunctives.