Upcoming Releases
The Awful Disclosures Of Screeching Weasel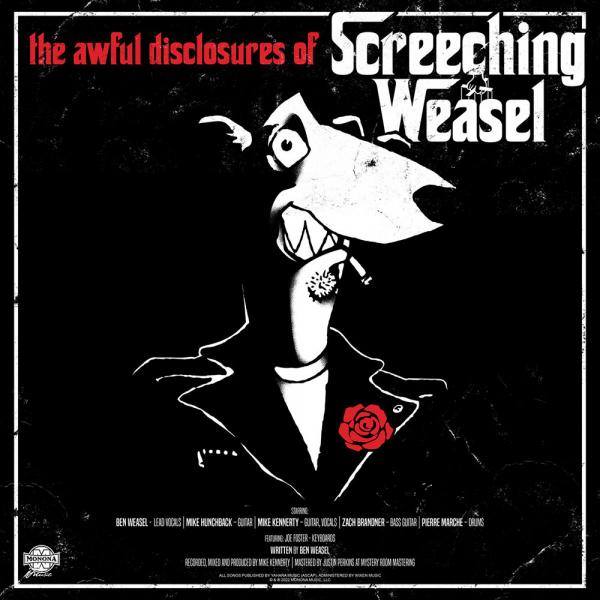 on
Friday, June 3, 2022 - 17:56
Chicago's Screeching Weasel provides a fierce soundtrack for the apocalypse with their fourteenth studio album, out July 15 2022 on vinyl via Striped Records, CD via Rum Bar Records, and digitally via Monona Music. Relentlessly melodic and loaded with punishing hooks, The Awful Disclosures of Screeching Weasel reveals our deepest fears while encouraging listeners to twist and shout into the abyss.
A wicked salve sure to entice fans of melodic punk and high-octane rock alike, the 14-track banger arrives two years after the band's acclaimed 2020 release Some Freaks of Atavism secured frontman Ben Weasel's unorthodox punk rock legacy for a whole new generation. The songwriter is perched at the top of his game—locked, loaded and larger-than-life.
While some of us turned to Netflix and takeout, Weasel made good use of domestic confinement over the historic winter of 2020. Although many of the songs favor pop elements, first impressions can be deceiving.
"Themes of death, the apocalypse and madness predominate the album," Weasel said, adding that track "In the Castle" evolved from a reflection of pandemic life into an ode to Shirley Jackson's claustro- phobic novel, We Have Always Lived in the Castle.
Featuring the band's signature combination of super-charged snotty vocals and fast-paced distorted guitars, fans can expect a fist-pump- ing ride as well as an innovative take on the genre Screeching Weasel birthed circa 1991. Let's not forget that the band defined an entire era of pop punk, predating next wave groups like Blink 182, Taking Back Sunday and Rise Against. These days, Weasel is still pushing boundaries and poking bears.
Produced and engineered by multi-talented Mike Kennerty—who also contributes guitar to the record—the recording lineup features much the same dream team as Some Freaks of Atavism: Ben Weasel on lead vocals, Mike Hunchback on guitar, Zack Brandner on bass/backing vocals and Pierre Marche on drums. It's a powerful combination, a gang that Weasel managed to keep together despite differing residences.
At times deliciously dark, sweet and dizzying, The Awful Disclosures rollercoasters listeners through the mundane, the miraculous and the macabre with precision and energy. Whether lurking in the shadows of a haunted Spanish estate ("In La Quinta del Sordo"), grappling with the end of days ("Gates Lift High Your Heads") or recounting the indignities of an off-again-on-again relationship ("Just Another Fool"), Weasel reminds us that pop punk can tell a diverse set of stories.
Like all good thrill rides, there's more than a few surprises: Piano and organ accompaniments come courtesy of Weasel's son, Joe (Yes, you could say he is making his "independent label debut.") The old Chinese adage, "may you live in interesting times," comes to mind during this 31-minute tell-all. For Screeching Weasel, the curse is a blessing. No other time could have produced such a red-blooded record—and from a band who has died on the table too many times to count!
The Awful Disclosures Of Screeching Weasel track list:
Six Ways To Sunday
Any Minute Now
In La Quinta Del Sordo
My Favorite Nightmare
Just Another Fool
In The Castle
Kill To Cure
All Stitched Up
Pandora's Eyes
Dead Alive
Gates Lift High Your Heads
Hey Diana
How Art Thou Fallen
Tell Me Your Lies