Upcoming Releases
If You're Not Afraid, I'm Not Afraid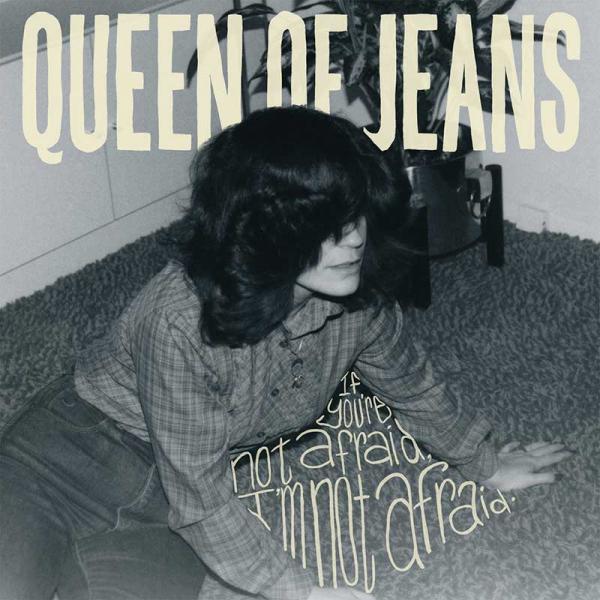 on
Wednesday, July 10, 2019 - 17:42
It's a scary time to be vulnerable. It's much easier to ignore the news and binge watch Netflix or mute keywords on Twitter than it is to stand up for what's right and tell your story, but that's exactly what Miriam Devora, vocalist of Philadelphia's indefinable Queen of Jeans, has done on their outstanding new album, 'If you're not afraid, I'm not afraid,' out August 23 on Topshelf Records.
It's an unconventional choice to pick the first track on your album as its lead single, but when that track is anything like what Queen of Jeans have done with "Get Lost". It's an introduction to Miri's vulnerability and courage that's on display all over If you're not afraid, I'm not afraid; as her mother's health began deteriorating, she found herself wrapped up in anxiety, watching helplessly and withdrawing from the world around her.
"Writing this song was a necessary cathartic exercise, a kind of self check-in," Miri explains. "In a way, I was trying to coach myself into recognizing that it was alright for me to feel that way. It was an exercise in abandoning the inherent social ideas that if you aren't fun and outgoing, you're a bore or a drag. That if you aren't strong and well put together all of the time, you're not dependable."
"Get Lost became my personal anthem during a time when I needed some sort of reassurance that I wasn't a waste. It helped me process a very real and isolating experience of grief, and turn it into a positive and somewhat humorous interpretation of self-care. Life is messy, and happiness is not always guaranteed. Sometimes allowing yourself to recognize what you perceive to be your shortcomings and owning them can set you free from emotional prison."
The video for "Get Lost" features a seemingly-minimal performance from Miri and her bandmates––guitarist Mattie Glass and drummer Patrick Wall––that quickly turns into a fired up release of tension right along with the song. It's got all the signature quirks that make Queen of Jeans a genre of their own, and was brilliantly directed and edited by Bob Sweeney.
A little less than two weeks before Queen of Jeans went into the studio to record, Miri's mom passed away. Simultaneously, following the election in 2016, it was the first time as an adult that she ever really felt afraid to be herself in her own country. "I found myself in fear not only of losing my mom to her illness, but of losing my space within society as a queer woman, and watching space get taken away from so many others."
If you're not afraid, I'm not afraid is a reaction to all of those emotions, stirred up from these events as Miri tried to navigate her relationships with her partner, friends and family without the guidance of her mom or a stable grip on what was and continues to happen in this country.
Despite all of it, though, Miri was able to open up on this record in a way that feels more like an act of bravery than anything else. The entire process was a significantly different experience for the young songwriter, and it shows. If you're not afraid, I'm not afraid is an impactful collection of songs that stand for something real; Queen of Jeans' invitation to the listener to embrace their own stories, no matter how scary it may seem.
"My hope is that openly sharing my story and expressing myself through my vulnerabilities will help others that might feel lost right now, and that it might also help them find the strength in themselves to listen to and embrace their own stories, while also opening up and finding common ground with those around them."
If it weren't for the fact that both Miri and Mattie were each the tokenized female (and queer) members of their respective bands, Queen of Jeans may have never existed. Their mutual frustration became the glue that bonded them together and gave them a chance to finally create the kind of music they wanted to make. And after months of "casually online-dating drummers," they found their unicorn in Patrick Wall, who brings a unique pop rhythm to their stylistically-varied sound.
On If you're not afraid, I'm not afraid, Queen of Jeans paired with prominent producer Will Yip to enter into a new sonic era. It marks a decided turn to more tightly knit songwriting that emphasizes Queen of Jeans's most alluring strengths. Vocals shine through as the sun through clouds, drenching twangy, western-reminiscent guitar in evocative light, illuminating the album's vast and serene crockpot soundscapes. If you're not afraid, I'm not afraid demonstrates Queen of Jeans's deliberate evolution into its own incomparable entity.