Upcoming Releases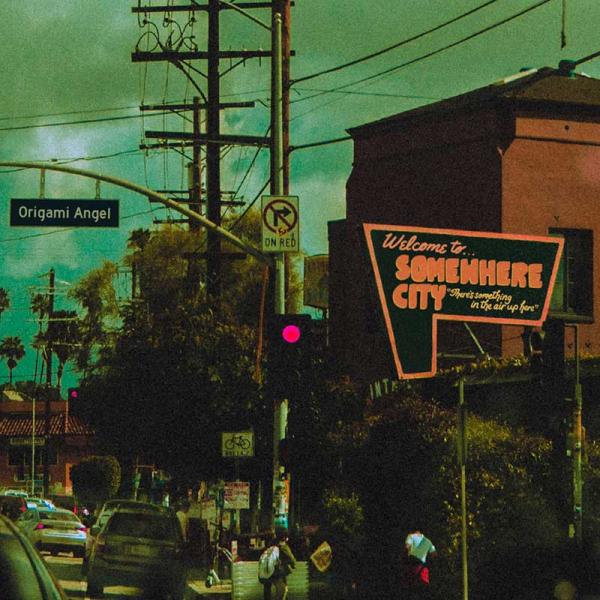 on
Wednesday, October 23, 2019 - 08:17
Welcome to Somewhere City, the debut full-length album from Washington, D.C.'s Origami Angel. After an initial collection of releases that dove deep into the surface-level stuff that helps keep our minds off of ourselves––video games (like on their latest EP and Somewhere City prequel Gen 3), TV shows, fantasy worlds, and food––this young indie/emo two-piece has created a universe all their own on their long-awaited debut. Somewhere City is Origami Angel's ultimate manifestation of escapism.
The thing about Somewhere City is that "Somewhere" can be anywhere, and as vocalist Ryland Heagy proudly declares on the opening track "Welcome To…," you don't have to do anything or be anyone to get there; just follow the road. In a time when mental health is at the forefront of most conversations and lyrical themes in the broader emo/indie-punk community, Origami Angel puts their own quirky spin on it by literally creating the world in which we all escape to.
Musically the album takes a lot of elements the band has explored before––ranging from brighter, pop-leaning hooks like on "24 Hr Drive-Thru" to heavier, more traditionally emo sounding tracks like "Doctor Whomst"––and puts them all into one, concise package.
Recorded by Jake Checkoway (who has mixed/mastered Origami Angel's past three releases)  in Philadelphia this past summer, Somewhere City marks the first time the band hadn't recorded the bulk of their music on their own. Checkoway's influence takes what the two-piece already did so well and amplified it, boosting their confidence and allowing them to spend more time at home, considering the various harmonies, samples, and transitions that have basically become a staple in the Origami Angel catalog. Reprises and callbacks to previous releases allow the listener to have a different perspective and experience with each listen. It's truly an impressive feat for a band with less than 20 songs to their name… until now, of course.
At the end of Somewhere City, you arrive back at its beginning; a looping riff detail that tells the listener that the city is never too far away, and it never ends. No matter what, you always have a place to belong.