Upcoming Releases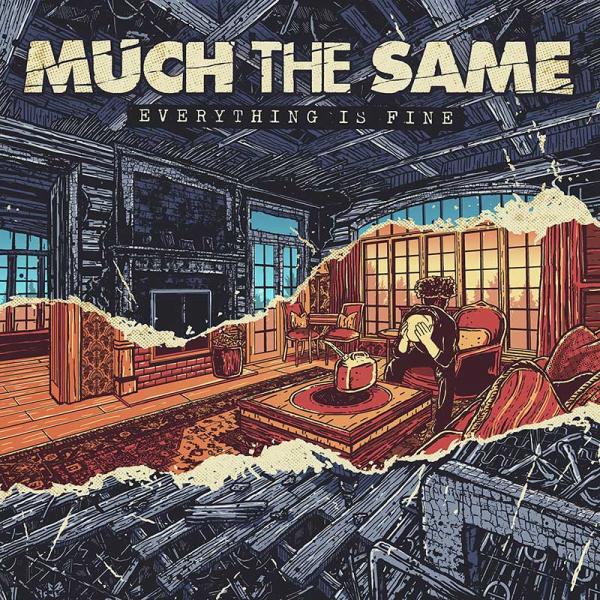 on
Sunday, June 9, 2019 - 10:33
Chicago skate-punks Much The Same return with their first single in 13 years! 'Snake In The Grass' is the first single to be released from their upcoming album 'Everything Is Fine'.
'Everything Is Fine' is due for release on 26 July 2019, just in time to celebrate the band's 20th year anniversary and guitarist Dan O'Gorman's recent victory over cancer. The release is a collaborative effort by Lockjaw Records (UK/EU), Thousand Islands Records (CA) and Pee Records (AUS).
The first single 'Snake In The Grass' deals with the songwriter's experience of being treated as an unwanted intruder when living under his in-laws' roof while his marriage was coming to an end.
"This song was an eye opener for me," says guitarist Dan O'Gorman. "The original idea was to write about a shitty person I was living with and how they made my life miserable, then after looking at the situation retrospectively, I realised I was the bad guy; I was the villain living among them, the snake in the grass.  
"Also, I'm a history teacher and I loved the story behind the Culper Spy Ring during the revolutionary war, where a spy loyal to the patriots is still living with his Tory wife and pledging his loyalty to the British. I found our two stories aligned quite well, so I tried to use older English terms and vocabulary to cross both ideas together."
Revitalising their mid-noughties skate-punk heyday with a musical nod to Lagwagon, 'Snake In The Grass' demonstrates the refreshed, upbeat sound of Much The Same's newest release.
'Everything Is Fine' is available for release on 12'' vinyl, in a mix of blue suede shoe and cherry cola colour. It's also available on CD and alongside a range of t-shirt and hoodie bundles.
Pre-Order 'Everything Is Fine' Now
Much The Same spent most of the previous decade as a staple of the Chicago punk scene and making a name for themselves worldwide. They kept 90's-style skate-punk alive on two albums, 'Quitters Never Win' on Anti-Flag's own A-F Records, and then on the more musically mature 'Survive' on Nitro Records.
Their focus has always been on writing fast and catchy songs that chronicle their struggles with friendships, faith, and failure. During their otherwise successful 2007 European tour the band broke up under the strain of changing dreams and character flaws. But in 2015, with a fresh perspective, a still-growing fan base, and a desire to make music together again, the band picked up where they left off and began the process of writing new material.
Track listing:
Burner
Snake in the Grass
You Used to Have a Garden
Haunted
Man of Science, Man of Faith
Homecoming
Strangers in Fiction
In the Event of…
Passengers