Upcoming Releases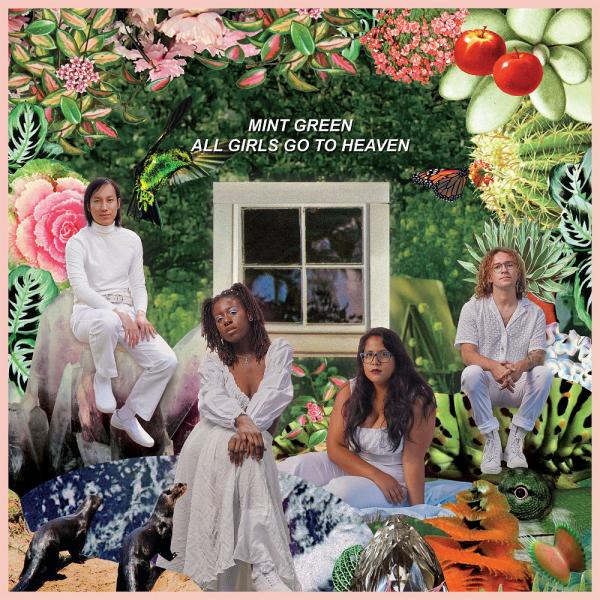 on
Thursday, March 10, 2022 - 19:34
Keep your eyes out for Boston's next national indie-rock export: Mint Green. Today the band announces their debut album, All Girls Go To Heaven, is coming out June 3 from Pure Noise Records, and they've also shared a video for one of its highlights, "Trying." Complete with a video directed by Haoyan of America, it's a song that juxtaposes internal desire with harsh reality, as vocalist Ronnica explains:
"This song explores the narrative of someone who is holding on to what is left of their failed relationship while the other person has already seemingly moved on. Its tone is upbeat and bouncy in the verses. The lyrics pair the mundane with the fantastic. They are both giddy and frivolous. Determined, yet futile."
Like a lot of All Girls Go To Heaven, "Trying" pairs opposing feelings; here, its poppy and playful verses meet with somber choruses shrouded in sadness, and elsewhere it's almost like a choir or gospel with swirling vocal harmonies and repetitive, trance-like guitars. This approach blends each members unique talents: Ronnica's bright vocals, Daniel's playful rhythms, Tiffany's bouncy bass lines, and Brandon's effervescent guitars are blended to embrace the listener into the honest and ethereal world of "Trying".
"The lyrics pair the mundane with the fantastic," Ronnica continues. The band clearly takes a holistic approach to songwriting; "Trying" is a view of the band's effort throughout All Girls Go To Heaven to communicate themes that describe the space we occupy between ordinary trials of reality and a fantasized world of dreams and desire. Ronnica continues: "The tone is hallucinogenic. Almost like a mirage. It feels like you're so close to reaching something, yet so far away."
All Girls Go To Heaven track list
Against the Grain
Body Language
What I'm Feeling
Make Me Stay
Trying
Ready
Golden
Whatever Happens
(We) Should Have Spoken
Ringtone