Upcoming Releases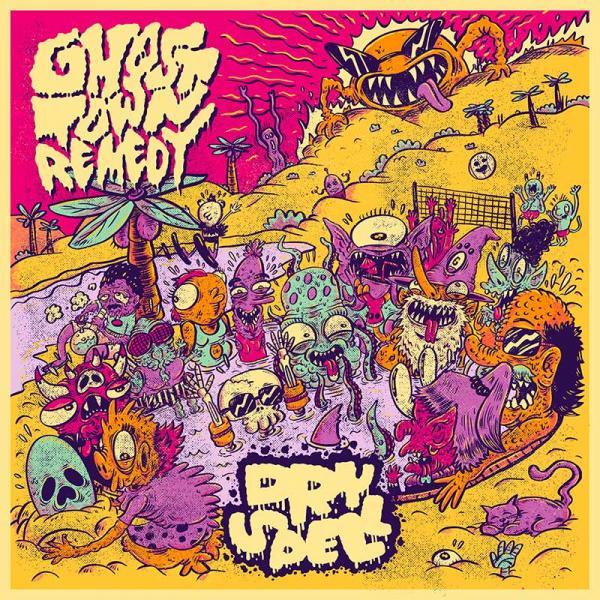 on
Wednesday, October 14, 2020 - 08:01
Nashville punky pioneers of "rad dad rock", Ghost Town Remedy, announced their debut full-length release, Dry Spell. The album will be out on November 20th via the band's newly-formed Never Nude Records (pre-order).
Dry Spell has been a long time coming since the early 2019 release of the band's "Superglue" single. This track features on the album alongside the other previously-released singles "Lan Party", "360 No Scope", "Therapy", "Holy Hangover", "A Lesson In Shapeshifting" as well as five new cuts.
Ghost Town Remedy specialize in witty, crushingly-honest, punky power-pop. Lyrically, they tie together topics as disparate as computer gaming, tragedy, seasonal depression, weed, Taco Bell, and the friend zone. What allows it to work is that they all serve to paint a picture of the years leading up to now. From TJ Maher and Steve Lane's deeply rock n roll first gig at a Christmas pageant in their native northern Virginia, through the devastating loss of TJ's younger brother, through grief and recovery, to their re-locating and re-juicing in Nashville alongside Jordan Winborne and Rich Ridgell. Wrap this journey up in harmonized crunchy guitar lines, tightly layered vocals, and a rhythm section that could pin you to the back wall of a bar, and you've got their Dry Spell album. In Nashville, they've built a studio sound that captures the punch of their live set, the sweeping highs, and lows of the topics within, and perhaps a little bit of the sweat dripping off an East Nashville dive.
The record was tracked at SonyTree Studios, Nashville, with grammy-nominated engineer Justin Francis (Anti-Flag, Rozwell Kid). Overdubs and vocals were added at Ghost Town Remedy's own Front Porch Studios in Hermitage, Tennessee. Finally, mixing was a collaborative process between the band and Justin Francis. Guitars were dialed up to 'ripping', drums EQ'd to 'party time', and vocals set to 'wall of sound'. The result captures the heart and soul of Ghost Town Remedy. So, crank it up, crack open a Mountain Dew, and enjoy.
Track listing:
Nacho Business
Therapy
Holy Hangover
LAN Party
Superglue
The Ghost
A Lesson In Shapeshifting
Learning Curve
Meat Sweatz
Empty
360 No Scope