Upcoming Releases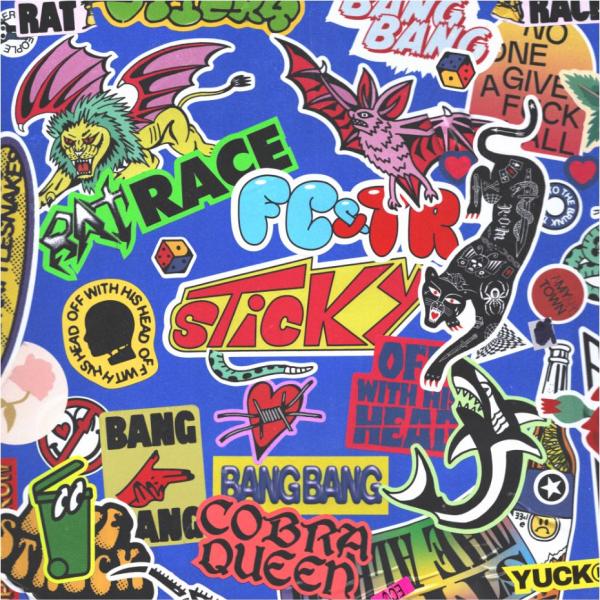 on
Monday, July 5, 2021 - 15:36
Frank Carter and The Rattlesnakes' opening night headline set at Download Pilot unleashed a ferocious release of pent-up energy and pure emotion that will live long in the memory of everyone present. The band proved that they offer something quite unlike anyone else right now: a much needed burst of anarchic spirit as the shackles are removed, but also the articulation and wry wit to rally against injustice; plus a raw, eviscerating live show without the tropes of toxic masculinity. As lockdown eases, who better to soundtrack our new-found freedom?
Seizing on their moment in the spotlight, Frank Carter and The Rattlesnakes share their new single 'Sticky', which has just debuted at Annie Mac's Hottest Record on Radio 1. The single launches their eagerly anticipated new album, also titled 'Sticky', which will be released on October 15th. It builds on the momentum generated by their recent single, 'My Town' featuring Joe Talbot of IDLES, which is the biggest of their career to date and was B-listed at Radio 1.
Punching out of the speakers with a new directness and immediacy, the single 'Sticky' provides a flavour of what to expect from the album. It's a shark-sharp-shock of visceral punk fury, as the snarling soul of Carter's vehement voice transports us to the sweltering, closing time madness of a city after dark. He paints a scene of growing paranoia, desperately looking to delve into any vice to counteract the existential despair of feeling "midnight blue." But there's a sardonic, horrorshow humour at play too as he spits, "I'm no vampire but I want your blood."
It's the perfect introduction to a record that breaks out of lockdown. Produced by guitarist Dean Richardson for the first time, it solidifies the pair as one of the most exciting partnerships in British punk rock. Carter sounds like an untamed force of nature, embodying the impish menace of Keith Flint one minute and Sid Vicious the next.  Alongside Richardson, they've crafted a record which wastes no time in hitting hard: not a single song hits the four-minute barrier, and few even hit three.
'Sticky' is the sonic eruption of a year-plus of suppressed energy. While it's an escapist experience, recent reality is never too far away. It's there in 'Go Get A Tattoo', which was inspired by Carter's experience of having to shut his first London based tattoo parlour, Rose of Mercy, almost immediately after it opened.  It's just as present in 'My Town', a suburban vignette of society's collective mental health quickly unravelling.
Carter and Richardson's vision is augmented by the mob of underdogs and outsiders who join them.  As well as Joe Talbot, alt-pop gimp Lynks complements Carter's attack with a double-dose of surreal savagery on 'Bang Bang' and 'Get A Tattoo', while Cassyette brings a provocative punch to the sleazy rock 'n' roll of 'Off With His Head'.  By the time Primal Scream's Bobby Gillespie emerges on the closing 'Original Sin', his breathy voice feels like salvation for the transgressions that preceded it.
Carter sums it up succinctly: "Someone described it to me as 'they felt their youth' when they were listening to the record. When you make albums, those are the ones you want to make. Nostalgic, but classic. Timeless, and also modern."
Track listing:
Sticky
Cupid's Arrow
Bang Bang (ft. Lynks)
Take It To The Brink
My Town (ft. Joe Talbot)
Go Get A Tattoo (ft. Lynks)
Off With His Head (ft. Cassyette)
Cobra Queen
Rat Race
Original Sin (ft. Bobby Gillespie)