Upcoming Releases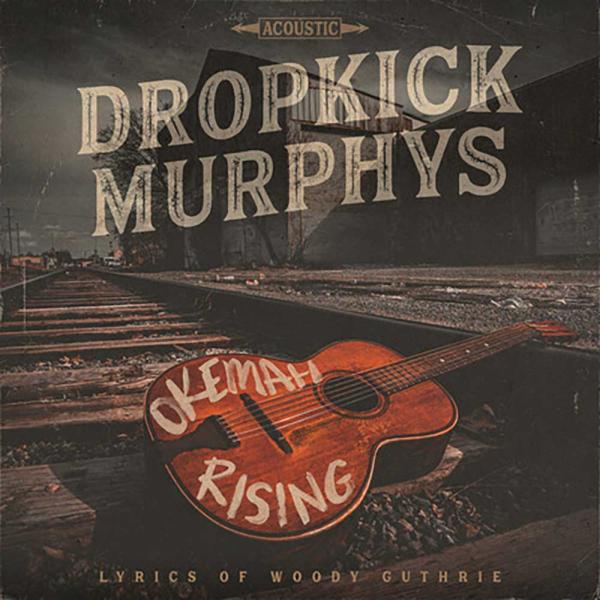 on
Wednesday, March 1, 2023 - 18:07
Dropkick Murphys will continue their journey interpreting the work of Woody Guthrie for a new generation with the May 12 release of their latest album Okemah Rising via the band's Dummy Luck Music / [PIAS] (pre-order). The 10-track album (available on CD, LP and streaming services worldwide) takes off from 2022's This Machine Still Kills Fascists, on which Dropkick Murphys write original music around previously-unpublished lyrics of the late Guthrie in a unique collaboration, with the band finding a common philosophy in the timeless and timely lyrics of the "original punk."
Joined by trusted collaborator and producer Ted Hutt, Dropkick Murphys channeled Guthrie's spirit during the recording sessions in Tulsa. And much like on This Machine Still Kills Fascists, Dropkick Murphys welcomed guest artists on Okemah Rising to help propel Woody's words, including folk punk legends Violent Femmes, fellow Boston rebel Jesse Ahern, and country songstress Jaime Wyatt.
Dropkick Murphys founder and vocalist Ken Casey explains, "Every night, when the audience is singing along with Woody's words, his steadfast defense of the working class, and his fight against social injustice and the abuse of political power comes across loud and clear. So as long as Dropkick Murphys are involved, Woody's message will always be heard."
Okemah Rising's first single and video "I Know How It Feels," gallops out of the gate towards an empathetic middle-class commiseration with the refrain, "I know how it feels to work 'til you drop, and it's 10,000 bills that you owe." 
Okemah Rising follows Dropkick Murphys' highly-acclaimed This Machine Still Kills Fascists album, which exposed the band to new audiences through airplay on stations like SiriusXM's Outlaw Country, coverage in outlets such as Rolling Stone Country, Paste, CNN, Americana Highways and SPIN, and via Dropkick Murphys' first-ever acoustic, reserved-seating theater tour in 2022.
Okemah Rising is the final acoustic release from Dropkick Murphys' recording sessions in Tulsa. This era in the band's history will be captured in a documentary following their journey writing, recording, and performing the 20 songs they've crafted around Woody's never-before-seen lyrics for these two albums.
Okemah Rising track list:
"My Eyes Are Gonna Shine"
"Gotta Get To Peekskill" (featuring Violent Femmes)
"Watchin The World Go By"
"I Know How It Feels"
"Rippin Up The Boundary Line" (featuring Jesse Ahern)
"Hear The Curfew Blowin"
"Bring It Home" (featuring Jaime Wyatt)
"When I Was A Little Boy"
"Run Hitler Run"
"I'm Shipping Up To Boston – Tulsa Version"