Upcoming Releases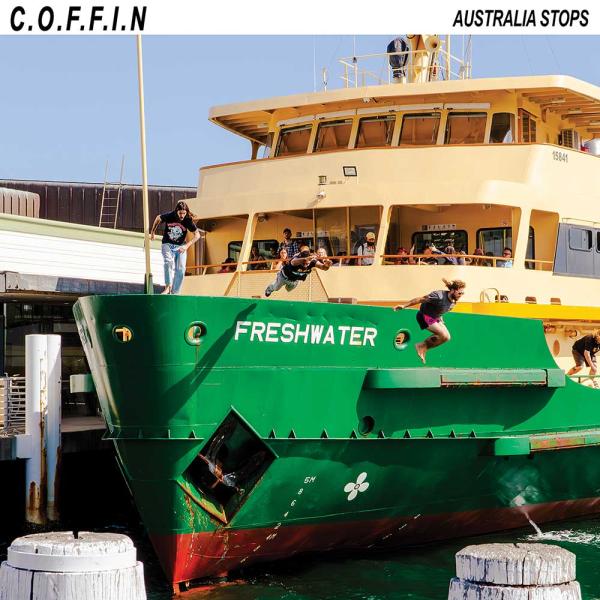 on
Sunday, July 9, 2023 - 12:28
Sydney Northern Beaches' very own hard-biting rockers C.O.F.F.I.N are proud to announce their fifth full-length studio album entitled 'Australia Stops', the highly-anticipated follow-up to their monumental 'Children In Finland Fighting In Norway' album from 2020. Due for release this coming September 15th via Bad Vibrations in Europe (pre-order), the new album comes off the back of the band's tour with Amyl and the Sniffers in 2022, and their recent UK tour dates this May where C.O.F.F.I.N stunned audiences with the high-intensity rock action they are renowned for.
'Australia Stops' was recorded in January 2023 at The Pet Food Factory studio with producer Jason Whalley (Frenzal Rhomb) behind the desk. A record that showcases a collection of diverse and gripping new works that highlight the band's evolution into more melodious, 1970's Australiana and boogie rock and roll.
Frenzied, high-voltage guitars, thumping rhythms, flowing melody and clever, captivating lyrics exhibit an undeniable progression in composition and songwriting, while still unmistakably the C.O.F.F.I.N that fans world-wide have come to worship over their 18-year lifespan.
Following the release of previous single 'Cut You Off', C.O.F.F.I.N return today with a second chomp on 'Australia Stops' in new single 'Give Me A Bite'. It's the album's opening track and comes out of the traps all guns blazing, tapping into their love of Detroit rock n' roll and proto-punk.
"Throughout a chunk of the Covid lockdowns I was still working full time on construction sites and in the art department of film sets," explains vocalist and drummer Ben Portnoy. "For weeks my Friday routine was to come home and blast this bootlegged Stooges LP from France. It was recommended and sold to me by Ray Ahn of the Hard-Ons who works at Utopia Records. It's made up of piecemeal demos and blown-out jams by the band, all of which are bursting with amplified energy. I was really missing jamming with my friends and showing up to our sweaty storage unit/jam space in Brookvale with new inspiration from the week's listening. Trying to resolve this, I got on the video chat with Aaron one Friday night and we did our best to nut something out that had a sense of that sound we love so much.
"What's it saying?" continues Ben. "Well, you can only get for so long without giving …without giving me a bite."
For those who are no strangers to the Australian highways, 'Australia Stops' may be best recognised as words donned on the back of truck mud flaps. To C.O.F.F.I.N, 'Australia Stops' are words that became a polysemous idea and observation on Australian society, culture, art, politics and progression. "When the city burns up you get out, when the flint hits shot you get down", lyrics roared by Ben, a look into 'idle-Australia', our government action (or lack thereof) to social issues and the overarching notion of fear of change in this country.
While the theme 'Australia Stops' poses political questions and ideals, it also synchronously shines light on the eminence of community, the healthy beating heart of art and music, the beautiful landscapes and divergent nature surroundings held dear within Australia. With this, 'Australia Stops' is neither a fully positive or negative elucidation of this country. It is a celebration of the things we are lucky to have, while always trying to encourage and inspire those around us to try and do better.
'Australia Stops' will be released on Friday September 15th by Damaged Record Co (Clowns, Private Function, VOIID) in Australia, Goner Records (Eddy Current Suppression Ring, Jay Reatard, Ty Segall) in North America and Bad Vibrations (Los Bitchos, Crows, Baby Cool) in Europe.
Australia Stops track list:
Give Me A Bite
Cut You Off
City Sun
Keep It Dark
Lover's Leash
Beasts
Australia Stops
Factory Man
Night Breaker
Through The Sewer
Faceless